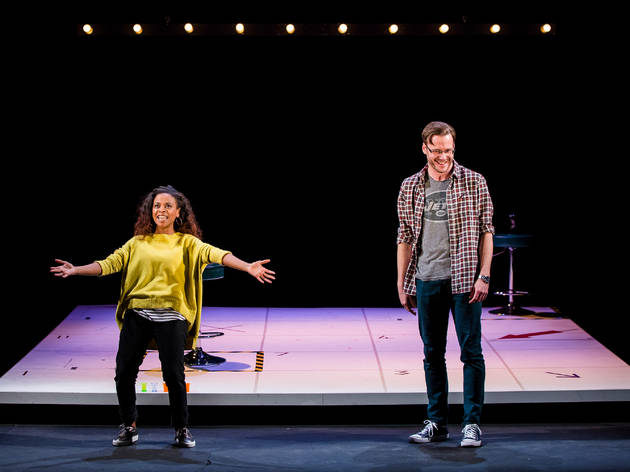 1/3
© Richard Davenport
Ayesha Antoine and Felix Scott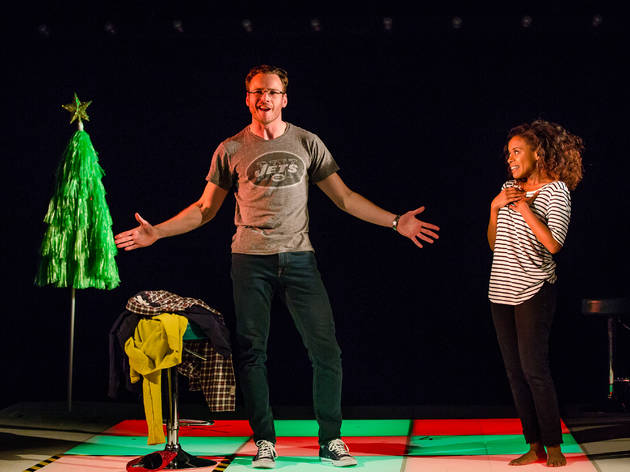 2/3
© Richard Davenport
Felix Scott and Ayesha Antoine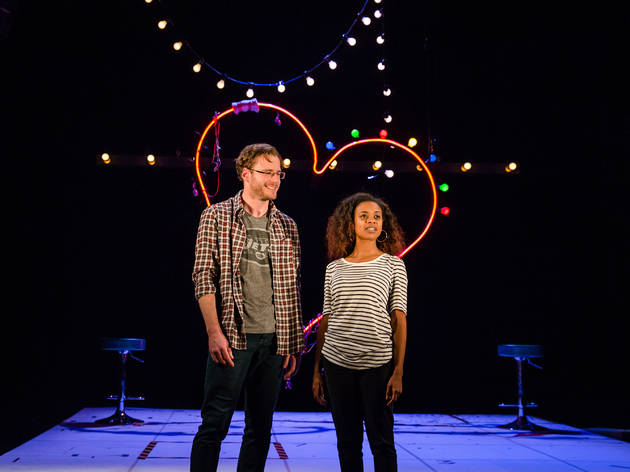 3/3
Richard Davenport
Dirty Great Love Story Production Photos Photo Credit: Richard Davenport for The Other Richard
More than a touch of Richard Curtis to this rhyming romcom
Katie is a hen. Richard is a stag. And after one awkward drunken encounter they can't stop meeting. This award-winning two-hander stumbles through a romance in furiously punny rhyming couplets.
The first time round, the play's authors Katie Bonna and Richard Marsh played themselves. This time, Ayesha Antoine and Felix Scott introduce themselves (slightly weirdly) using the authors' names. Under Pia Furtado's direction, they flit between a whole wedding party's worth of characters, and land one-liners with aplomb.
This might be poetry, but it's definitely not pretentious. Instead, it's ingeniously ordinary, a whole box set of Richard Curtis films chopped up and served in a kind of verbal buffet of wedding snogs, drunken clinches, awkward poshos, and uncharacteristically flamboyant declarations of love.
And as these two horny thirtysomethings booze and rut their way through a series of heterosexual rites of passage, each drunken fuck-up gets the crowd rooting for them to get together a little harder: Richard's 'Shall I tell her?' gets a resounding audience 'Yes!'.
It's properly good fun. But its warts-and-all honesty sometimes feels a bit sad, as well as sappy. Like the slightly weird way that Richard teases Katie for being too drunk to remember their first encounter. Or the sudden appearance of Katie's frenzied baby hunger, which seems to motivate her eventual 'Yes' just as much as the gluten-free croissants he brings her.
So the love story didn't quite get me all gooey-eyed or wobbly kneed or however you're supposed to feel. But it's great seeing a show grow from a poetry reading in a Balham pub to a teeny-tiny fringe space to the dirty great hall of a West End theatre, and these two klutzs fill it adorably.
Rating Breakdown
5 star:

6

4 star:

0

3 star:

0

2 star:

0

1 star:

0
I wasn't expecting much, but this is a really clever production. It is extremely relate able, the two actors on stage play a number of roles and the stage is very minimal which means you really need to use your imagination but at the same time, it's not hard as there is nothing to distract you from doing so. The thing that I love about this, is the whole thing is storytelling done in prose AND is so easy to understand! Give it a go, it's really refreshing!
My boyfriend and I decided to see this and like the previous reviewer we were unsure what to expect but we found an uplifting gem. We also liked the fact it was only an hour and a half with no interval meaning you could go out for a bite to eat afterwards. I'm sure it's a hit for thirty somethings and others; there was a buzzy vibe and I loved the intimate theatre.