'Divine Proportions' review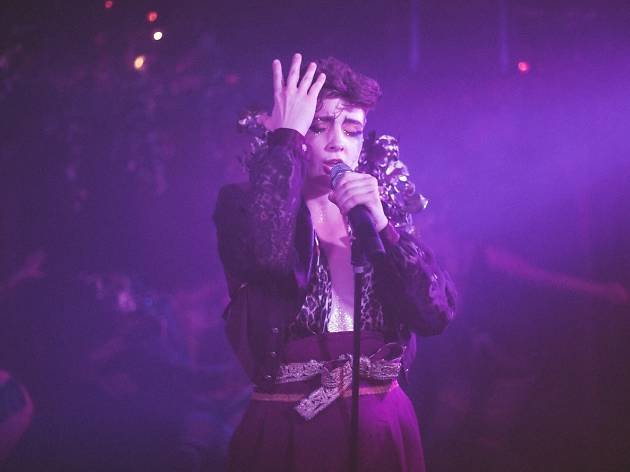 Time Out says
This fabulous female-led immersive dining experience will have you coming back for seconds
It's 8pm and I'm already clutching a cocktail and dancing along wildly to 'Like a Prayer' in some dark corner of the Waterloo Vaults. The atmospheric venue's latest immersive show, Shotgun Carousel's 'Divine Proportions', is part stand-up, part-cabaret, part dinner party. And in short, it's an absolute blast.

In a tantalising pre-dinner preamble, we're introduced to a troupe of actors in character as 'the Maenads', who rove around the audience, making small talk about our clearly inferior outfits while we're standing around in one of the downstairs bar areas. Two things immediately stand out: the overtly boozy cocktails (we'll forgive that for the exceptionally tasty Smoky Old Fashioned) and the sheer heat of the covered archway setting. It's rare that we'd advocate being naked during a show, but this is one of the rare occasions where the humidity might suit the free-your-inhibitions vibe.

We're then led upstairs to a three-course bacchanalian feast, which is tasty enough. Carnivores are served guinea fowl and the veggie option is stuffed courgette with beans. But if you've booked a ticket based solely on the dinner, prepare to be distracted. A striptease by Aphrodite (Molly Beth Morossa), and wax-dripping performance by Persephone (Charlie Bouquett) are in-your-face funny and sexy. Given that the room is so tiny, it's enough to divert you from your meal.

But its really the overwhelming talent of Dionysus (Helen White) that leaves the best taste in our mouth, dragging us from our dessert in a whirlwind of Madonna ballads. The show features only female performers, and it's raunchy and bold. It's hard to leave 'Divine Proportions' without questioning why there aren't more experiences like it.
Details
Average User Rating
4.3 / 5
Rating Breakdown
5 star:

2

4 star:

0

3 star:

1

2 star:

0

1 star:

0
Honestly one of the best things I have been to in MONTHS!!!!
Inspirational, talented, even godly women leading the way to let go of the shackles of societies labels. All whilst enjoying the beautiful Dy and their amazing voice. My first drag King experience and I loved, loved, loved it! Helen Whites voice is simply captivating and she plays this character so well.
The burlesque acts were simply brilliant, I mean who dosen't love a Dom and some fire play??? The costumes & set were all round were inspiring!!
All this whilst enjoying a delicious (and filling) feast. What more could one possibly ask for? I would highly recommend this one, I brought a friend from Australia and her mind was totally blown away.