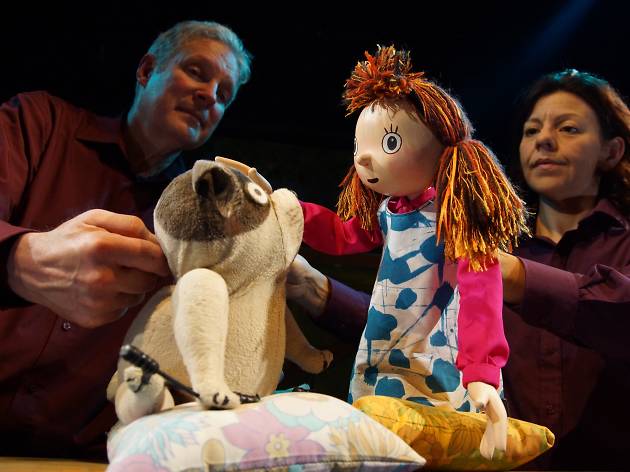 This is one children's show where the adults are guaranteed to laugh as hard as the kids (and probably more). Little Angel's latest production tells the superbly silly and at times wonderfully surreal story of ballet-mad mutt, Biff, whose dream is to become a ballerina and dance alongside his owner, the similarly ballet-smitten Anna.
But as Anna's dad, played with enjoyably no-nonsense bluff by Andrea Sadler, insists on telling us: 'Dogs don't do ballet!' It is a view shared by Anna's irrepressible ballet teacher (Ronnie Le Drew), whose Edna Everage-like gusto provokes much hilarity amongst the audience.
Biff sets out to prove them all wrong and inspired by a highly comical dream sequence that's a mix between 'Fantasia' and 'Scooby Doo' he sets off to fulfill his dream. Le Drew and Sadler bring the puppet and non-puppet roles to life impressively, and much of the set and many of the puppets are exquisite and cleverly designed.
This is a rollicking romp of a show that also manages to subtly pose questions about difference and stereotyping. It's also probably the only place you'll get to watch a dog in a pink tutu dance to Swan Lake this Christmas. Ages 2-6.
By Rebecca Taylor