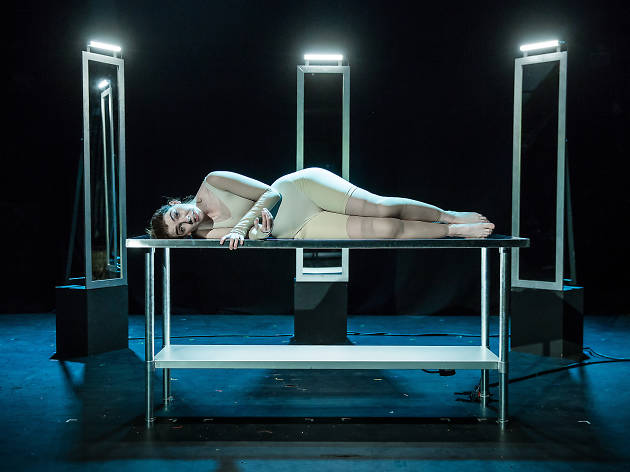 A woman watches the aftermath of her own suicide in this very dark comedy from Milly Thomas
This review is from the 2017 Edinburgh Festival Fringe. 'Dust' transfers to the Soho Theatre in February 2018
While Phoebe Waller-Bridge was hardly the first woman to talk about sex on a stage, it's inevitable that the astronomical success of her show 'Fleabag' – which, lest we forget, was a solo Edinburgh Fringe hit years before it moving to telly – does mean that bleak, oversharing monologues about women not afraid to admit they enjoy a shag are inevitably going to invite comparisons.
Milly Thomas's 'Dust' certainly mines a similar streak of humour, but it's got a definite USP: its protagonist, Alice, is dead – Fleabodybag, if you will. The show's narrative is substantially based on her caustic observations on the living left behind who she haunts, invisibly, able to infiltrate their most private moments.
It wasn't an accident, either: she took her own life, after years of depression. And Thomas's skill here as writer and performer is finding a balance between the boisterous humour and slightly absurdist nature of Alice's afterlife – she keeps wandering in on loved ones having sex – and the genuine, searing, gut-wrenching sadness of the means by which her actual life ended. We don't ever find out why she appears to have become a ghost – she never meets any others – but her condition feels like an extension of her final years, spent in increasing isolation, separated from friends and work by her depression.
Moving at a gallop, the tone of Sara Joyce's production moves crisply around the emotional dial, and there's plenty of laughs in the darkness – like the bit where Alice observes her best friend Ellie having a cry-wank. Her final, horrible description of her own suicide is almost unbearable to listen to – I had to look away, even though it's just Thomas lying down describing it on the mortuary table set set. But the bleakness is balanced by the laughs –it is a painful show about depression and a comedy about a lairy misfit, and the two don't particularly get in the way of each other. Much of that is down to Thomas's performance: she's able to turn on a penny from false cheer to blank stares to the dry, matey tones of her dead incarnation. I can see some might find it a discomfitingly eccentric way to deal with the subject, but for all the laughs, I found this ghost story haunting.