East End Boys, West End Girls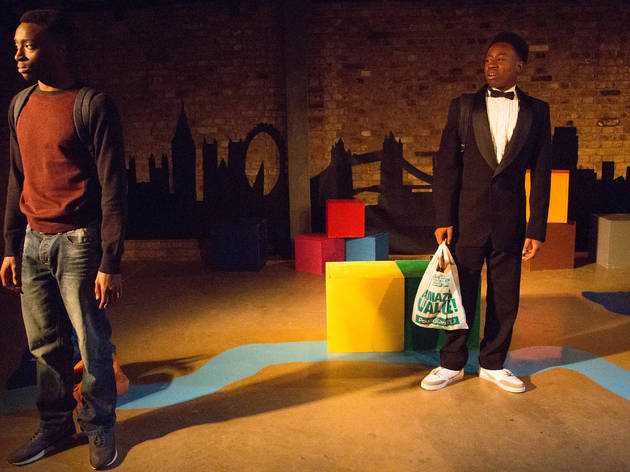 An unsubtle script about growing up at different ends of the city.
Between the two Westfields lies a world of divisions: of cultures and classes, of wealth and opportunity, of have and have not. Ade Solanke's coming of age play clumsily bashes its way through these themes via the mouths of four teenagers.

At a scholarship exam for an expensive school, two east London boys, the best of friends, meet two west London girls, also the best of friends. The boys are coming to terms with the fact that their friendship may have to change: Tobi (Alhaji Fofana) is bright and Olly (a brilliantly mopey and cynical Ismail Kamara) doesn't want him to go off to a posh school, but it could be the best chance Tobi has to hop on the social mobility scooter. The girls talk about dresses and boys.

Wooden cubes painted in bright primary colours that cover the stage are well suited to the tone of the play: it's broad brushstroke politics, crude and simplistic. Faux Pet Shop Boys music accompanies scene changes, with synth drums that are irritatingly out of time.

Though its heart is in the right place, a heavy hand hammers at the differences between the boys and the girls, between east and west, between rich and poor, black and white in a lifeless script. Scenes that alternate between the boys chatting to each other and the girls chatting to each other quickly devolve into barely veiled lectures about money, inequality, insularity. The lesson may well be necessary, but this is not how 16-year-olds speak. In fact, it's not how anyone speaks. The only glimmer of authenticity in the teens' speech is their apparent unfamiliarity with anything close to nuance.

One one hand, Solanke offers a grim view of a vast and disparate city. Life's challenges may be more overt in the East End, but the girls are surrounded by pushy parents, exam pressure and self-harm. On the other, the play is occasionally quite sweet and always earnest. But it risks entrenching class and racial stereotypes, rather than offering any new perspective. It's a noble cause pummelled with a ham-fist.
Average User Rating
4.7 / 5
Rating Breakdown
5 star:

2

4 star:

1

3 star:

0

2 star:

0

1 star:

0
I absolutely loved this play and will be coming back for more.
What I loved is that the action and characterisation gets right to the heart of the conversations that many parents and young people have over kitchen tables all over this country. In doing this Ade Solanke shows a real understanding of the dilemmas that affect all of us at some point in our lives and this makes the play even more engaging.
Punctuated by a realistic dialogue Ade Solanke shows her skill as a writer by speaking as a teenager and understanding what makes them tick. All in all I wish that we could see more plays with such a realistic insight and I have recommended the play to many of my friends who have school age children.
A stark examination of how youth and education intermingle in a class-centric contemporary London.
Much of the commentary and reception of this play has erroneously centered on its staging, performances and pacing. Although these are all excellent individual aspects (and even more so together), such a stance overlooks the more profound philosophical conjecture upon which the drama ends.
Superficially, one may leave a viewing with one of two binary and polarised receptions: one) that education is socially and economically transformative and is the only viable method for alleviating urban destitution; or two) that education in itself is merely an extension of an acquisitive ideology and that its pursuit is not co-existent with working class values nor the preservation of its cultural mores.
However, readings that rely overly on economic or sociological modes of thought do not hear the lingering existential note that chimes on as the auditorium lights begin to dim. We, the audience, are torn like the fraternal friendship which is severed by the play's end. While one should feel gladdened at one of the boy's (possible) progress - his intellect earns him affluent friends and entry into an utopian private school - the finale focuses on the less celebratory human and interpersonal cost? As he strides off into the West-End night sky, his less scholarly and now also dejected friend stands paralyzed in isolated abjection.
By virtue of the writing, we are left grieved more by the death of the boys' friendship than the earlier senseless death of their school friend. This play subtly opines as to why friendship may not be elastic enough to stretch across the chasm of class, and more cynically whether culture is merely a set of mutable values that are only prized in absence of a more socially prominent set.
Ultimately, the separation of the children at the conclusion mirrors the class divide that occurs not just geographically across the West and East ends, but the pitiful emotional gulf between people of varying affluence.
The award-winning author's insightful dialogue across genders and postcodes strikes a chord with most young people I'm sure. In particular, those who find themselves ensconced in the contemporary dilemma of having to define and redefine themselves; their identity and raison d'être.
The drama is played out on a set that is plain and abstract but at the same very engaging and colourful, adorned with versatile colourful multipurpose boxes which reference Grotowski and the Poor Theatre tradition. It presents both the narrative as well as the issues of the play in a very accessible manner, delivered in the authentic language and voice of today's young people.
The play deals subtly with issues of everyday racism on a practical level as experienced by young people. A group, who today, in the interest of friendship, tend to be reluctant to even recognise that a problem exists in this regard, or if it did, that it had anything to do with them.
The seemingly colour blind casting of the play, which deliberately includes one white actress, is a stroke of casting and writing genius. The close friendship between the two young women is as natural and normal to the characters as it is noticeable to the observant audience who can't help but notice the fact that the cast is all black but for one character. This move makes a point, without having to say a direct word. It makes a statement regarding the possible tension between personal friendship and inter group relations as it applies to race as we'll as class and gender.
Overall, the energy that drives the play is not so much the dramatic issue of whether or not Olly will go to the party. It is the dynamics of the interaction between all of the characters: as individuals ,as male and female and as members of a race or class group.
This is a play of our time and worthy of the widest audience.. It demands to be seen heard and listened to.