Heads up! We're working hard to be accurate – but these are unusual times, so please always check before heading out.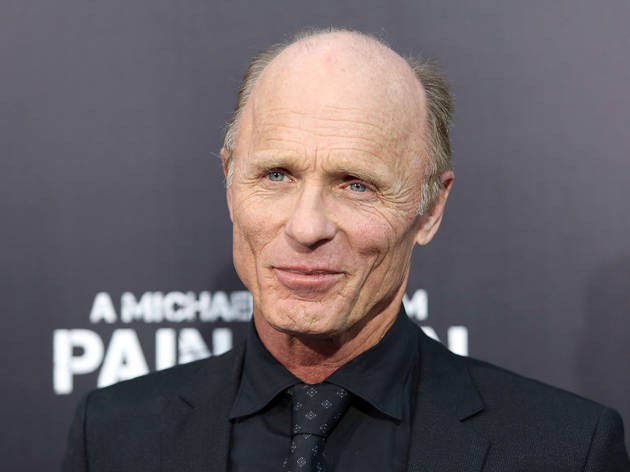 Ed Harris: 'Depending on where my mind's at, there will be more fury in my performance'
As he prepares to make his London theatre debut, Hollywood legend Ed Harris talks Trump, partying and being evil
Ed Harris is not a happy man. It's November 11 and the 65-year-old acting giant is struggling to come to terms with what's just happened to his country. 'I'm embarrassed and I'm ashamed,' he growls when I mention the T-word. Then he grits his teeth and shakes his head. 'He won the election but I'm not going to walk around all depressed about it. I'm not going to give him that victory.'
It's a rugged defiance worthy of one of his characters – Gene Kranz, the crumpled flight controller from 'Apollo 13', or the enigmatic Man in Black from HBO's gleaming new 'Westworld' series. But Harris is actually here to discuss a very different, wholly un-Hollywood project.
We're tucked into a meeting room in the attic of Trafalgar Studios, the West End theatre where, for the next few months, Harris will be playing Dodge, the ageing patriarch in a revival of Sam Shepard's Pulitzer-winning 1978 play 'Buried Child'. A seething, surreal satire on white, rural America, the piece suddenly feels horribly prescient.
So you're in a play about the anger of working-class Americans. A bit close to the bone right now?
'Yes. Obviously rural America was responsible in a large part for electing Donald Trump as our president. Just how much of a travesty that will be remains to be seen. He got himself elected by persuading a lot of people who really had no reason to vote for him by spouting the kind of rhetoric that he did. And the people who are most likely to be hurt by his presidency are the very people who voted for him. It's like that Bob Dylan song, "Only a Pawn in Their Game". A lot of pawns voted for Mr Trump.'
Have you thought about how it is going to affect you in the years to come?
'We're going to get what we deserve, I'm afraid. It's very scary. But the people spoke. Even though Hillary won the popular vote, Trump won the election fair and square. I'm just going to keep doing what I believe in, fighting for the things I believe in, love my life, love my friends, and work with and for the people I care about.'
Have your feelings towards 'Buried Child' changed in light of all this?
'Not at all. Depending where my mind's at on any given night there might be more intense fury in the performance! But this play, night to night it's already a different experience. It's like waking up in the morning: every day you feel different.'
Is it a political play?
'I don't see it that way. I see it as an American drama. Sam took the family dramas of Eugene O'Neill and Arthur Miller and started breaking things up, getting a little more surreal, testing the limits. I just try to deal with the reality of the play and what my character's life has been. Unless something is overtly political I don't think of it in those terms.'
'The people who are most likely to be hurt by Trump's presidency are the very people who voted for him'
Purely on a practical level, is it tough doing a play where you're sitting down all the way through?
'Well, I'm immobile, mobile-ly. Or I'm immobile-ly mobile! There's a lot of physicality involved, I find that the better shape I'm in the more decrepit I can be. I certainly don't get tired of sitting on the couch.'
Your wife Amy Madigan plays your wife in 'Buried Child'. Do you look for projects together?
'We don't look for them, but it's good when it happens. I've got a film I want to direct next year that I want her to be in. But the truth is, Amy doesn't get an opportunity to work in film nearly as much as I do, so if something comes along that means we can share time and do what we love to do together, we take advantage of it.'
Do you feel resentful that she doesn't get those parts because of the way Hollywood operates?
'I don't know about resentment, but I know she's a wonderful actress and I know the opportunities for women her age are few and far between. But she handles it great. I'm not sure how I'd feel if I were in her position, but she's a champion.'
What are the different pleasures, for you, in film work versus theatre work?
'Here's the thing about film. I love being in front of the camera because I love portraying a character and being in the moment and working with other actors. But I don't like sitting in a trailer for hours. I don't like being away from home for long periods. Sometimes I'm working on a movie, they call me in at 6am and I think: What am I doing here? I can't stand this.'
Ed plays the Man in Black in 'Westworld'
Moving on to 'Westworld', is it nice to be playing a really evil bastard?
'My mother watched the first episode and she said, "I don't know if I can watch this, Ed!" So far, yes, he's pretty nasty. But he's not killing people! He's just messing around with these artificial intelligence… beings.' [Laughs]
The show is filled with mystery. Did they tell you everything upfront or did you find out stuff as you were shooting?
'Jonathan [Nolan, the show's creator] told me a little bit. But all of a sudden I'm reading the script for episode eight or whatever, and I go: Oh. This would've been good to know seven episodes ago! Huge stuff about my character, about his life and what he's up to. But I'm not sure they knew, when we started. When we get to the second season, I think I'll know more about what's going on.'
How Hollywood are you and Amy? Do you ever go to film parties?
'It probably wouldn't hurt our careers if we were a little more into premiere-going. But no. We love our privacy and we try to keep things pretty simple. We've been living in the same house in Malibu for 31 years, and most of my friends out there aren't movie stars.'
You seem like a contented guy who loves his life. Go on, tell us your secret.
'I feel pretty comfortable with things. I love what I do, I've got good friends and I feel pretty good physically. So I'm content, at least in the sense that I don't want to be anybody else. I'll keep doing this until I drop!'
'Buried Child' is at Trafalgar Studios until Feb 18 2017.