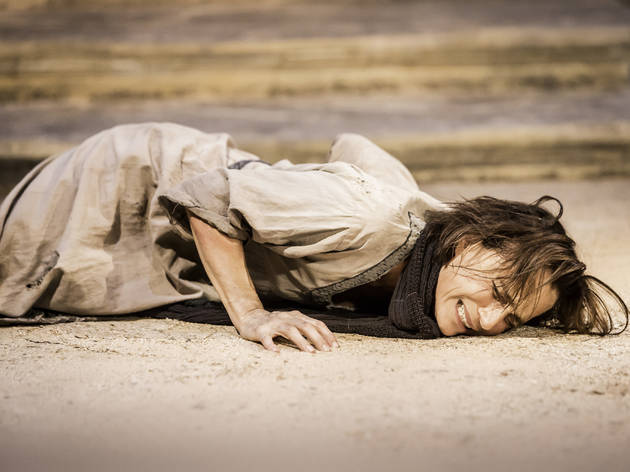 1/4
© Johan Persson
Kristin Scott Thomas (Electra)
2/4
© Johan Persson
Kristin Scott Thomas (Electra)
3/4
© Johan Persson
Kristin Scott Thomas (Electra)
4/4
© Johan Persson
Kristin Scott Thomas (Electra) and Jack Lowden (Orestes)
Kristin Scott Thomas is a greasy, bedraggled, unhinged and blood-spattered mess of a woman as Sophocles's angry heroine Electra in Ian Rickson's new production
Kristin Scott Thomas's stage career to date – heck, as far as I'm aware, her entire acting career to date – has revolved around performances of poised froideur, icy detachment and immaculate chicness. So what a change of gear 'Electra' makes, as her regular director Ian Rickson makes his lead blub and grub in the dirt, a greasy, bedraggled, unhinged and blood-spattered mess of a woman.

That is not to say there's none of the familiar Scott Thomas backbone to her take on Sophocles's Electra, a daughter gripped by a furious – if complicated – desire to take revenge on her mother Clytemnestra for the murder of her father, Agamemnon. But if Electra is one of the few great Greek heroines to neither kill or be killed, Rickson – abetted by Frank McGuinness's harsh translation – makes sure we see the stains on her soul.

Her performance is a study in anguish, her voice loud, harsh, and raw as she screams her grief at the death of her father and the (erroneously reported) demise of her beloved brother Orestes. But her confrontation with Diana Quick's Clytemnestra is charged less with hatred, more the ferocious petulance of a spurned child. Though Electra resolves to commit matricide shortly before Orestes turns up, you wonder if she really would have gone through with it – one senses her boiling rage is the equivalent of the little girl shrieking 'I hate you!' at her mum. There's definitely something Hamlet-like to her Electra, a woman waiting and waiting and waiting for her revenge until it finally happens at dizzying speed and you wonder if it's what she really wanted.

Most of the other roles are virtual cameos, but largely very good ones – Diana Quick impresses, with a hint of a loving mother's exasperation beneath her steely pragmatism; young Jack Lowden offers genuine relief as a sweet Orestes; and there is something naggingly upsetting about the casting of black actor Tyrone Huggins as Clytemnestra's new husband Aegisthus – one wonders if on some level it is his otherness that has brought down the wrath of his step children.

Rickson's production does feel in need of more light and shade – it kind of batters you for 100 minutes and then suddenly fades. More prosaically, there are some pretty ropey sight lines for those sitting near the front of the in-the-round auditorium (I'd sit at least five rows back). But it's unquestionably another solid link in the Old Vic's 2014 renaissance, a tremendously visceral and wholly uncompromising exploration of emotional pain.
Average User Rating
2.3 / 5
Rating Breakdown
5 star:

0

4 star:

2

3 star:

1

2 star:

0

1 star:

3