1/5
© Johan Persson
Linda Bassett (Mrs Jarrett), Deborah Findlay (Sally), Kika Markham (Lena) and June Watson (Vi)
2/5
© Johan Persson
Deborah Findlay (Sally) and Kika Markham (Lena)
3/5
© Johan Persson
Linda Bassett (Mrs Jarrett), Deborah Findlay (Sally), Kika Markham (Lena) and June Watson (Vi)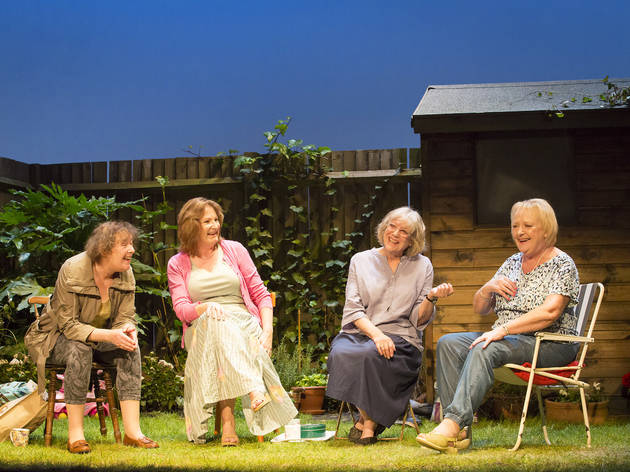 4/5
© Johan Persson
Linda Bassett (Mrs Jarrett), Deborah Findlay (Sally), Kika Markham (Lena) and June Watson (Vi)
5/5
© Johan Persson
Linda Bassett (Mrs Jarrett)
A menacing, joyous, brilliant return from the enigmatic Caryl Churchill
'Escaped Alone' returns for 2017 prior to a UK tour and New York transfer. This review is from January 2016
Four oldish women sit serenely in a garden, drinking tea and chatting. Lots of idle chit-chat, lots of gossip about friends and family, lots about each other – their pasts, their fears. Plain-spoken Vi (June Watson) killed her husband and did time for it. Prim, proper Sally (Deborah Findlay) is terrified of cats. Gentle Lena (Kika Markham) seems unable to leave what we take to be her back yard. Occasionally one of them launches into an intensely disturbing soliloquy that the others can't hear. And every now and again, Linda Bassett's Mrs Jarrett – the newest member of the group – steps out of the garden into an inky void, where she breaks into a surreal description of a world destroyed by man's bizarre excesses: floods to punish the thirsty; famine caused by TV; the world's population buried under mountains by businessmen.

Deciphering the exact meaning behind a Caryl Churchill play feels like a fruitless task when the 77-year-old (surely our greatest living playwright) pointedly refuses to discuss her work. But here are some facts about 'Escaped Alone'.

Whatever you think of it as a complete piece, line by line it's hard to imagine you'll come across a more brilliant play this year: it's only 50 minutes long, and I gather it was meant to be a lot longer, but maybe every sentence that wasn't brilliant has been ruthlessly purged from James Macdonald's production. Much of it is very funny. ('Pets rained from the sky. A kitten became famous.') Some of it is incredibly sad. ('It's better to be in the empty room because there's fewer things that mean nothing at all.')

The acting is wonderful, as are the characters: each woman is an idiosyncratic figure in her own right and a sly subversion of the trope of the serene old dear. They are mischievous, funny, fucked up, plugged into the modern world – there is talk of iPlayer and quantum physics – and occasionally deeply disturbing, most especially Bassett with a late soliloquy that's simply the words 'terrible rage' growled over and over.

And what makes 'Escaped Alone' a great play is that it is strangely euphoric: spiked with terrible, apocalyptic foreboding, yes, but Churchill's funniest since 'Serious Money', and with an incredible gift for spinning light out of the dark. While the blue skies of designer Miriam Buether's bright, beautiful garden set seem to cloud over as the play wears on – or is it smoke? – the women under it remain indomitable. In one scene they simply sing The Crystals' hit 'Da Doo Ron Ron', and it's as lovely a thing as I can remember happening on a stage anywhere.

What does it all mean? Are Bassett's monologues indicative of a ruined world outside the garden? Or absurdist visions of how awful Churchill imagines the future will be? Whatever the case, they offer a sense of menace that makes the chit-chat of the garden seem more joyful by contrast, a sense that these casual conversations are a pool of radience, defiant of the terrible darkness outside.
Average User Rating
3.8 / 5
Rating Breakdown
5 star:

3

4 star:

6

3 star:

1

2 star:

1

1 star:

1
Yeah, didn't really get it. Lots of irritatingly fragmented dialogue about nothing in particular, no real attempt at a narrative and the central contrast of codgerly banter versus apocalyptic fantasy wears thin almost instantly. Found it deeply pretentious and utterly dull.
The actors make the best of a weak and self-indulgent script. On the plus side it only lasted 50 minutes although even this was padded out with with a five minute rendition of "da doo ron ron". Perhaps worth paying £10 for a new playwright in a room above a pub but sad to see Churchill presenting this at any venue.
Utterly mystifying, as expected from Churchill - a masterful dramatist. She manages to contemplate everything in the world and then some in the form of a back-garden conversation between four elderly women, and in only 50 minutes. Completely delightful and just so brilliant.
Short but not-at-all sweet, this is an intriguing play about catastrophe and cosiness that will linger in your mind for days after. It starts off all warmth and chit-chat in a very English garden, then quickly spirals into discomforting doom - like a cup of tea gone cold. Try to see it in when you're in a thoughtful mood and up for some serious post-play discussions in the Royal Court's bar. Highly recommend.
Short, sharp, strange, haunting - discomforting mix of cosy chat and scenario and monologues about the apocalypse and the private, innermost fears of its four characters, all older women sitting in a suburban garden one afternoon... Heaven and hell on an nicely mown English lawm.
The play is quite funny, even for me than am a Spaniard and English humour is a bit different. There are some hilarious moments when the actresses sing or do a little monologue (all of them). It's also short, what in a way it's good if normally you are busy or want to go for dinner or something later.
As a Caryl Churchill virgin, I was unsure what to expect of 'Escaped Alone' but my star rating says it all - I loved it! Clever, funny, insightful, moving and the perfect length (just 50 minutes), it's a play I'd highly recommend to anyone who loves provocative theatre. Brilliant performances from all the cast (especially Linda Bassett) and the realistic set make you feel as though you're totally immersed - the perfect escape for any busy Londoner. Definitely see it if you can!
I'm a huge Caryl Churchill fan so was really excited to attend the first preview of her new play. It didn't disappoint. Fantastic performances, wonderful set, funny, moving and inspiring. Don't miss seeing this at the amazing Royal Court Theatre. Highly recommended.