Events While Guarding the Bofors Gun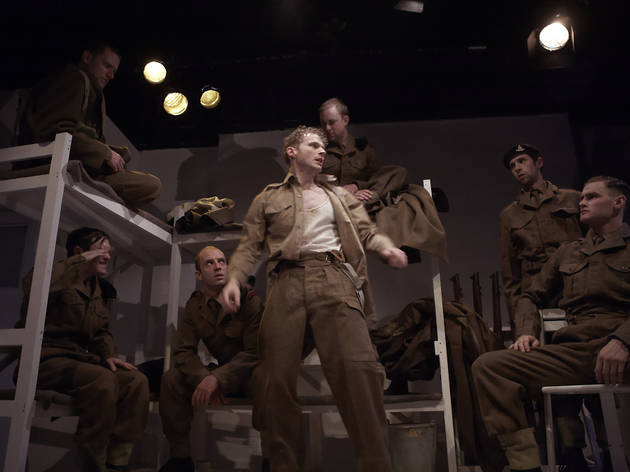 Prolific, impassioned and wonderfully eclectic, the late John McGrath (he was one of the key writers on 'Z-Cars'!) deserves modern reappraisal just as much as his peers Arnold Wesker and Edward Bond. Robert Hastie's production of his bleak 1966 satire is very worthwhile, but it probably isn't going to be the revival that brings McGrath in from the cold.
Set in the British Zone of Berlin in 1954, it follows one spectacularly dark night of the soul for a disgruntled squad of Our Boys, tasked with guarding an obsolete anti-aircraft gun. Six of them are going nowhere, but one, 18-year-old Lance Bombardier Evans (Lee Armstrong), is back to Blighty to train as an officer the next morning, provided his company can make it through the night without incident. Unfortunately for him, Gunner O'Rourke (Charles Aitken) seems determined not to see another dawn.
An earthy, scathing play about the futility of imperialist ambitions in the postwar era, 'Events…' has aged well: minor cosmetic tweaks could easily relocate it to present Afghanistan. Most of the ensemble make a good fist of McGrath's mordant squaddies, strong men going nuts under the weight of their task's sheer pointlessness.
Aitken is hypnotically mad as O'Rourke, but crucially Armstrong mifires as the ineffectual Evans, underpowered to the point of tedium. And the production is too dour, clumping dolefully through a situation that McGrath clearly recognises as ludicrous.
Rating Breakdown
5 star:

2

4 star:

0

3 star:

0

2 star:

0

1 star:

0
As Frank said I was also worried after reading the review but I really enjoyed it. All the cast gave a great performance and the performance of Evans (Lee Armstrong) was exceptional especially after I heard it was his debut performance. I would recommend this to everyone. Go and see it and just take this review with a pinch of salt. 5 stars!
Was a bit worried after seeing this review on monday. Saw the show tonight blew me away.