1/8
© Richard H Smith
Chiwetel Ejiofor (Everyman)
2/8
© Richard H Smith
Amy Griffiths, Chiwetel Ejiofor, Clemmie Sveaas
3/8
© Richard H Smith
4/8
© Richard H Smith
Dermot Crowley (Death), Chiwetel Ejiofor (Everyman)
5/8
© Richard H Smith
Chiwetel Ejiofor (Everyman)
6/8
© Richard H Smith
Chiwetel Ejiofor (Everyman)
7/8
© Richard H Smith
Amy Griffiths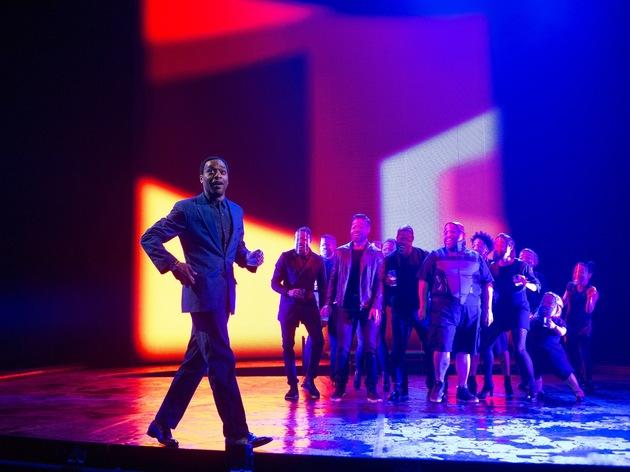 8/8
© Richard H Smith
Chiwetel Ejiofor (Everyman)
Time Out says
Chiwetel Ejiofor stars as Everyman in Rufus Norris's production of the 15th century morality play.
One day, maybe in the not too distant future, Rufus Norris will create a show where he simply gives everyone in the audience a really strong pill, then blows up a couple of actual skyscrapers. The National Theatre's new boss is a master of bombast and spectacle, and though he's been a regular at the NT for years, his first production as head honcho is so seismically OTT that it's hard to imagine where he could possibly go next other than down the 'blowing shit up' route.

'Everyman' is Poet Laureate Carol Ann Duffy's adaptation of a centuries-old folk play about a man who discovers he is going to die and will shortly be judged by God. None of this is particularly apparent from an audacious, wordless opening scene, in which Everyman, played by Chiwetel Ejiofor – a big-screen star who's never forgotten the stage – descends on a wire from the Olivier's lofty ceiling. He then runs vertically, in slow motion, down through the pit in the middle of the stage, before re-emerging to have the mother of all sexy parties with his crew of hangers-on, all pounding techno music, febrile choreography (courtesy of Javier de Frutos) and conspicuous consumption – most memorably the ten metre-long lines of gak that Everyman and posse snort with élan.

It's both a bit of a relief and a slight disappointment when the lunacy abates enough for the story to start. The bottom line is that even when written with probing wit by Duffy, medieval morality plays are not the place to go to for sophisticated characters and gripping plot twists. But Norris and Duffy's hysterically pimped-up take on a fifteenth-century worldview at least goes a way beyond the superficial.

Rock-star charismatic and effortlessly in control of the vast Olivier, Ejiofor's Everyman is a selfish City boy summoned by Dermot Crowley's casually malevolent Death to justify himself to Kate Duchêne's wryly compassionate cleaning-lady God. Understandably, he pegs it before Death can lay his icy paw upon him, embarking on a garish odyssey to stave off the inevitable.

There is an intrinsic thinness to the play, but Duffy packs it full of memorable characters and brilliantly sly rhymes, while Norris and his creative team ensure that nary a scene goes by that wouldn't send Baz Luhrmann green with envy. And what looks suspiciously like a banker-bashing parable actually turns into something much more complex, with a final third of genuine, thought-provoking philosophising. And if ultimately it's as much about the spectacle as the star, it's a testament to Ejiofor's stage chops that he holds his own against Norris's mad vistas.
Details
Average User Rating
3.9 / 5
Rating Breakdown
5 star:

3

4 star:

2

3 star:

0

2 star:

2

1 star:

0
'Everyman' certainly doesn't disappoint - actually, quite the opposite. I really couldn't recommend this play highly enough. The National Theatre never fails to surprise me, and to date, I have yet to see a single show that hasn't inspired, entertained or filled me with joy - 'Everyman' is no exception! Poetically brilliant, unique and highly engaging, this one not to be missed!

amazing - best play I have seen in a long time. You leave with so many questions about your own life and death. Just superb acting from Chiwetal and Death

Thrillingly inventive and wonderfully staged, you should definitely catch this before the end of the run. What I hadn't bargained for is that it's wickedly funny.
Baz luhrmaan would be green with envy indeed. This explosion of colour, concept and movement had me enraptured from beginning to end, both moving and exhilarating. This medieval/modern mash up asked a simple question, at the end of days should we be accountable for the way we live our life? Chiwetel ejiofor portrayal of 'Ev' was moving and masterful, a moral compass? "I think I have a soul"
I went to see this with three friends. Two of us absolutely loved it and two were more kind of 'meh'.
I was one of the latter ones. Why? I don't really know. The staging was great, imaginative, even action-packed and pretty loud and many good things; the actors were faultless - I guess the theme just didn't resonate with me.
If you are trying to get me thinking about why I should care about my one life and the people and the planet in it more; a general kind of god and an afterlife of sorts will not cut it for me. I'd rather ponder on the origin of consciousness as The Hard Problem tries to do. And whether we truly have a free will and a control over our lives.
Maybe once I will truly face death I will feel differently, but for now, I wish the play went deeper.