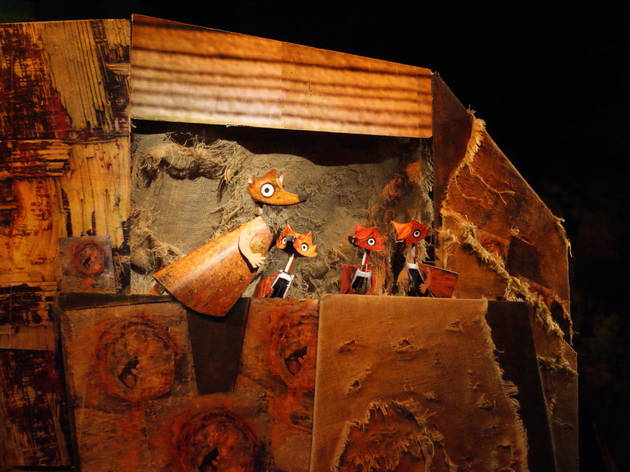 1/6
SONY DSC
2/6
3/6
4/6
5/6
6/6
North London's brilliant puppet theatre the Little Angel takes on one of Roald Dahl's classic stories for kids.
The popularity of Roald Dahl's fox fantasy received a major boost with Wes Anderson's wry 2009 animated flick. So it was only a matter of time before a new stage version emerged in Dahl-crazy London – and here it is, a delightful puppet adaptation from the Little Angel.

The tiny Islington theatre has been converting productions into puppet masterpieces since 1961, and despite some troubles at the top – artistic director Adam Bennett recently departed after less than a year in charge – its latest offering is up to the usual high standard.

Although one for the kids (ages 4-11), 'Fantastic Mr Fox' has enough charm to make it adult friendly. Sarah Wood's script has no narrator but closely follows Dahl's story of a clever fox trying to feed his family as three nasty farmers attempt to hunt him down.

Giant puppet digger arms tear at the earth and nearly catch the animals, the set cleverly dismantling as they tunnel down.

Samuel Dutton's articulation as Mr Fox is a bit over the top even for a children's production, but the cast are naturals with a puppet in hand. Their straight acting and singing's good too. Ben Glasstone's jazzy musical interludes have the children in the audience dancing along unprompted. At one point the characters appear as life-size creations and peer inquisitively into the audience's faces, and it's these interactive elements that truly bring the story to life. Dahl would be proud.