Faulty Towers the Dining Experience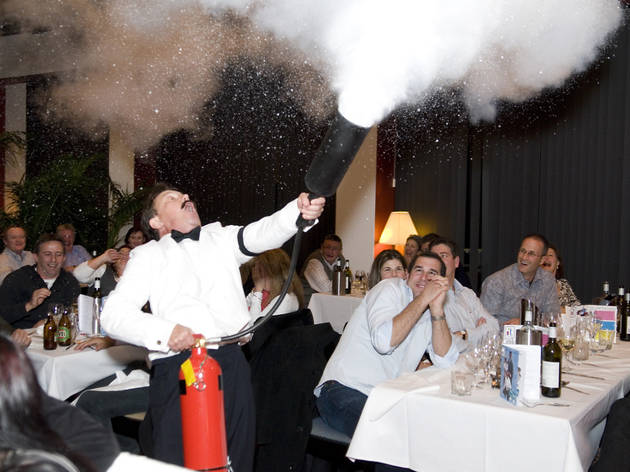 Time Out says
'Faulty Towers: the Dining Experience' returns for 2017. This review is from the 2012 run.
Farty Towels; Watery Fowls; Flowery Twats; the misspelling of Fawlty Towers's sign was a marvellous running gag. It was never spelt with a 'u', though, as it is in 'Faulty Towers the Dining Experience'. But despite being an unofficial tribute to John Cleese's legendary '70s sitcom, this interactive dinner-show – created by Australian company Interactive Theatre International –?captures the programme's spirit surprisingly well.
Having ordered our drinks at the pricey bar, Basil Faulty (with a 'u', remember) calls each dining group to be seated. My scruffy clothes didn't go down well with the neurotic host. 'Haven't you heard of a shirt and tie?' he asked, disgusted, before directing us to table seven.
Basil, Sybil and Manuel (Polly's 'got the night off', we're told) act as waiting staff, wandering between tables, interacting with guests, and performing longer set-pieces between courses which loosely recreate classic scenes from the series – pet rat, fire drill, goose-stepping etc. The trio are convincing impersonators, expertly nailing Cleese, Scales and Sachs's voices and mannerisms, and mingle seamlessly with the diners, making sure to involve each guest but never humiliate them.
What's disappointing is the lack of a through-line. The skits are hardly linked, meaning the evening doesn't build to much of a conclusion. The food, too, isn't exactly haute cuisine. The soup was tasty, but the chicken and vegetables main course was bland and cheap. But I guess that's faithful to the Towers 'experience'. Despite its flaws, this tribute show is exactly what it sets out to be; a good, solid, fun night out for fans of the sitcom. Just don't ask for more rolls; Manuel looked dizzy enough after one.
Details
Average User Rating
3.8 / 5
Rating Breakdown
5 star:

5

4 star:

11

3 star:

7

2 star:

1

1 star:

0
Great fun and surprisingly good food! Definitely an "fawlty tower experience".. Basil was fabulous, but Sybil and Manuel was good too. It's a bit pricy so there should have been one drink included, but that's my only criticism..
All in all a great night..!
We had been deliberating over going to this event for several months and then we were lucky enough to attend the show for free, courtesy of Time Out and I'm so glad we did because the show is superb. We had several people on our table from overseas who hadn't actually seen the show and I cannot see how they could possibly have appreciated how talented the cast were or understood what was going on, they may even have put the poor service down to the hotel itself haha. The Amba Hotel is an incredible building and the Torquay Suite in particular is a beautiful room, full of character.
If you go prepared for an evening of comedy and mayhem then that is what you get, you need a good crowd with a sense of humour, willing to interact with the proceedings. I thought the food was very good far better than I'd expected and piping hot. The dessert was delicious. If you go expecting first class service then you're missing the point. This is Faulty Towers after all!
Food is terrible, show is thoroughly entertaining.
I should like to come to the F.T Dining experience on Sunday 30th June at 6pm as a surprise for my husband's 66th birthday. Have you got availability please and what will be the cost for two over 60 year olds (my husband and myself?) a husband and wife in their 40s; and two daughters of eleven years old? My mobile number is 07711981614? Please remember this is a surprise!! Many thanks. Glenda Powell
visited london to see our daughter ,while we were there booked 4 tickets for a tuesday night show A fantastic show from start to finish. We were on a table with other diners from abroad but it made for a great night as they did not know what to expect .The players were superb the sketches very funny. Have booked to see them at The Hostess Restaurant when they come to Mansfield in Oct . Geoff
Food = Average Experience = Incredible It really is an outstanding, immersive, hilarious show. Best night out in London right now.
Really loved all the actors but the food was really cheap (like the real fawlty towers I guess). Leek and potato soup followed by a small chicken breast with mash that required a knife and fork. Pudding was a floppy mousse cake masquerading as a cheesecake. But would Basil have had the front to charge £30.00 for a bottle of sulphate rich Nobilo Sauvignon blanc (you can get six bottles at Tesco for the same price, that's a ridiculous mark-up). Christmas table decor would have been a really nice touch too..
Utterly brilliant. The service is appalling, the staff rude and incompetent as you would expect. The food is basic but fine (drinks are extortionate) and is really incidental to the show, which is superbly acted; it's difficult to tell the cast from the originals. After the show, had a chat with 'Basil' who said it's about 60% improvised on the night, which keeps things fresh. It worked well and we were of course delighted to see some goose-stepping and anti-German ranting, a loose rat and Manuel being beaten up. Absolutely hilarious and a top night out (unless you're German)!