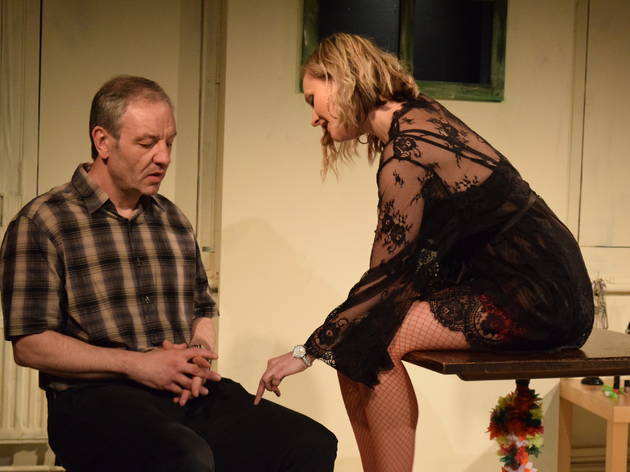 Time Out says
An intense new play from Edward Davenport about a prostitute and her caller who drags up the past.
With one act, two actors, an intimate venue and prostitution as the subject, you know this show is going to be intense. Or at least you hope it is.

'Firefly Heartbeat' transports you almost literally into prostitute Madeleine's small, messy room in a rough area of Sydney. Her first caller Stuart is timid, unsure and, to her frustration, more intent on asking questions than getting on with it. Clearly it's not going to be her usual night. In fact, it's glaringly obvious there will be a big revelation, although this makes you wish the piece would just 'get on with it'.

This is particularly the case in the unnecessarily long opening part of Mario Demetriou's production. In it, Stuart's concerns about prostitution head towards cliché, while Madeleine seems annoyingly affected – their toing and froing quickly becomes tiresome.
Nevertheless, it becomes clear this is the point. Just as you might be worrying that this is all there is to the play (and that one hour will feel like two), both characters significantly change when Stuart 'confesses' he is a writer.

From now on the cast finally get to display their acting skills, depicting a power struggle that shifts more than once. Kellie Jane Walters depicts moments of powerful vulnerability despite Madeleine's painful inability to talk, while James Sutherland's performance as Stuart has you repeatedly reassessing him, leaving you increasingly uneasy about his motives. In different ways they are both hiding their true selves, providing the curiosity and tension that drive the play.

While both actors give solid performances, Edward Davenport's script could be subtler. Nevertheless, the piece remains intense and clever enough to pull off a difficult subject. The final revelation is dark, dramatic and not one that you're likely to guess.


Details
Best selling Time Out Offers