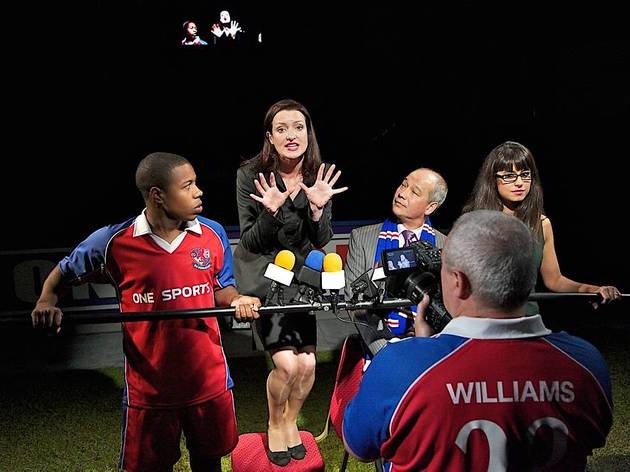 This RSC commission about football is the theatre equivalent of William Hague downing ten pints in a baseball cap. Under Michael Boyd (who is to step down in 2012) the RSC has built new theatres, flung open its boundaries to talent and brought unorthodox directors into the fold. But Boyd's successor needs to get a grip on new writing if the company is to beat the Royal Court and the National at their own game.
After this year's run of duds at Hampstead and now Soho you have to ask why so many good writers make bad plays with the RSC. Yes, Shakespeare's ghost is inhibiting. But surely someone ought to have noticed that Georgia Fitch's 'Fit and Proper People', despite its nice mockney swagger, is just not clear. And clarity is helpful. Particularly if you're going to put young actresses onstage naked.
Fitch aims to expose the culture of sexism, corruption and racism that scars the beautiful game. Katy Stephens, playing a female agent in a man's world, gamely staggers around the (real) turf in high heels as the play's narrator and heroine, Casey Layton.
She wheedles, threatens, deals – even gives 'a bit of sexual' to a Chinese businessman to sweeten the deal in which he buys her local team. But I found it hard to see her motives, even after the obligatory dark secrets are revealed.
Fitch writes sparky dialogue, well-spoken by Steven Hartley, who grinds through manager Tony's lines like a cockney cement-mixer. Director Steve Marmion turns the volume up, throwing turfside-inspired telly clips, noise, and slow-mo dance routines at a play which lacks substance.
As for the banal Wag, the mouthy stripper and the needy secretary who service the striker, the manager and the owner here – they look too much like sexism to critique it.
It's a crying shame: 'Fit and Proper People' tackles a tough subject and is imaginatively marketed, with beermats and free pies. But it deserves to be relegated, not promoted.