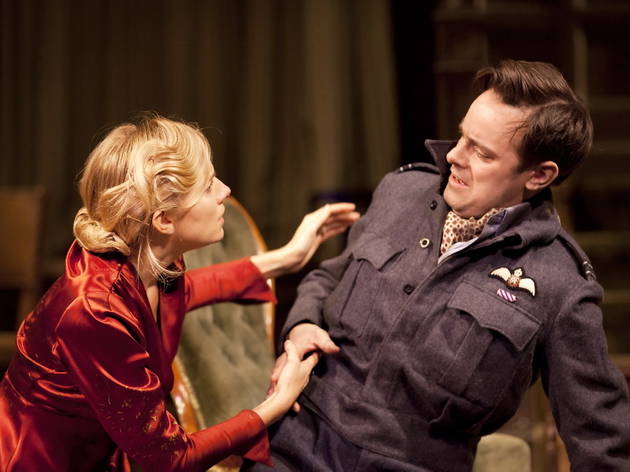 Even at the pinnacle of his success, Terence Rattigan was prone to making inadvisable decisions for the sake of celebrity casting. So Sienna Miller's presence in Trevor Nunn's revival of 1941 war drama 'Flare Path' is unfortunately apt. In the role of Patricia Graham, an actress torn between her movie star lover, Peter Kyle (James Purefoy) and her pilot husband, Percy (Matthew Tennyson), Miller isn't really up to scratch, her lack of nuance a poor fit for Rattigan's implied meanings and spare, ultra-distilled dialogue.
Fortunately, this is very much an ensemble piece. In the author's centenary year, Nunn does a good job fashioning an emotionally resonant production that largely transcends the ways in which the play – written by Rattigan while serving in the RAF – is unavoidably locked into the period in which it was written. The action takes place in the lounge of a Lincolnshire hotel, where the bomber pilots stationed at the nearby airbase stay with conjugal guests. It's a cloistered little world and, wandering suavely in one evening, Purefoy's aging matinée idol might as well be from a different planet. Certainly that's how Doris (Smith), a dotty barmaid married to a Polish count stationed on the base, receives him, clucking in delight at this celluloid vision made flesh. But when she shushes him so she can listen to a plane pass by, it's the first hint that Peter's plans to fly in and razzle dazzle his ex-lover may encounter turbulence.
Of course it's partly wartime propaganda: Peter is the cosseted cad, his failings exposed by Our Boys. But there's so much more to Rattigan than that, and Nunn's poignant production is alive to 'Flare Path's bittersweet textures. What Doris and Percy know and Pat and Peter come to learn, is that for all life's myriad subtleties, sometimes there is no option but to exist only in black and white. It's a lesson Purefoy's Peter finally learns in a moving flood of tears. And it's a way of life that Smith's Doris lives to the full. From the way she expresses her hurt at a snide comment only via a look in her eyes as she exits, to the gravitas she injects into to the saccharine ending, there's an ocean of feeling behind her cheery façade. It's a superb performance, equal parts Chekhov and Victoria Wood.
What a shame that in Miller's hands, Patricia's inner conflict feels like such a small thing compared to Doris's. Elsewhere, I could have done without the cartoon projections of bombers, while the less said about Mark Dexter's Borat-ish Polish count the better. But Nunn's production is largely very good, and mention should go to some fine supporting turns from Clive Wood and Sarah Crowdon.
Average User Rating
4.8 / 5
Rating Breakdown
5 star:

3

4 star:

1

3 star:

0

2 star:

0

1 star:

0