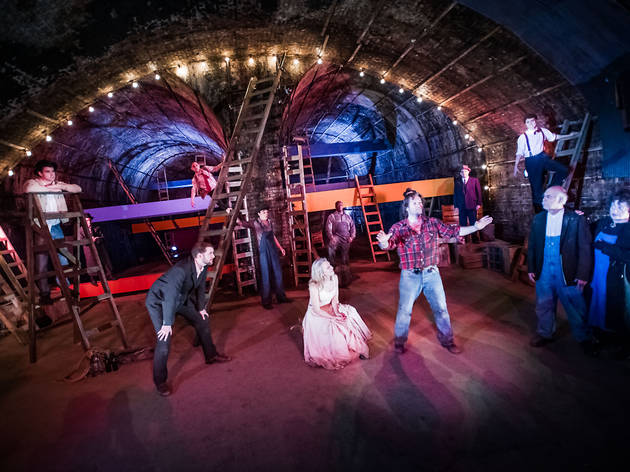 Musicals rarely offer the best material for Freudian interpretation. But like the cave its protagonist lies trapped in, 'Floyd Collins' is a compact, modest-looking show with vast hidden depths.
Tina Landau and Adam Guettel's bluegrass-inflected 1994 musical sings of the Kentucky caver who, in 1925, got stuck exploring Crystal Cave. As family, farmers and officials fight over the rescue, reporter 'Skeets' Miller squeezes down to file interviews with the dying man, fuelling a very modern media circus.
Beneath the energetic surface show, Derek Bond's production delicately excavates the question: what leads a man to risk his life in 'the meanest, blackest, wettest' holes in the first place? As Glenn Carter's Floyd drifts into delirium within a set of leaning ladders, his Ophelia-like sister Nellie lingers dreamily at the cave mouth, seeming to hold one key. In a brilliant ensemble, Robyn North fascinates as this virginal beauty fresh from an asylum, injecting her songs with a little hiccup of hysteria.
Another answer is offered by the venue itself. Beautifully illuminated in the closing moments, its expansive railway arches suggest the 'one giant system' Floyd believed to the end that he had discovered.
Those expecting '127 Hours the Musical' could be disappointed by the pace. But are there many more essential images in the history of musicals than of this man throwing his echoing song into the darkness to sound out the boundaries of his world?