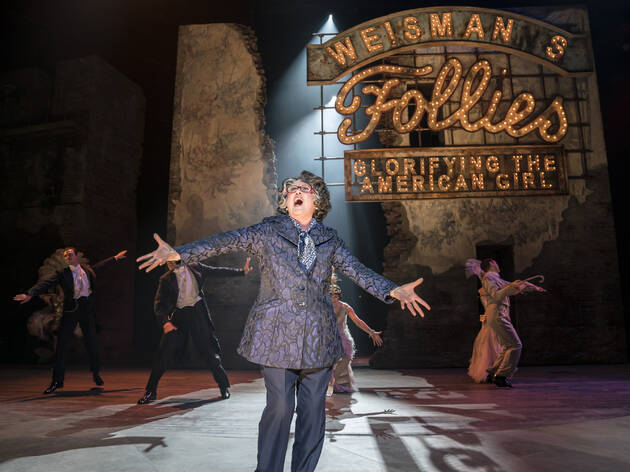 1/11
© Johan Persson
Claire Moore (Hattie)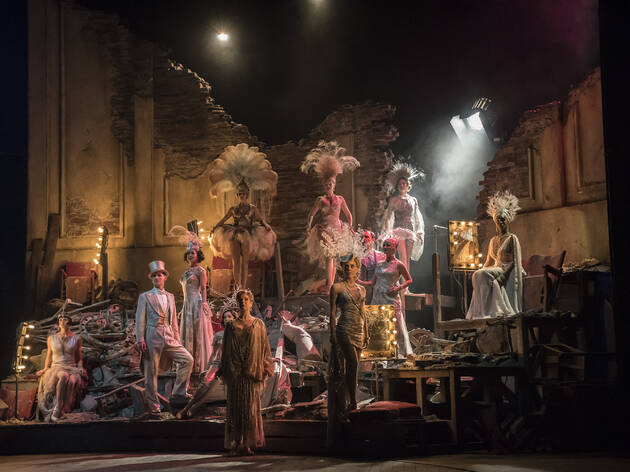 2/11
© Johan Persson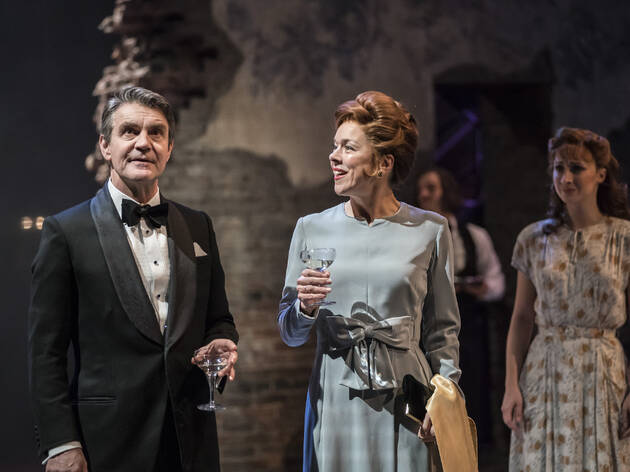 3/11
© Johan Persson
 Alexander Hanson (Ben) and Janie Dee (Phyllis)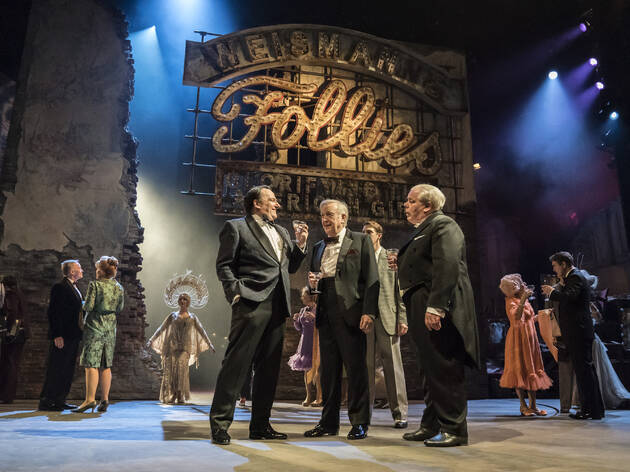 4/11
© Johan Persson
Peter Forbes (Buddy), Billy Boyle (Theodore) and Bruce Graham (Roscoe)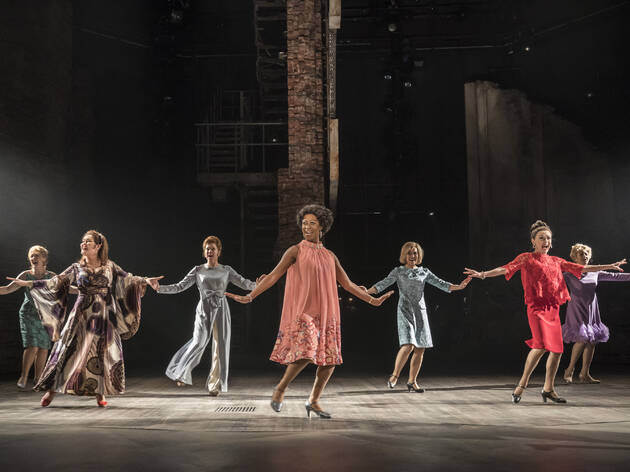 5/11
© Johan Persson
Dawn Hope (Stella) and the company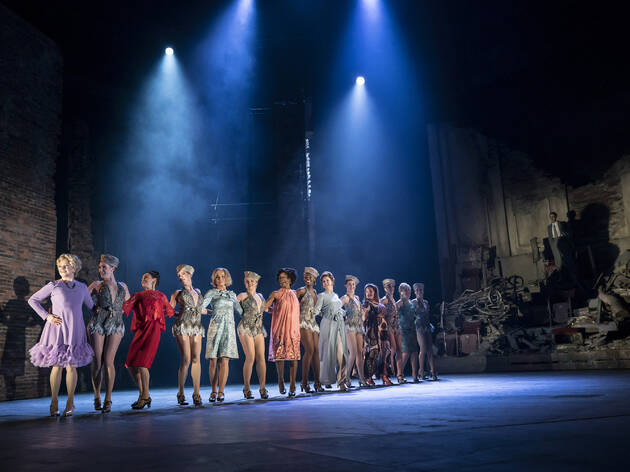 6/11
© Johan Persson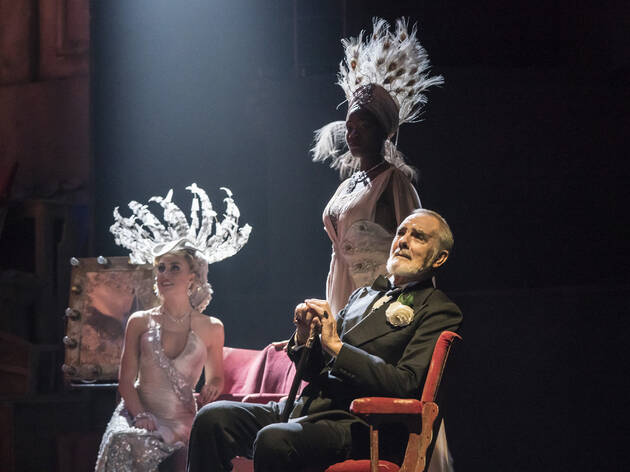 7/11
© Johan Persson
Aimee Hodnett (Young Sandra), Vanessa Fisher (Young Stella), Gary Raymond (Dimiti Weisman)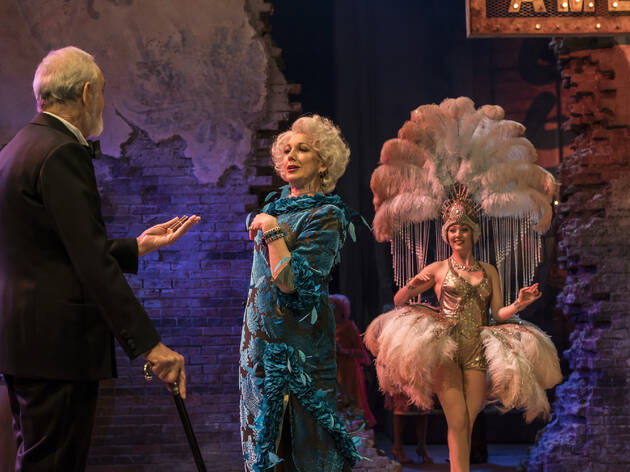 8/11
© Johan Persson
Gary Raymond (Dimitri Weismann) Geraldine Fitzgerald (Solange) and Sarah Marie Maxwell (Young Solange)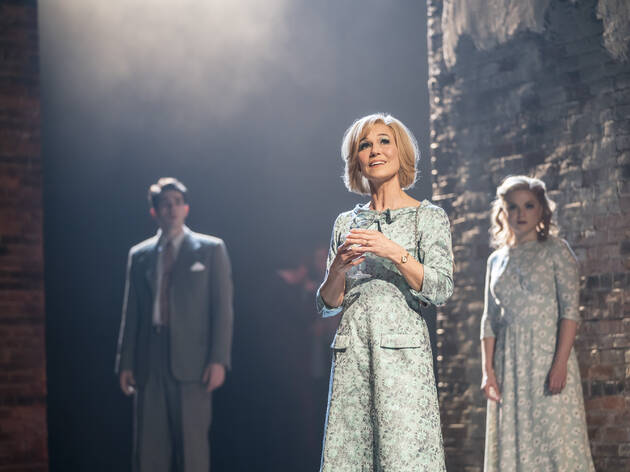 9/11
© Johan Persson
Ian McIntosh (Young Ben), Joanna Riding (Sally) and Gemma Sutton (Young Sally)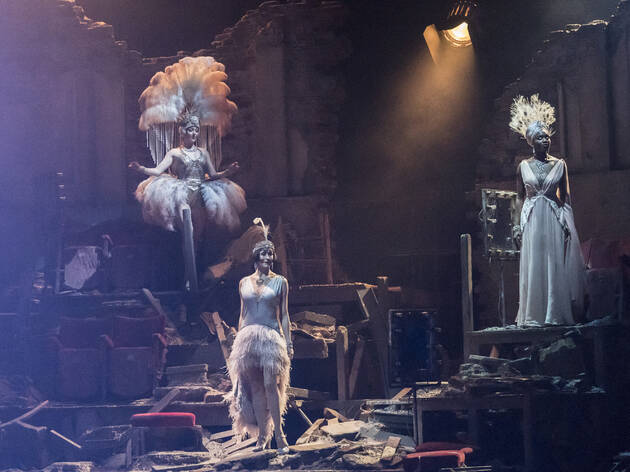 10/11
© Johan Persson
Sarah Marie Maxwell (Young Solange) Lisa Ritchie (Young Hattie) Vanessa Fisher (Young Stella)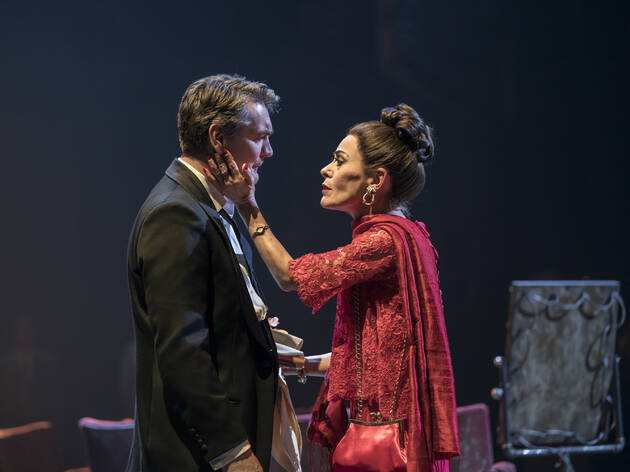 11/11
© Johan Persson
Alexander Hanson (Ben) and Tracie Bennett (Carlotta)
Time Out says
'Follies' returns to the National for an encore, and it's as dazzling as it was before
Well, hello perfect! Great shows are rare; flawless ones happen only under a blue moon. But Dominic Cooke's revival of this wry, classy American musical, back for an encore at the National Theatre, is both of the above.
Go in your bleakest mood: I guarantee you will float out into a world where middle-aged bores look like romantic heroes, OAPs could tap-dance brilliantly at the drop of a hat, and just about everything seems a little bit Sondheim. Take your mum, take your grandmother, take your ex or go solo - just don't miss this, it's flawless.
The genius thing about Stephen Sondheim's 1971 musical is that it starts at the end of love: the opposite of the golden-age musicals it looks back on, which tend to end at the start, with a quartet of youngsters high-stepping into the sunset. Its story – the merest wisp of a thing – is set in a ruined theatre that formerly housed dance revue 'Weismann's Follies'.
The occasion is a showgirls' reunion. But the party is just a nostalgic, boozy excuse to assemble the most extraordinary troupe of ordinary women on stage. Once upon a time, they were Weismann's 'girls'. Now, they're wisecracking post-menopausal dames with feet to cut loose, heartbreak to holler about, and philandering husbands to call out. And that's it, essentially. Except for Sondheim's music – hit after hit after hit, lavishly, emotionally, immaculately put together by the exceptional 40-strong ensemble and 21-piece orchestra – frequently while dancing backwards in heels.
And also his lyrics, which rewrote the American songbook, mix the champagne fizz of a Cole Porter ballad with a dash of '70s NYC bitters, for a more grown-up, sophisticated taste. And the delicate, poignant glamour of Cooke's staging: a spectacular, ghostly set, all ruined red plush chairs and rickety staircases, haunted by the silky, feather-plumed ghosts of the showgirls, and their wise-ass current incarnations, dancing rings around their younger selves. And the cast: all of whom would deserve a star writeup in ordinary circumstances.
This is an ensemble piece and a genuinely dazzling one, but you'll spend much of your evening hanging out with the middle-aged quartet Sally, Phyllis, Ben and Buddy (Joanna Riding, Janie Dee, Alexander Hansen and Peter Forbes, all outstanding). For what it's worth: Sally and Phyllis were roomies; Phyllis bagged ambitious Ben (now a wealthy do-gooder and crummy spouse); Sally got Buddy (a philandering salesman) but still loves/stalks Ben.
Their love rectangle is explored from every angle, especially via haunting interplay with their past selves (as Phyllis puts it, succinctly: 'Lucy wants to do what Jessie does, Jessie wants to be what Lucy was'). That's the real twisted love affair here for each of them, and indeed for Sondheim, in his wise-assed remake of the Golden Age musical (and indeed for anyone over the age of 30). That unrequited love affair with yourself is shatteringly illuminated in banger after musical-theatre banger – starting out in sly, wry, 'Annie Hall'-ish New Yorkisms then accelerating through the reality barrier into hectic, Technicolor tragedy or farce.
Riding is heartbreaking and totally scary in her diva climax, 'Losing My Mind'. And Janie Dee is outrageously brilliant in every respect – on press night, her fully juiced up revenge anthem, 'Could I Leave You', nearly prompted a Jerry Springer moment in the usually well-behaved NT audience. Their musical lives will get into your heart, and the lush music, hard-boiled lyrics and tight rhymes will get into your head. Use all your soft powers, queue for two hours, buy the usher fresh flowers – just go, go, go, go to this wonderful show!
Details
Average User Rating
3.6 / 5
Rating Breakdown
5 star:

7

4 star:

0

3 star:

4

2 star:

3

1 star:

1
The saving grace (for the 1 star) was the acceptable singing. But everything else was a disaster. There was no plot, no hook, nothing other than a bunch of pensioners reminiscing about their days when they could actually dance in a sub-standard cabaret in NYC. If I wanted to listen intently to the elderly recollecting about the good ol' days I would go and stay with my parents (although at least they wouldn't sing to me to pass the salt). The worst musical I have seen and, not to toot my own horn but, I have seen a lot and nothing compares to this boring rendition of a care-home on wheels. But I must congratulate them on their tactic of scrapping the idea of an interval. Because if they had one, no-one would return for the second half. Sorry not sorry.
Book now! This show is wonderful - great songs, dance, humour, drama etc. It is totally unaffordable as the cast is not only huge, but requires even small parts to be done by star performers. The National Theatre is probably the only organisation who can afford to do this - courtesy of your taxes...so go and see Follies while you can (and get some of those taxes back). It is an extravaganza performed extravagantly.
So much of it was good I was swept along in an uncritical haze of wonder and staggered out at the end thinking that it was worth my membership of the NT - even though I had had to sit through the first half of Common a few months ago, before staggering out at half time, and have bailed out of a few other NT shows since then.
One can always find fault, of course. Imelda Staunton was not quite used to her full abilities in a role that needs passionate warmth rather than a character actor - perhaps she is better in roles with more extreme characters, such as in Sweeney Todd. And, occasionally my attention strayed...but perhaps it had to, to recover some energy between the various exceptional numbers dotted throughout the show. And there were so many, from so many in the cast.
Having no knowledge of the plot, or expectations of the performance, it was especially wonderful to have a final set of scenes where so many ends were left loose.
Shows like this don't come around very often - they are too unaffordable. So, don't miss this one.
Follies is an absolute must-see: elegantly directed, with stunning central performances and a timeless score.
Set in the crumbling ruins of a cabaret theatre, long-lost friends and lovers reunite to share memories of their time there, as spectators and as the gorgeous girls up on stage. Throughout the show, we glimpse into the lives of each member of the ensemble, ranging from the French diva whose spirit hasn't aged a day, to the movie star who's just grateful to be alive and others, who mourn for what might have been.
Sondheim's score is brilliantly crafted with witty and insightful lyrics, and the fragmented set offers a perfect contrast to the girls' bedazzled costumes from the past. But special mention must go to the central performances. Imelda Staunton is on cracking form, Philip Quast's voice is unreal, Janie Dee is superb and Tracie Bennett owns every bar of "I'm Still Here".

I knew nothing about Follies but am so glad to have seen it. It is a celebration of life, of growing older and of seizing every moment.