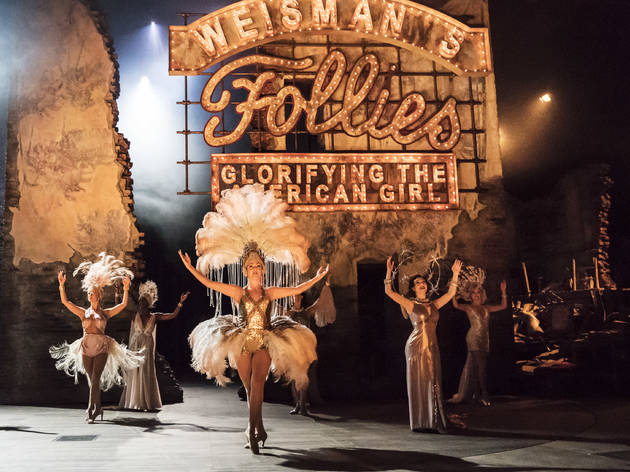 1/12
© Johan Persson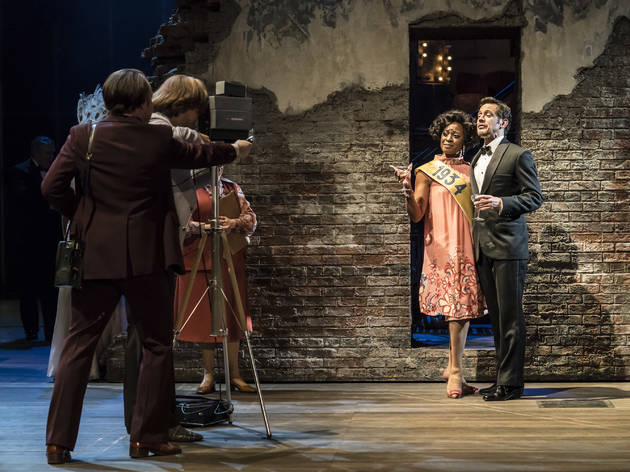 2/12
© Johan Persson
Dawn Hope as Stella Deems and Adrian Grove as Sam Deems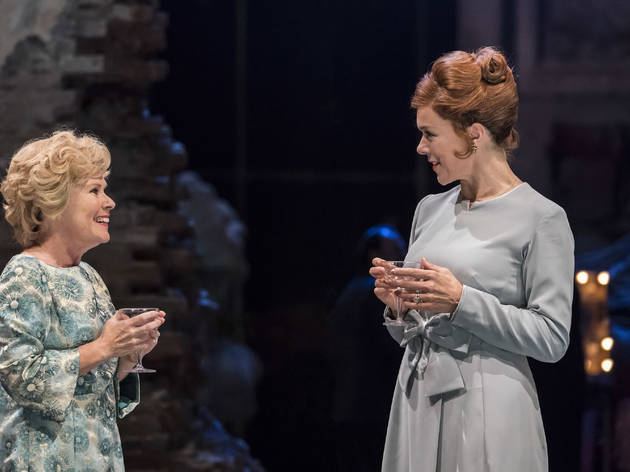 3/12
© Johan Persson
Imelda Staunton as Sally Durant Plummer and Janie Dee as Phyllis Rogers Stone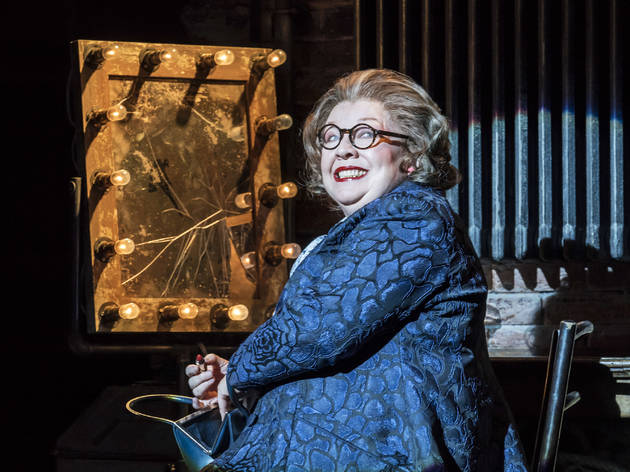 4/12
© Johan Persson
Di Botcher as Hattie Walker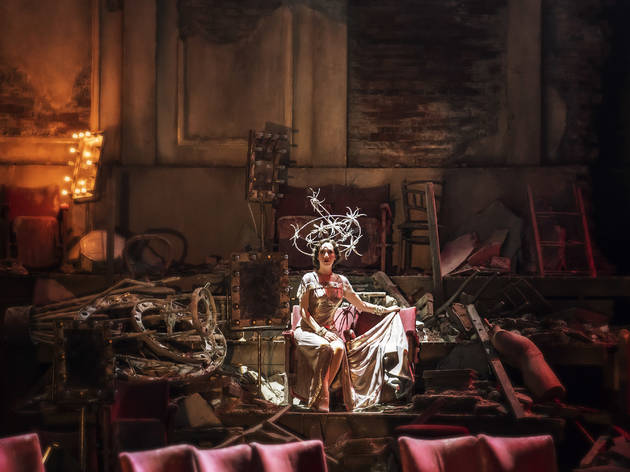 5/12
© Johan Persson
Emily Langham as Young Carlotta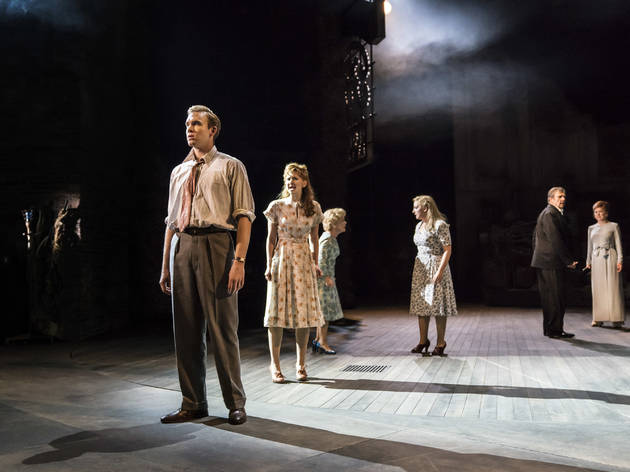 6/12
© Johan Persson
Adam Rhys-Charles as Young Ben, Zizi Strallen as Young Phyllis, Imelda Staunton as Sally , Alex Young as Young Sally, Philip Quast as Ben and Janie Dee as Phyllis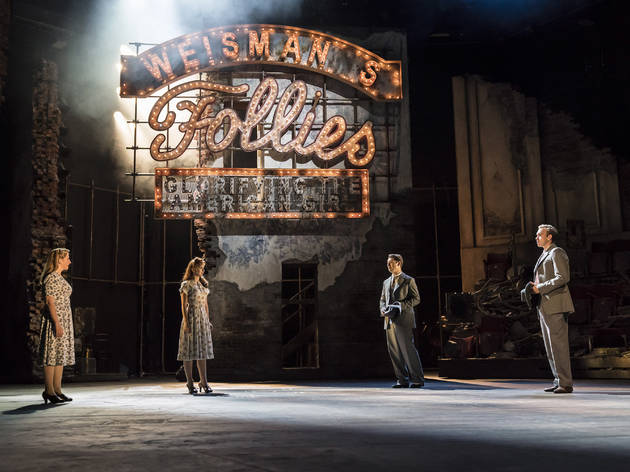 7/12
© Johan Persson
Zizi Strallen as Young Phyllis, Alex Young as Young Sally, Fred Haig as Young Buddy and Adam Rhys-Charles as Young Ben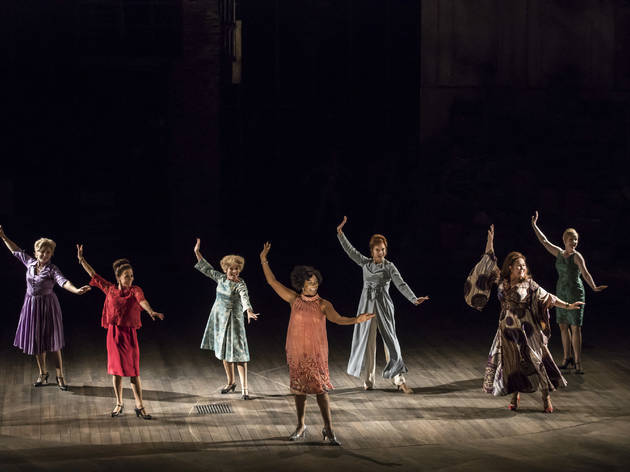 8/12
© Johan Persson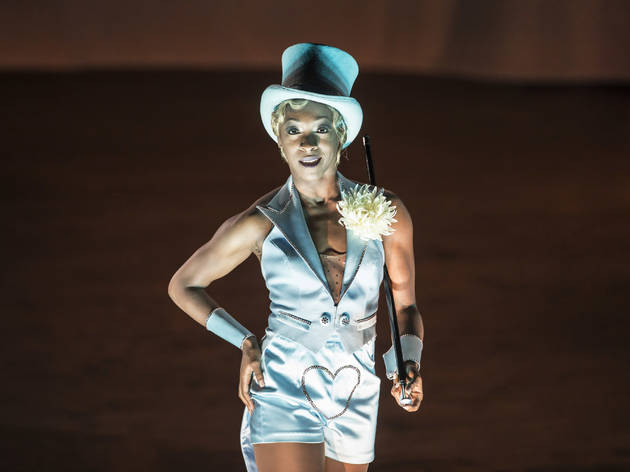 9/12
© Johan Persson
Leisha Mollyneaux as Showgirl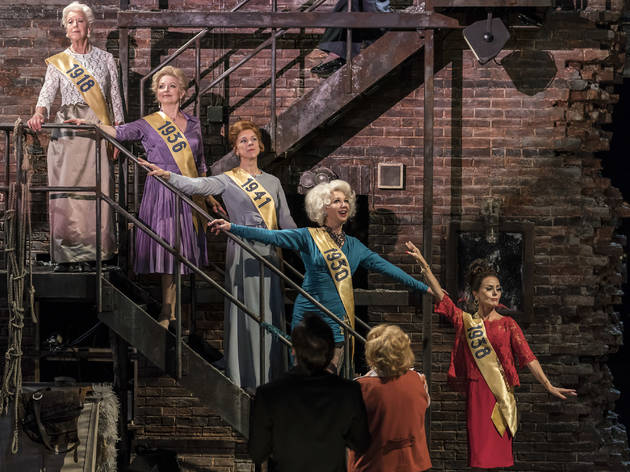 10/12
© Johan Persson
Josephine Barstow as Heidi, Gemma Page as Sandra, Janie Dee as Phyllis, Geraldine Fitzgerald as Solange & Tracie Bennett as Carlotta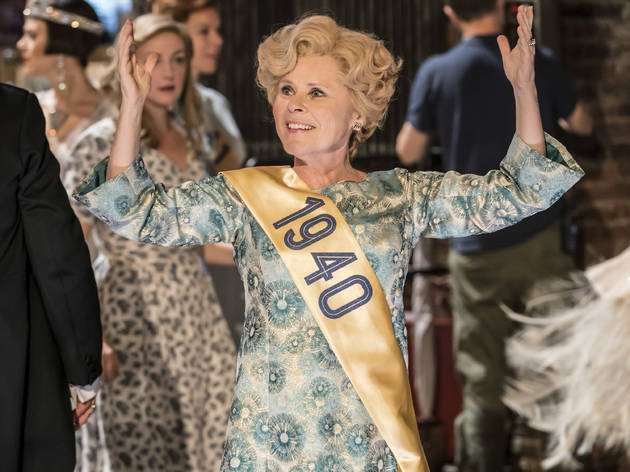 11/12
© Johan Persson
Imelda Staunton as Sally Durant Plummer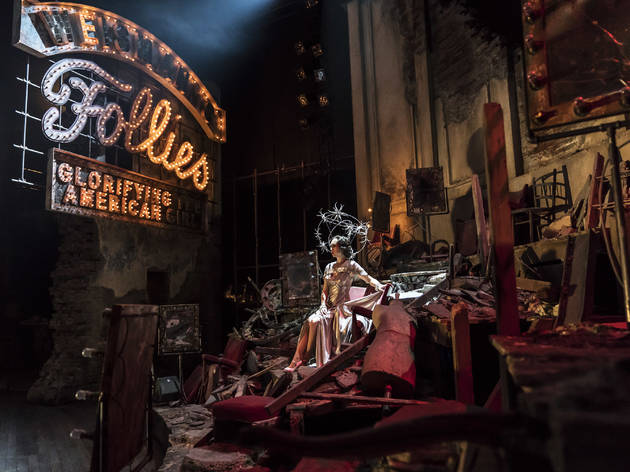 12/12
© Johan Persson
Imelda Staunton and Janie Dee are perfect leads for this huge, stunning Sondheim revival
This review is from 2017. 'Follies' returns to the National Theatre in February 2019.
There's nothing like a Stephen Sondheim musical to make you wonder what the hell everybody else is playing at. Revived at considerable expense, with a lot of style, and a frankly extraordinary cast headed by Imelda Staunton and Janie Dee, 'Follies' is to the average West End song-and-dance show what Shakespeare's sonnets are to 'Love Island: The Reunion'.
'Follies' is an elegiac, eloquent work about age and disappointment, about the agonising clash between the fires of youth and the pragmatism of late middle age. It is about illusion and reality, razzle-dazzle and darkness. And it pierces both heart and brain in Dominic Cooke's towering NT revival.
Broadway, 1971: a soirée is taking place in the shattered shell of a defunct theatre (a brilliantly ominous Vicky Mortimer set). Thirty years ago it hosted the liveliest revue show in town: now its former owner, Dimitri Weismann, has decided to throw a lavish, boozy party to mark the building's passing, inviting back the old showgirls and their customers.
The leads are divided into their present selves and their 30-years-ago incarnations, who haunt them like ghosts and occasionally take centre-stage. So we have broken dreamer Sally (Staunton), acid-tongued Phyllis (Dee), dissolute multi-millionaire Ben (Philip Quast) and loserish nice guy Buddy (Peter Forbes); but we also have them in their mid-twenties (Alex Young, Zizi Strallen, Adam Rhy-Charles and Fred Haig), all passion and hormones and confusion. Do we envy that fire? Or their current success? And is it them we pity, or ourselves and our own lost pasts?
To articulate all this Cooke has gathered a huge and prodigious cast to render Sondheim's arsenal of remarkable songs. Many of them are dispatched as 'turns' – in a relatively peripheral role, Tracie Bennett pretty much nukes the house with her one big moment in the spotlight with the gorgeous 'I'm Still Here'.
And then there are the leads: just a few months after snarling through the West End's 'Who's Afraid of Virginia Woolf?', bona fide national treasure Staunton is such a good actor that it's still a slight shock to be reminded what a great singer she is – you could live inside her bittersweet last note on 'In Buddy's Eyes' forever. She owns the most complex role of Sally, who has left town, married and had children but somehow hopelessly failed to move on from the '40s. Dee has the more 'fun' part as Phyllis, vamping it up while tossing out tart liners like hand grenades. But she nails the wistful tightrope act of playing the sexy panto villain while showing us the lines that connect her to the vulnerable girl of the past, desperate for approval from the unworthy young Ben.
Former Royal Court boss Cooke graduates with flying colours as he directs his first major musical. He brings the edge you'd hope for, a hard clarity and sense of brooding dread, but abetted by a formidable team notably choreographer Bill Deamer (GREAT tap sequences) and Mortimer – not least for the costumes – who knocks the ball far out of the park for the fancy stuff too. The audacious final sequence, in which the four leads' final fates are revealed in a phantasmagoric revue show, is as overwhelmingly opulent as you could hope for, a whirl of sumptuous pastel outfits, spectacular dancing and astringent song.
Actually genuinely nicknamed 'God', Sondheim really is peerless. But he's still very hard to get right: it's easy to get bogged down in the intellectualism of it all. But get him right Cooke and co do – the NT seems to have pumped half of the year's budget into it. 'Follies' is no folly but a perfect, devastating evocation of the pain of looking back. Plus: tap-dancing!
'Follies' will be screened in cinemas nationwide as part of NT Live on Nov 16
There is good availability for tickets from November to the end of the run (Jan 3)
Venue name:
National Theatre
Contact:
Address:
South Bank
London
SE1 9PX

Transport:
Rail/Tube: Waterloo
Price:
£15-£70. Runs 2hr 15min (no interval)
Average User Rating
4.1 / 5
Rating Breakdown
5 star:

7

4 star:

0

3 star:

4

2 star:

1

1 star:

0
Book now! This show is wonderful - great songs, dance, humour, drama etc. It is totally unaffordable as the cast is not only huge, but requires even small parts to be done by star performers. The National Theatre is probably the only organisation who can afford to do this - courtesy of your taxes...so go and see Follies while you can (and get some of those taxes back). It is an extravaganza performed extravagantly.
So much of it was good I was swept along in an uncritical haze of wonder and staggered out at the end thinking that it was worth my membership of the NT - even though I had had to sit through the first half of Common a few months ago, before staggering out at half time, and have bailed out of a few other NT shows since then.
One can always find fault, of course. Imelda Staunton was not quite used to her full abilities in a role that needs passionate warmth rather than a character actor - perhaps she is better in roles with more extreme characters, such as in Sweeney Todd. And, occasionally my attention strayed...but perhaps it had to, to recover some energy between the various exceptional numbers dotted throughout the show. And there were so many, from so many in the cast.
Having no knowledge of the plot, or expectations of the performance, it was especially wonderful to have a final set of scenes where so many ends were left loose.
Shows like this don't come around very often - they are too unaffordable. So, don't miss this one.
Snap up exclusive discounts in London
Time Out's handpicked deals — hurry, they won't be around for long...