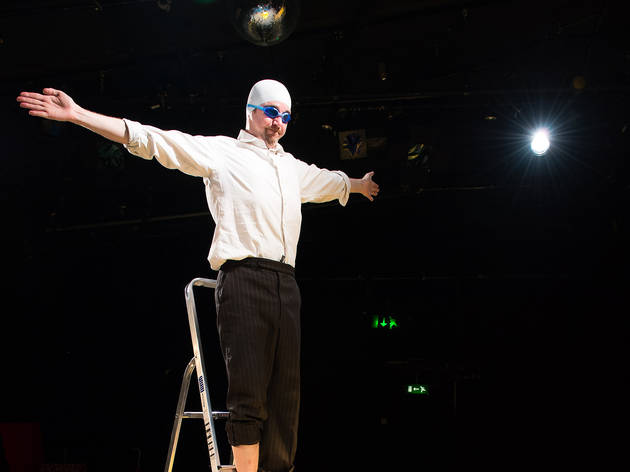 1/5
© Manuel Harlan
'Get Happy'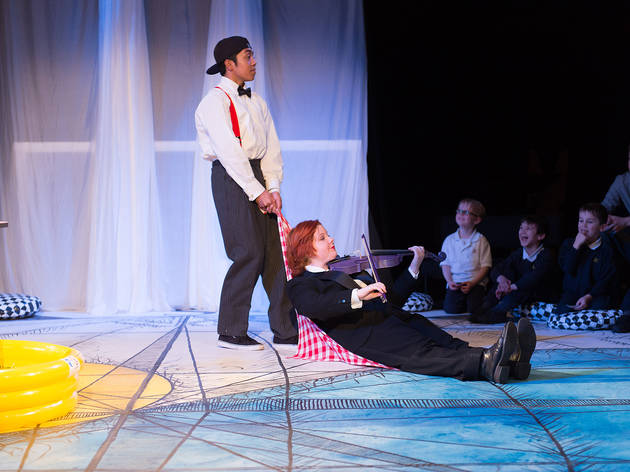 2/5
© Manuel Harlan
'Get Happy'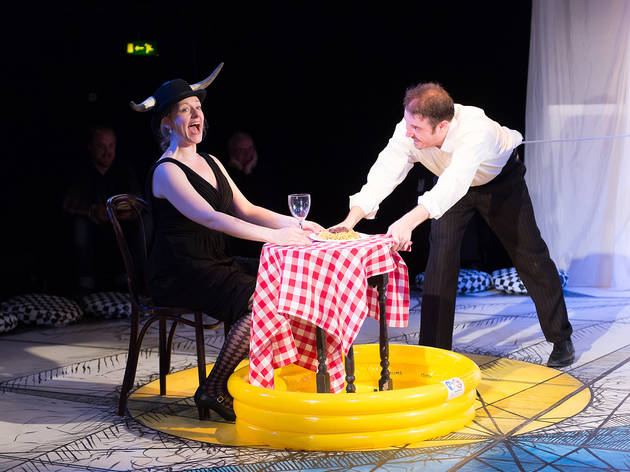 3/5
© Manuel Harlan
'Get Happy'
4/5
© Manuel Harlan
'Get Happy'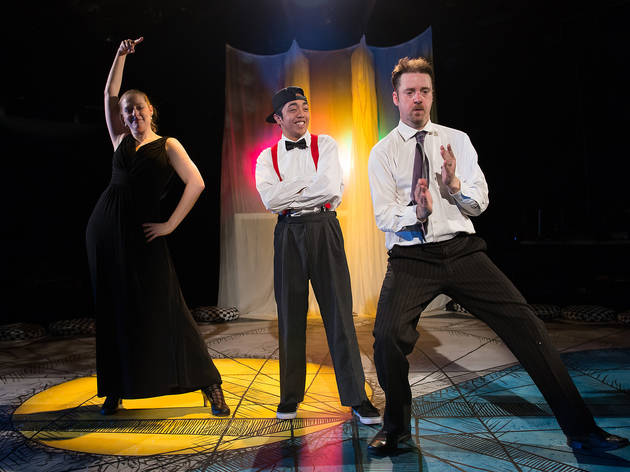 5/5
© Manuel Harlan
'Get Happy'
'Get Happy' returns to the Barbican over Christmas 2015.
Shape-shifting stage veterans Told by an Idiot finally make a foray into children's theatre with this madcap little gem aimed at ages four and above.
Though overtly influenced by the glory days of silent slapstick, 'Get Happy' has no theme per se – instead, it's a sort of surreal sketch show for kids. If there is a thread running through the show, it's a very British take on failure: most of the skits involve the quartet of performers charmingly ballsing something up, be it Stephen Harper trying to serve Sophie Russell a restaurant meal with a huge bungee cord tied around his waist, or him engaging slick young buck Michael Ureta in a staggeringly inept dance-off.
Harper's hangdog facial expressions are priceless and it's all handled with great charm and gusto, though the young audience I saw it with (most of whom seemed to be French, weirdly) were generally agreeably puzzled rather than actively enraptured by proceedings.
But they came to life during the sprinklings of audience interaction: for a lot of these theatregoers, the bit where they were invited to jump over a sports bag clearly constituted the high point of their week – oh to be young!
RECOMMENDED: More Christmas shows in London
Find more festive fun with our guide to Christmas in London
Rating Breakdown
5 star:

1

4 star:

0

3 star:

0

2 star:

0

1 star:

0
Took our son (4yrs) to this show yesterday and he was absolutely captivated. It was really surreal but completely charming. And while we were there for our kids, there was joy on the faces too at the supreme silliness of it too. The actors were brilliant at engaging the children and my son (who got to wear Mikeys magic shoes and hold Stephens phone) could talk of nothing else on the way home. A must for all 4 and 40yr olds.