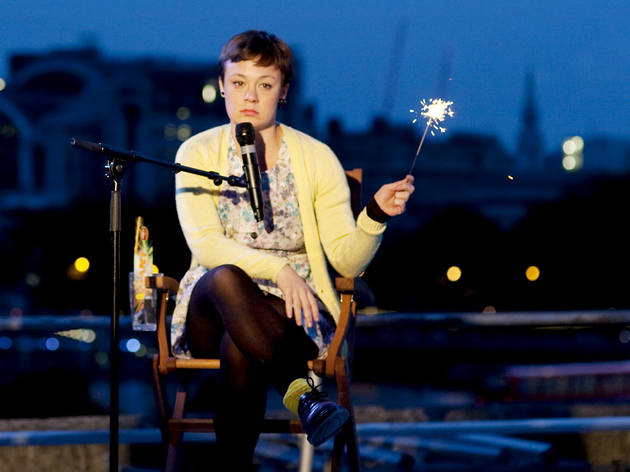 Thumbs up to experimental company, Made In China, for bagging the loftiest niche in town. Their new 65-minute show takes place on top of the National Theatre with the Thames as a backdrop and the darkening sky for a roof.
Stronger pieces than this one would struggle to compete with the setting. But at least 'Get Stuff Break Free' resonates with the consuming crowds below. It is a charming, unfocused, energetic conceptual riff on the history of the group (radicals or consumers?) from once upon a time in the West to latter-day capitalism, delivered in vintage clothes and accompanied by bursts of irrelevant music and Pimms and sandwiches (these last for the performers only, who consume them in the inevitably messy performance art style).
'Get Stuff Break Free' has the nub of something very interesting and timely – and a distinct, largely refreshing whiff of licensed foolery, in this Olympic year of hefty corporate sponsorship and conscious civic pride. Throughout, the four performers, Christopher Bailey, Sarah Calver, Jessica Latowicki and Nigel Barrett, ironically reassure us about our safety 'on behalf of American Express' – a major NT commercial and philanthropic partner.
It's nicely done: playful, but not offensive, typical of the new generation of gentle performance art, who charm and tickle you into a new frame of mind, rather than carpet bombing taboos. The lack of visual pleasure or really rigorous thinking prevents this show from being what it could be. But the conclusion to this loose conceptual riff, staged through faux press conferences, interviews, and gleefully crap line dancing, makes a real mark, as it shows you how often change is merely personal, not political – an observation that is surely the slogan of generation Y and its epitaph.
Rating Breakdown
5 star:

1

4 star:

0

3 star:

0

2 star:

0

1 star:

0