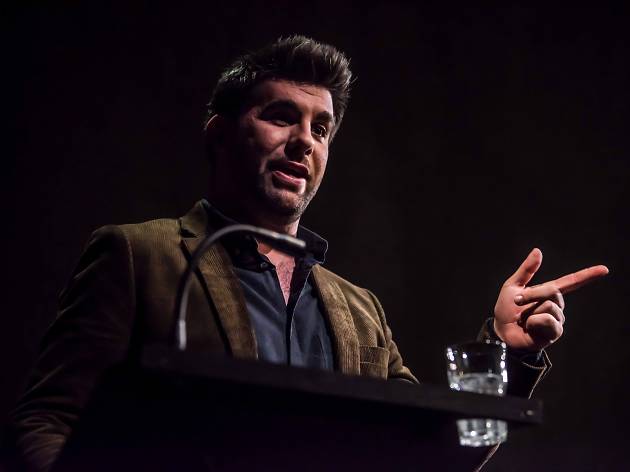 Jeremy Dyson and Andy Nyman's hit spook fest returns to the Lyric for a lap of honour
Having seen 'Ghost Stories' during its West End run, I happily agreed to watch it again as it returns to its original home of Hammersmith. If you've got a friend whose head you'd really like to fuck with, and you know what's coming, it's worth the journey for that reward.
The format is brilliant. Our host is Professor Goodman – originally played by the show's co-creator Andy Nyman, now by Simon Lipkin – who regales us with a series of spooky tales he deems both terrifying and unexplainable. The unexplainable bit is questionable, but still – it's a real recipe for jokes, and jumps, as things appear unexpectedly in the dark, and it all wraps around to a smart surprise finale. (It's better to not spoiler any of it).
As with the first time I watched all this unfold, the tension emanating from my companion was palpable. She gripped my arm each time something looked to be untangling and shrieked with a mixture of fear and joy at the end of each account. She also howled with laughter when the biggest man in the room let out a ladylike scream.
So there we go, mission accomplished. Jeremy Dyson and Nyman's spectre baby may have grown up but it hasn't grown tired. It's still your go-to if you want to well-and-truly wig someone out.
Average User Rating
3.2 / 5
Rating Breakdown
5 star:

2

4 star:

3

3 star:

1

2 star:

1

1 star:

2
This show doesn't know if it wants to be a magic show with elaborate stories (for a magic show) or a series of stores with elaborate magic (for an anthology of stories). It doesn't work for either. The 'stories' are entirely superficial - you've seen them all before if you've ever read or even a horror story ever. And then, you're only getting the highlights of the story. The 'magic' s OK but not for a magic show - Nyman (co-writer is one of the brains behind Derren Bown). In the end Ghost Stories is all LOUD SOUND EFFECTS and no substance. No story-telling at all and mediocre magic tricks.
We didn't know to expect really so hopes were high. And I wasn't disappointed but my partner was extatic! It started rather typically as 3 horror stories but ended with a nice twist and each of the stories had its moments. Very good playing skills of most of actors and unusuall atmosphere in the theatre ( you can bring a drink from the bar to your seat :) In general typical horror but scarier than book or movie as it happens in the front of your eyes
We were so looking forward to this show, having read several reviews. Could not have been more disappointed or less scared. A complete waste of money - and the tickets weren't cheap. Unfortunately we paid full price. I'd actually say that this is the worst show I personally have ever seen.
Saw this last night, quite entertaining but Scary?!? guess I just couldn't suspend my imagination far enough, to get out of my mind that I was in a theatre and the people on stage were actors. In fact it felt more like pantomome than anything else. The best parts are the sound effects and volume of. Sorry I expected more, so was ultimately disappointed. Guess you would need to go and see it and make your own mind up, there were some young lady's in front of me who seemed genuinely terrified. Guess it's 'horses for courses'.
I saw this with a group of friends. We were sitting in the back row and have never screamed so much in our lives! Really good fun, but also really jumpy - mixture of joy and terror!
"Ghost Stories" fits superbly into the industrial feel black box auditorium of the Arts theatre, much better than when it was at the Duke of Yorks. Very atmospheric, very scary and what I expected and sadly lacking from "The Weir" I got tonight in "Ghost Stories" - true horror and chills to put you on the edge of your seat. Not for the faint hearted, and tonight I shall make sure the bedroom curtains are well and truly closed - any slight crack of light peeking through will make me have have nightmares. Go see "Ghost Stories" but be prepared to be truly scared! Loved it
The atmosphere starts in the lobby, with horrific decor. Recommendation - go to the toilet beforehand. Why? It's right beside the auditorium, and the background track - I wouldn't really call it music - that plays before the show is piped in there too. It's quite a surreal experience to go to the toilet to the accompaniment of loud dripping sounds, clanking, moaning.. The description of the show format from 2010 still holds true. It's the same format. I can't vouch for whether it's the same show - I suppose not. It starts with quite an interesting lecture, followed by re-enactments of three experiences that the "professor" had told to him. Mostly for laughs, these - but the end of the show is truly creepy. Go see! If you like a decent scare, you will not be disappointed.