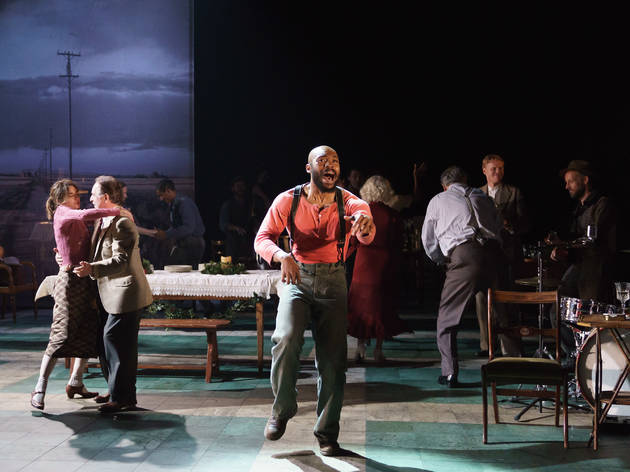 1/5
© Manuel Harlan
Arinze Kene (Joe Scott)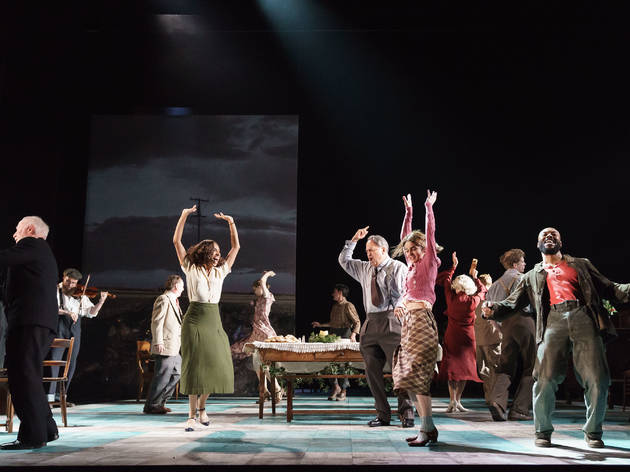 2/5
© Manuel Harlan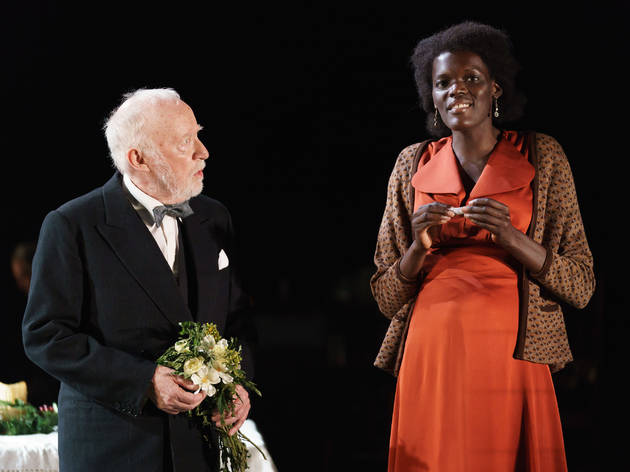 3/5
© Manuel Harlan
Jim Norton (Mr Perry) and Sheila Atim (Marianne Laine)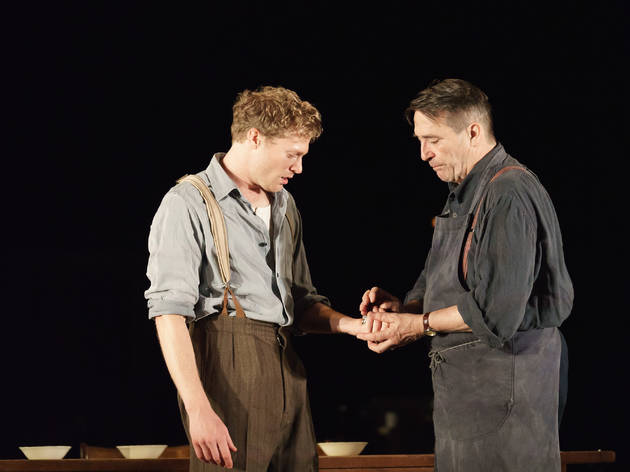 4/5
© Manuel Harlan
Sam Reid (Gene Laine) and Ciaran Hinds (Nick Laine)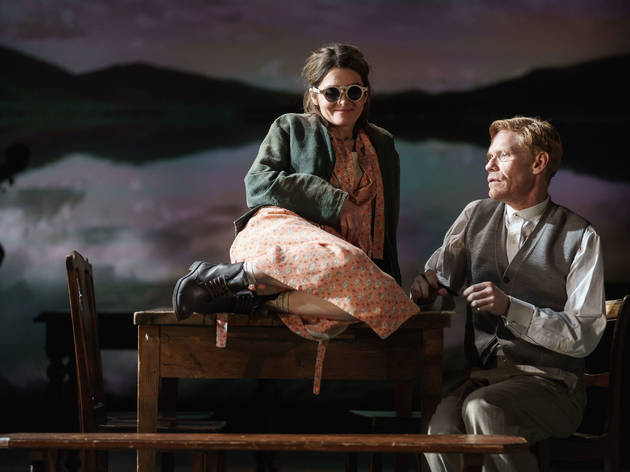 5/5
© Manuel Harlan
Shirley Henderson (Elizabeth Laine) and Michael Shaeffer (Reverend Marlowe)
Conor McPherson's dark, evocative Great Depression drama, built around the songs of Bob Dylan
Whatever you do, don't call it the 'Bob Dylan musical'. Yes, the erstwhile Robert Zimmerman may have once described himself as 'a song and dance man'. But playwright-director Conor McPherson's bleak, Dylan-soundtracked 'Girl from the North Country' is a play with songs that avoids the trappings of musical theatre like the plague – there are no dance routines, no happy endings, and the Old Vic stage remains dimly lit and half-shrouded in darkness. Dylan himself had no creative input, but one assumes it was always implicit in his licensing of the songs that it wasn't ever going to be a big tits-and-teeth West End show with Bob's name in lights.
Taking place in the Dustbowl at the height of the Great Depression, 'Girl from the North Country' extracts the Steinbeckian strand from Dylan's oeuvre, and might be imagined as an extra story that didn't make Todd Haynes's haunting, Dylan-inspired film 'I'm Not There'.
It's set at an inn in Duluth, Minnesota (Dylan's hometown) in 1934. Nick Laine (Ciaran Hinds), the gruff owner of the establishment, has many problems, not least the apparent dementia of his wife Elizabeth, played by Shirley Henderson in a truly bewitching turn, intense, otherworldly, almost rockstar-like. The show is set entirely in the inn, and follows the Laines and their patrons, who range from Joe (Arinze Kene), an ex-con boxer looking to put his life back in order, to Stanley Townsend's Mr Burke, a member of the elite fallen on hard times, now drifting through the night with his crumbling family.
It's a compelling set of stories, albeit sketched broader than is typical of McPherson, but with a narrower scope than Dylan's freewheelin' lyrical oeuvre. It touches on a lot of issues – race, faith, disability, capitalism, justice, immigration – but never really interrogates any of them.
But there's still something powerful in their evocation. And of course, the show's real USP is the music. For the most part, these are not the tracks you'd expect: there's just a handful of big singles (though don't worry, we get a spine-tingling 'Like a Rolling Stone'), and despite the folky instrumentation, Dylan's actual folk era is almost ignored. But the arrangements – by Simon Hale – are ravishing, songs building through bare vocals then layered with fiddle and an omnipresent kick drum played by whichever member of the cast happens to be walking past. Certainly they more than make a case for Dylan's body of work. And to state the obvious, however oblique the song choices feel, they're considerably less oblique than what you get at a Dylan concert these days, and the singing is beautiful, especially from Henderson.
'Girl from the North Country' would feel imperfect and undersketched as either musical or play, but smush them together and you've got something. It's a mood piece, marrying the myths of Dylan and the Depression into something timeless and elegant – a stark evocation of the American firmament.
Average User Rating
3.9 / 5
Rating Breakdown
5 star:

8

4 star:

6

3 star:

4

2 star:

2

1 star:

1
Do think twice... it's alright. If you're someone who enjoys a plot, don't watch this play. If you're someone who really loves Dylan's music (like myself), you will likely to be disappointed. Very few of his best songs are featured, and those that are are performed in far weaker arrangements that the originals. The actors were all fantastic, but there were no musically exciting moments, too many characters, and a story that never comes together. It ain't for me, babe.
This show took my breath away! The cast all have stunning voices but I was particularly blown away by the stunningly beautiful performance by Shirley Henderson. She is such a slight little thing but wow what a voice!
The story takes us back to a time when things were tough but the fundamentals of life still rolled on. Family drama, as always, takes centre stage and it was lovely to watch the story unfold and the characters come to life. The story itself is a very emotional one and you won't come out feeling uplifted but defiantly will feel like you have been taken on a ride. The music, particularly in the first half was beautifully intertwined to showcase the sadness and troubles that the characters are enduring.
The Old Vic itself is a stunning old building and well worth seeing in its own right. In particular when the disco ball lights it up at one point it is so beautiful!!
I would highly recommend going to see this show if you get the chance, it is very moving and beautiful!
If they'd done this as a concert, it would have been enjoyable: great singers, excellent arrangements. But the story is dull, the intermittent narration from the doctor is twee and the characters aren't very interesting. I loved most of the actors. They gave so much energy, but in the end, the script felt underwritten. The songs were squeezed into the story, but had the effect of halting, rather than advancing, the action.
Well done Conor McPherson (The Weir) for trying something new: a great cast, delivering a rich story, boldly interspersed with Bob Dylan songs. But sadly, for me, it didn't really work.
The songs (well-sung, with great live music accompaniment) regularly break the poignancy of the (otherwise very good) acting and (breaking a sentence gets quite annoying doesn't it) 30s-depression storyline. While on the other hand, the sanitised West-End musical versions of croaky Dylan originals turned them rather happy-clappy for my taste. And all this at the Old Vic?!
Most telling was the audience - who having booked months in advance to see 'the new Conor McPherson play' - mostly sat motionless with jaws aghast, at the razzmatazz and line-dancing unfolding in front of them.
I suspect 'Girl from the North Country' will do OK for its run however, as the seats will get filled with clap-along mid-Western tourists, replacing traditional Old Vic theatregoers. The plot is safely unchallenging, with no attempt to address US nor modern poverty issues today, and there's lots of opportunity to happily clap along to the music, or applaud every time someone finishes a song. But the Old Vic better be ready with something meaty and thought-provoking to win back its traditional customer base. Unless of course this is Matthew Warchus' attempt to bring the Old Vic more into the West End. Which it certainly does.