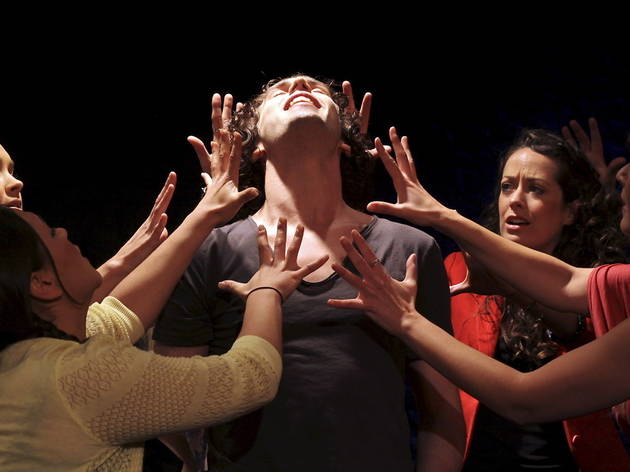 Jesus was big in late-'60s/early-'70s musical theatre. In the UK He starred in Andrew Lloyd Webber's 'Jesus Christ Superstar'. In the USA, His vehicle was the most bizarrrely successful MA project in the history of Broadway, Stephen Schwartz and John-Michael Tebelak's episcopalian hymnal redux, 'Godspell'.
It's easy to see why Michael Bradley and Michael Strassen, the directors behind the Union Theatre's fantastic Sondheim revival, 'Assassins', picked 'Godspell' for another small-scale, big-lunged revival. It's cheap (no setting, no set, just a bunch of '70s-style kids jamming with their heavenly guru). And the a capella arrangements in Schwartz's bluesy, poppy, jazzy sexed up hymns are stunning.
Strassen relaxes the score's slightly hysterical levle of pastiche, but there's nothing slouchy about the tight harmonies he gets from his ten-person ensemble: their vocal talent and youthful enthusiasm is almost enough to restore your faith.
Unfortunately, 'Godspell's scripture-based script is well-nigh irredeemable. Despite Billy Cullum's best efforts to project loving, sorrow, Jesus comes over as a creepy, ineffectual cult-leader, who gets off on head-massages from his female followers and, in the spirit of church am-dram, makes them perform endless parables about servants and masters.
The cast rough it up nicely, injecting banter and musical in-jokes (Madalena Alberto, Jill Armour and Natalie Green are talents to watch). But that New Testament mix of naff and sublime has lost its groove. Strassen's bare, intimate staging works well for the Bible group fooling, but it's not epic enough for the final jarring shift to Jesus's crucifixion scene (a rare example of goth-hippie-masochist kitsch).
Despite the inspired, cheaply achieved effects and the thrumming musical talent on offer here, this is a period curio. And it's never quite moving or persuasive enough to explain why these sweet-throated young folk aren't casting their musical pearls before Andrew Lloyd Webber on a talent show, instead of a T-shirted community organiser with a 2,000 year old fixation on prostitutes and tax collectors.