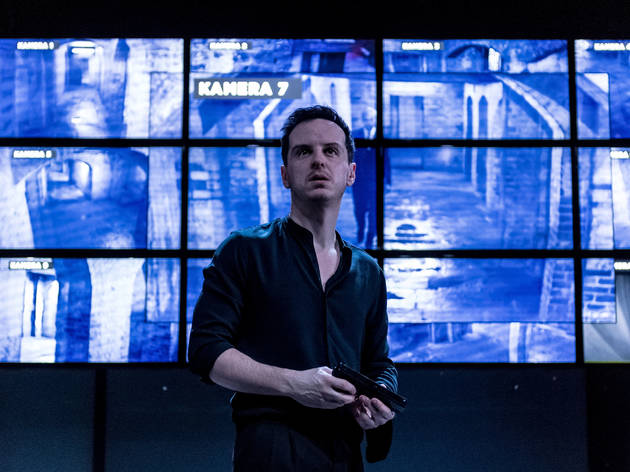 1/19
© Manuel Harlan
Andrew Scott as Hamlet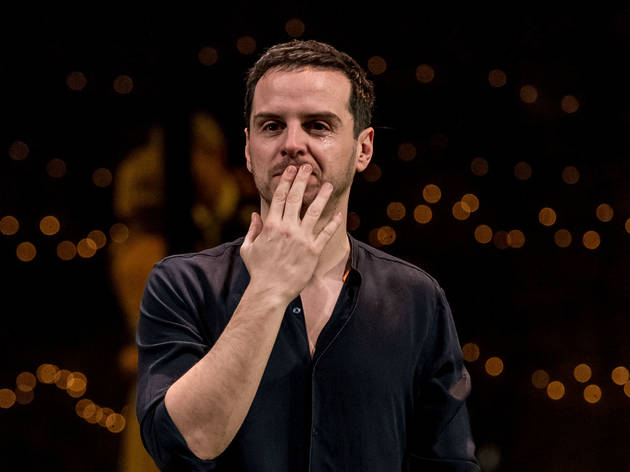 2/19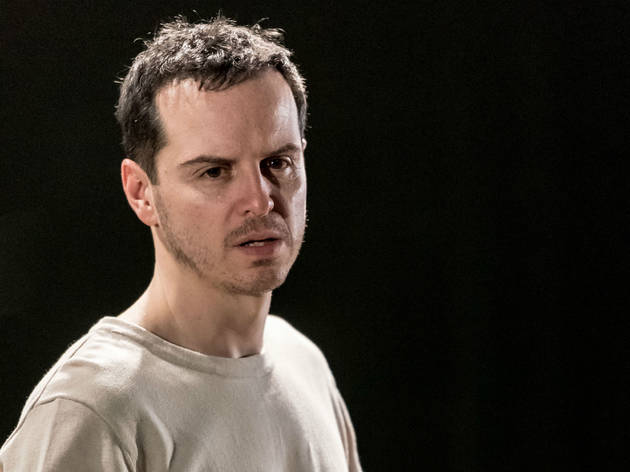 3/19
© Manuel Harlan
Andrew Scott as Hamlet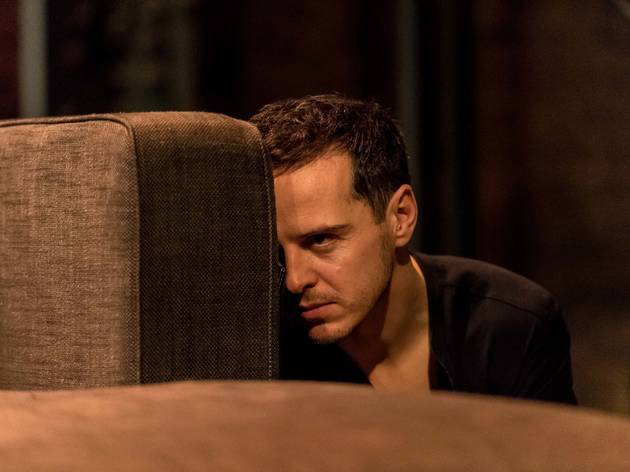 4/19
© Manuel Harlan
Andrew Scott as Hamlet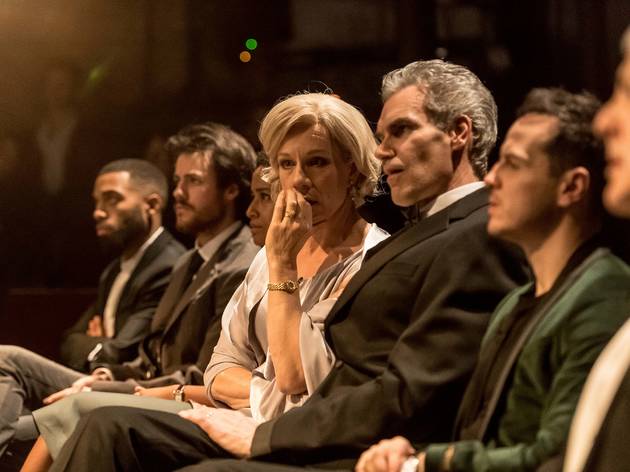 5/19
© Manuel Harlan
Elliott Barnes-Worrell, Calum Finlay, Amaka Okafor, Juliet Stevenson, Angus Wright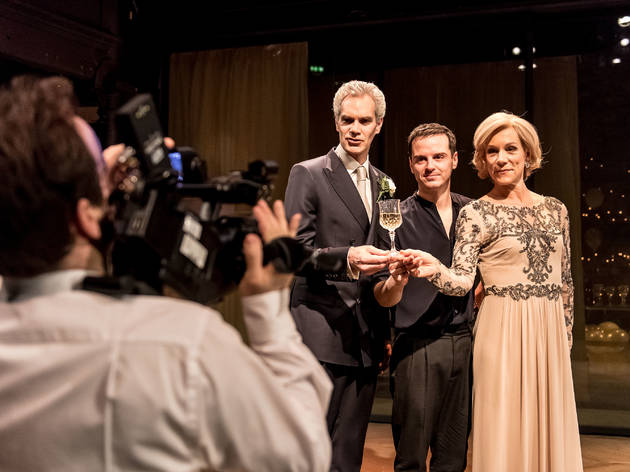 6/19
© Manuel Harlan
Angus Wright (Claudius), Andrew Scott (Hamlet), Juliet Stevenson (Gertrude)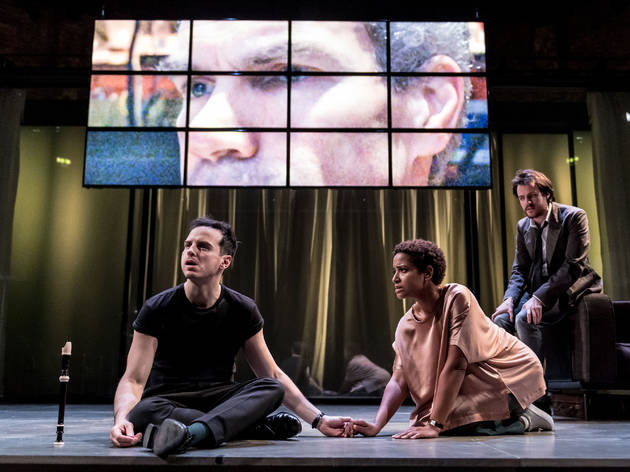 7/19
© Manuel Harlan
Andrew Scott (Hamlet), Amaka Okafor (Guildenstern) and Calum Finlay (Rosencrantz)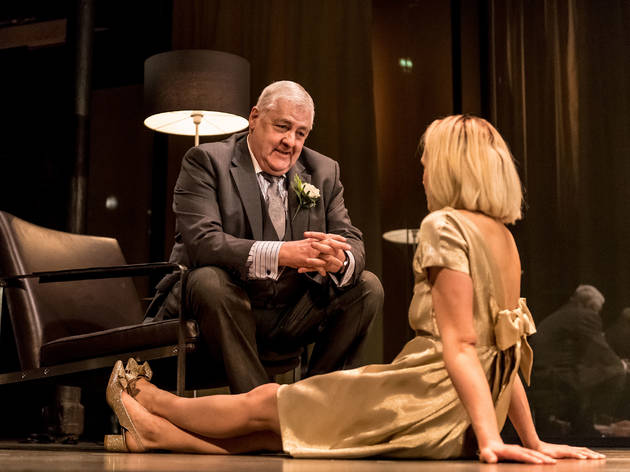 8/19
© Manuel Harlan
Peter Wight (Polonius) and Jessica Brown Findlay (Ophelia)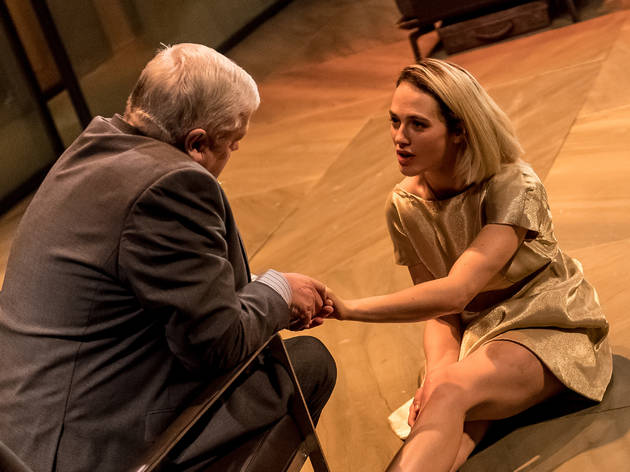 9/19
© Manuel Harlan
Peter Wight (Polonius) and Jessica Brown Findlay (Ophelia)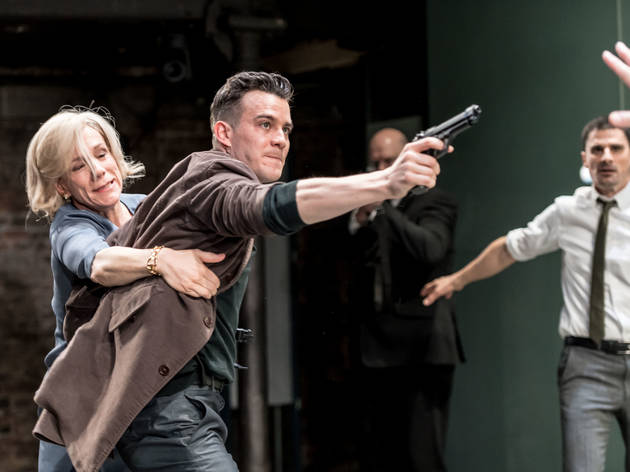 10/19
© Manuel Harlan
Juliet Stevenson (Gertrude), Luke Thompson (Laertes) and Daniel Rabin (Reynaldo)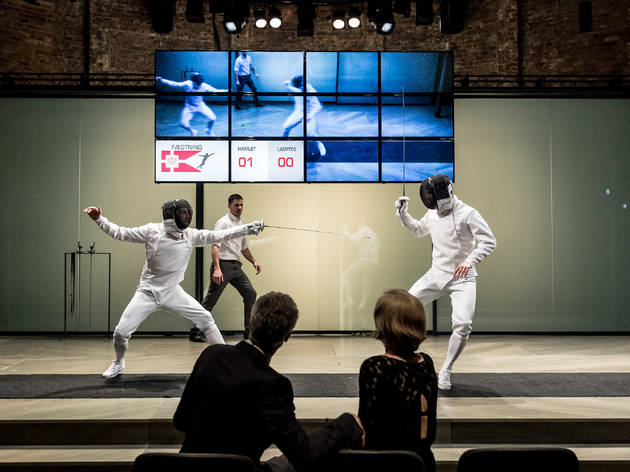 11/19
© Manuel Harlan
Andrew Scott as Hamlet and Luke Thompson as Laertes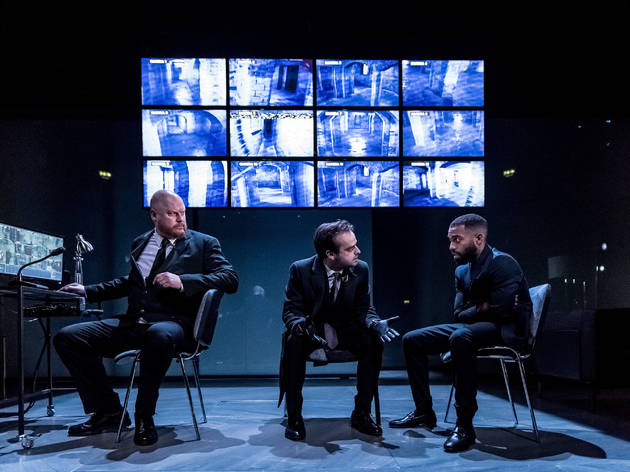 12/19
© Manuel Harlan
Matthew Wynn (Bernardo), Joshua Higgott (Marcellus) and Elliott Barnes-Worrall (Horatio)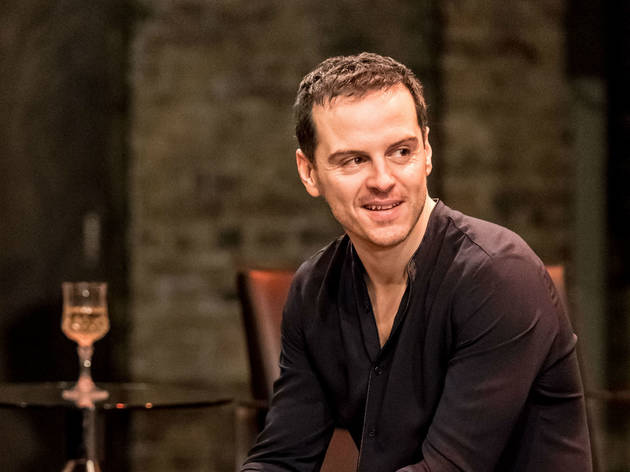 13/19
© Manuel Harlan
Andrew Scott as Hamlet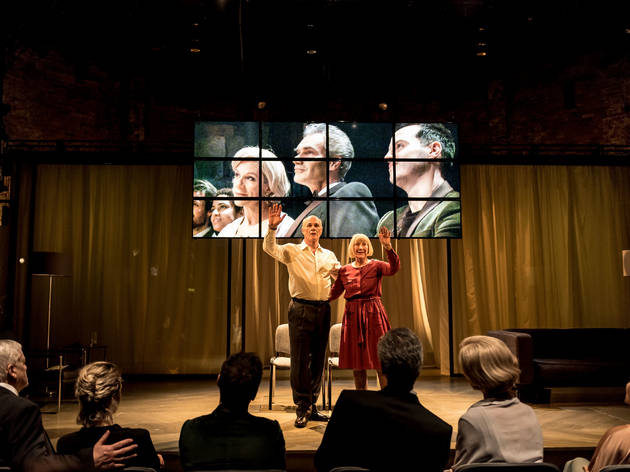 14/19
© Manuel Harlan
David Rintoul (Player King), Marty Cruikshank (Player Queen)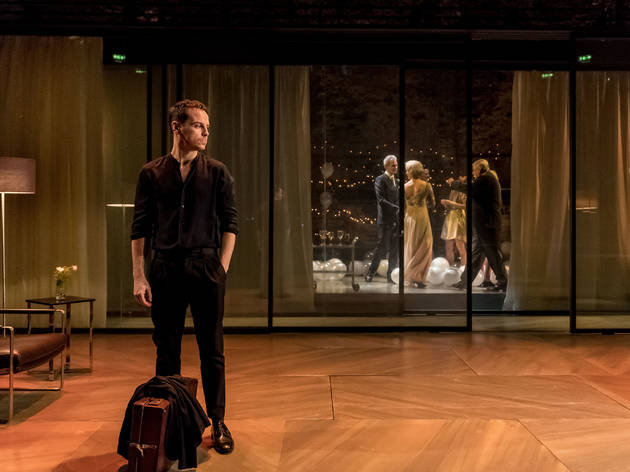 15/19
© Manuel Harlan
Andrew Scott as Hamlet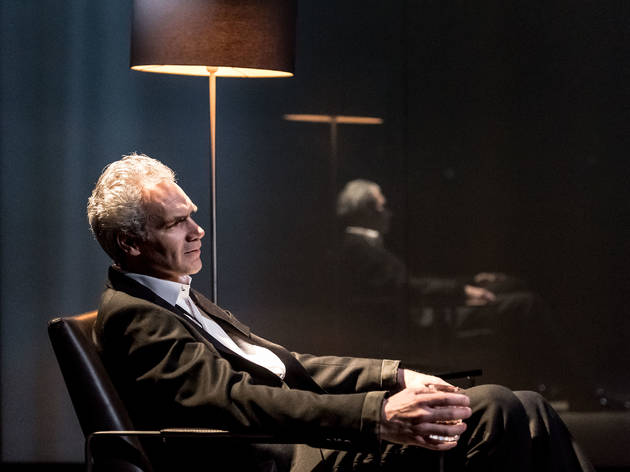 16/19
© Manuel Harlan
Angus Wright (Claudius)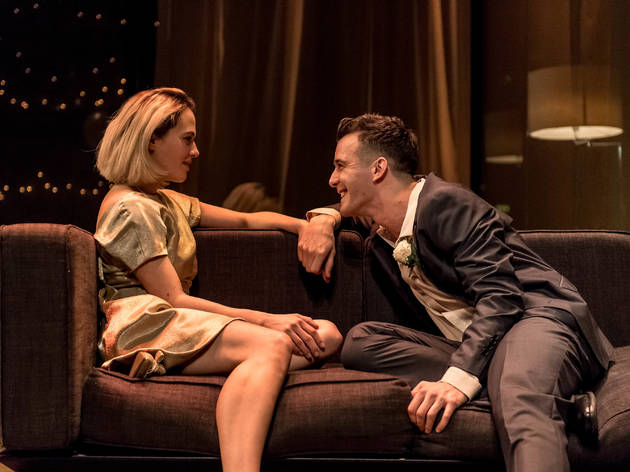 17/19
© Manuel Harlan
Jessica Brown Findlay (Ophelia) and Luke Thompson (Laertes)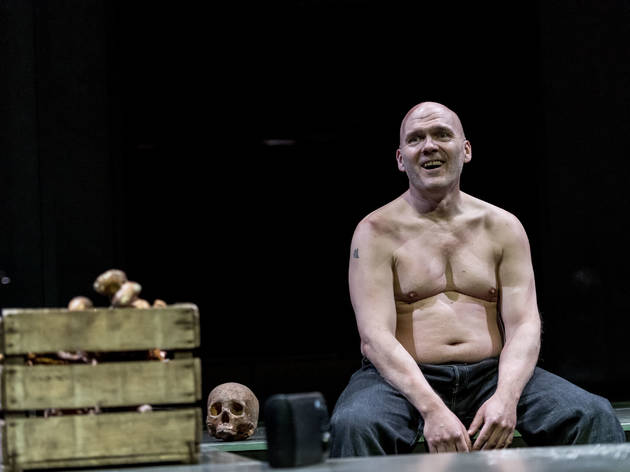 18/19
© Manuel Harlan
Barry Aird (Gravedigger)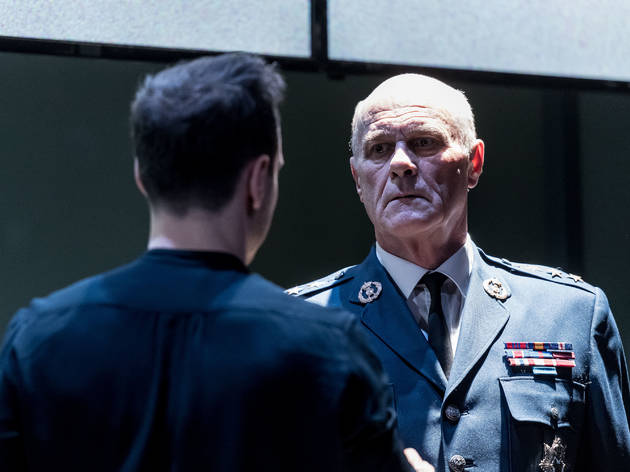 19/19
© Manuel Harlan
David Rintoul (Ghost Player King)
Star Andrew Scott and director Robert Icke present 'Hamlet' as a vision of doomed love
Star director Robert Icke's achingly compassionate take on 'Hamlet' presents Shakespeare's masterpiece as a shimmeringly sad vision of love. The play is always morally ambivalent, but here it's a world free of heroes and villains, in which nobody really means badly, but everyone is damned by their passions and frailties.
Admittedly most of it is one man's passions and frailties. When we meet Andrew Scott's Hamlet he is confused and miserable, blinking back tears and barely functional as he tries and fails to rationalise the recent death of his father and the rapid remarriage of his mother Gertrude (Juliet Stevenson) to his uncle Claudius (Angus Wright). But when he apparently sees his father's ghost, who tells him he was murdered by Claudius, this withdrawn young man starts to drift in a dangerous direction. Desperate to find sense in his father's death, he starts to tear down Elsinore.
Icke is famed as an avant-garde director with a European bent, but it's striking how little he tries to foist a big concept on 'Hamlet'. Instead his main innovation – aside from adding a bunch of Bob Dylan songs – is to cast serious doubt on whether Wright's Claudius did in fact commit the murder. Scholars of the text will be aware Hamlet does in fact overhear Claudius confessing to the murder, but Icke smartly – and audaciously – presents this as though it might be a hallucination of the declining Danish prince. Right to the end of this production of history's most famous revenge thriller it remains unclear whether there is actually anything to take revenge for. And if there is, Gertrude and Claudius's love for each other is shown to be absolutely genuine and true, and Hamlet's poisoning of it as great a tragedy as anything else that happens.
Scott speaks the verse beautifully, conversationally. It sounds like he is saying everything for the very first time, that these timeless soliloquies are his unfiltered stream of consciousness, that almost anything might happen. One moment he is calm and morose, the next he is in a genuinely frightening rage. It is livewire, edge-of-the-seat stuff. Clearly this Hamlet is not in his right mind, but as the play wears on you sense a terrible anxiety propelling his actions, a fear he isn't right about Claudius, the tragic sense that his eloquent existential dread has nowhere legitimate to ground itself.
Icke's production is stripped back and unhurried (a watch is a recurring motif); the only person in a hurry is Hamlet, desperate to do something – anything – to make sense of his dad's death. It's a long but uncluttered production, giving plenty of room to the words, letting the family relationships spool out gracefully. It's also intimate and wryly comic, warmed by the rustic Dylan songs – a world away from the misguided sturm und drang of London's last major 'Hamlet', the 2015 production starring Scott's mucker Benedict Cumberbatch.
The cast is strong all over: Wright's Claudius is a brilliant study in ambiguity; Stevenson offers an increasingly harrowing vision of fierce, instinctual maternal love; Peter Wight's Polonius is less light relief than usual, more a powerful patriarch whose powers are starting to fail him; Jessica Brown Findlay's Ophelia is painfully gawky and innocent, collateral to Hamlet's greater passions for his parents.
The fireworks come from Scott, but he's a long ways from his Moriarty ham mode – he is playing a bright, brilliant, sensitive young man suffering indescribably. Though Icke avoids the whizbang conceptualising of so many productions of this play, the sheer tenderness of his staging consistently and brilliantly wrongfoots us. Even the climactic fight scene is presented as warm and companionable, one last poignant glimpse of love, one last rattle of the minute hand, before silence descends.
'Hamlet' is sold out but from Mar 1 'a small number' of day-seats will be released at 11am every morning for that day's performance to people queueing up at the box office in person. Max two per person.
Returns will go on sale shortly before each evening's performance.
Average User Rating
4.5 / 5
Rating Breakdown
5 star:

12

4 star:

1

3 star:

0

2 star:

1

1 star:

1
Haunting. Terrifying. And still somehow funny. Never understood Hamlet, but seeing it through the eyes of grief made it all make sense. Go see.
I was at what turned out to be the first preview, and was underwhelmed. It was unforgivable that Juliet Stephenson should burst out laughing at Andrew Scott's attempt to remove the dead body of Polonius. Wrong kind of corpsing.
If Claudius confesses his crime to Hamlet's face and Hamlet is standing there with a gun, enraged, it makes very little sense that he would then toddle off to have a chat with his mother. There were a number of other strange choices and the pace was slow. " He was likely, had he been put on, to have proved most royally" on this evidence, I DO NOT THINK SO, Fortinbras...you obviously did not see the play.
Pretty dull and lacking any real update.
Well, I finally caught up with Hamlet on his last day in Almeida.
So this review might be quite useless but in case you are here to wonder whether it'd be worth checking out in the summer, here goes:
And let me start at the end.

I heard sobbing when Hamlet died.

Maybe it was the flowers on stage and someone's hay fever, but on the whole, I doubt it.
I hoped it will be good enough to stay on for the almost 4 hours as I've checked the online reviews and read about the walk outs but seriously? I think it was near perfect. What sweet prince did Andrew cut. He wasn't mad, just sad, confused and lost as anyone would be in his shoes.
Yeah, maybe all the deaths were a bit too much, but you know, it's almost a reminder that this is Shakespeare. The speech flew so well I often forgot I'm not watching some Danish contemporary drama.
The only one who didn't quite sit with me was Laertes, not sure why. I liked the players, Polonius, king and queen, Ophelia. Rosencrantz and Guildenstern were rather poor hangabouts, but the fact that few days ago I've seen Stoppard's play at Old Vic might be a factor here, maybe I just wanted them to be funnier?
I also rewatched Stoppard's film version of the play and Iain Glen, hot damn. But I'm getting too far off course.


Almeida did it again. There's a clear vision behind this production and it works. What could be harder than try to get your audience, to watch something that they either
a) absolutely love and know every word
b) have seen to death before
c) are completely new to and trying to see what the fuss is about
or
d) are fans of Andrew
I wonder if Shakespeare knew what he did. Probably not. He adjusted a known tale and it took flight and shows no sign of stopping.
It's what all the best art does.
I have seen my share of Hamlets in the last 20 years but this one stands supreme. Robert Icke has found new things to say in a production which is both thrilling and intimate. Andrew Scott is a towering Hamlet and has surely set the benchmark for years and can stand with Warner, Pryce and Beale.The audience swooned, gasped and held its breath collectively. I don't think I have ever seen a production where the audience was so transfixed. It is such a pity that this is not being filmed. While the extended run and genuine attempt to keep cheap tickets for as many as possible will allow more people to enjoy this fine production, it has been swamped in publicity by two other older productions also by "chaps on the tele". The muddled reading given in the overblown Barbican production (although Cumberbatch was superb) is on frequent rerun at theatres and the 2008 RSC version which was lucid if leaden with a totally miscast David Tennant teetering it into panto is in many school libraries. What a pity this fantastic production can't be seen as widely as those two massively inferior versions. Do anything to go see this. Theatre goers will still be talking about this production for years.
Since I am on this site thought I should add my own five stars here. One of the few productions where the immediate standing ovation and cheering and stamping feet was totally justified. It is a production which deserves to be revisited frequently as the richness of the line reading and direction are unparalleled. It's a production which I think will stand as a landmark and confirms Andrew Scott as one of our (Ireland's) truly great theatrical actors. Unmissable.
Bravo for this superb production and Andrew Scott's raw and heartfelt performance and bravo for his stated intention to make this production affordable so as many young people as possible can experience the wonder of live theatre. I had the pleasure of attending recently with a largish college group who sat rapt throughout. Their behaviour was impeccable and they chatted enthusiastically for days about the play, the acting and the staging. Compare this to the obnoxious behaviour of a group of women nearby at Don Juan in Soho who screeched, brayed loudly and inappropriately at every line uttered by David Tennant, chatted loudly and who attempted to take pictures on their phones during the play. Thanks to the Almeida for an excellent theatrical experience which has ignited the passion of our students. Many are very keen to return to see this again when it transfers into central London.
A wonderfully fresh interpretation with vivifying direction from Robert Icke which includes a seldom seen scene with Gertrude which added new light on the final act. Probably my favourite ever ending in this production. Just add to the chorus about Scott's interpretation which sets a standard unlikely to be matched for years. Stevenson is equally compelling as Gertrude. I prefer my Hamlets introspective, moody and immersive, rather than declamatory and athletic. Great news that this superb production has been transferred to the West End. I will certainly be returning again to this. Scott will be rightly winning every award going for this. If you missed out on tickets before, rush to see the transfer at the Harold Pinter theatre. This is a landmark production.
The finest production of Hamlet London has seen for years. Flawless. Scott may be the best actor of his generation.
A very human, tender and touching take on Hamlet. Definitely is worth seeing
Brilliant production. I don't understand those who have been saying it's too long. So many plays these days are fewer than two hours without intermission and the majority of them are as slight in content as they are in running time. I long for a well-acted, meaty, thoughtful production, and with this Hamlet, we have it.
Robert Icke's production of Hamlet is an interesting update to the old bards writing, set in modern Denmark but of course keeping all the original Shakespearean script, the added use of technology and music invokes emotion and helps to bring forward the meaning behind the words. Not everyone can understand Shakespearean but that does not mean that everyone can't enjoy it, Icke's version makes it accessible to a wider audience who would usually be put off by actors prancing around the stage delivering lines they cannot comprehend, the actors in this production speak with purpose which keeps the audience enthralled by what is unfolding in front of them. Led by Andrew Scott as Hamlet, his captivating performance oozes energy and emotion like his body can't contain the rage and need for revenge, with the addition of wit making you empathise with his character and later on emphasise his decent into madness. With incredibly strong cast including Jessica Brown Findlay as the beautiful and haunted Ophelia, this is a must see for Shakespeare fans and newer audiences or others who have had bad experiences trying to get to grips with the Shakespearean, this will change your mind.