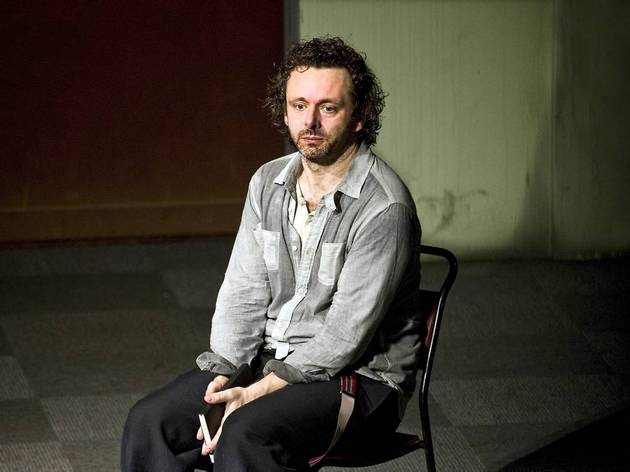 Everyone's talking about 'Hamlet' but they can't agree a verdict, let alone an interpretation. Michael Sheen acts like he's a prince whose uncle has murdered his father and married his mother. But it's all a delusion or maybe a dream in Ian Rickson's production, which you enter via a Punchdrunk-style corridor full of clues that Hamlet's Demark is in fact a secure mental hospital.
I'm all for mash-ups, but Shakespeare's script needs more tweaks to fit into this oppressively detailed mucus-green '70s institution. Three and a half hours is a long time to spend without any sense of objective reality. And that's what's been chucked out along with the battlements and ghost.
Sheen's Hamlet is banged up in a 'sterile promontory' of shabby carpets and box files, monitored by dodgy doctors: a bouffanted lightweight, Claudius (James Clyde); and kindly beardie weirdie, Polonius (the excellent Michael Gould, achieving comedy in very difficult circumstances).
The leading, misleading details will infuriate tidy minds. You could puzzle over the inconsistencies (why do visitors have to remove shoes with shoelaces, while patients are allowed laces, drugs and knives?). Or you could relax and go with the hints that this is a madman's-eye view, whose events and characters – from Eileen Walsh's primly distorted female Rosencrantz (Hamlet's ex?), to Hayley Carmichael's ever-loving Horatio (Hamlet's real mother?) – only exist in Hamlet's mind.
Making Hamlet the only 'real' character adds a huge burden to an already heavy role. Sheen the shapeshifter shines when he breaks out a Gollum-like split personality, swapping his sweet-voiced princely murmurs for the bloodthirsty roar of his dead dad. But his performance is, metaphorically, straitjacketed: an itchy, relentless, circling portrait of imperfect self-consciousness, broken up by violent episodes and overly gothic punctuation. Sheen brings charisma, and a piteous, quizzical sense of futility: 'To be or not to be' is a real, not merely a philosophical, dilemma. And
even Hamlet's final line, 'The rest is silence', becomes a query. But it's hard to get an emotional fix on him except in the soliloquies – precious moments of clarity, when Shakespeare's play moves into inner space and connects with this production.
This hip, imaginative show is likely to pull in Shakespeare virgins but its clarity issues and knowing twists make it one for the theatreheads. Vinette Robinson's abused Ophelia and Sally Dexter's grotesque Gertrude are strong enough to tell an emotional truth that transcends their figmentary status: Robinson snarls PJ Harvey songs and hurls pills with bleeding fingers in a raw mad scene. But the asylum concept would work better for Richard III or Macbeth, tyrants whose mental state dictates the nation's.
Hamlet's madness is investigative, but here it has nothing to go on but his own fragmented state of mind. This is a bold, divisive production – and I salute its creators for taking risks. Ultimately, though, their 'Hamlet' drove me nuts and left me cold.
Rating Breakdown
5 star:

10

4 star:

2

3 star:

2

2 star:

1

1 star:

2