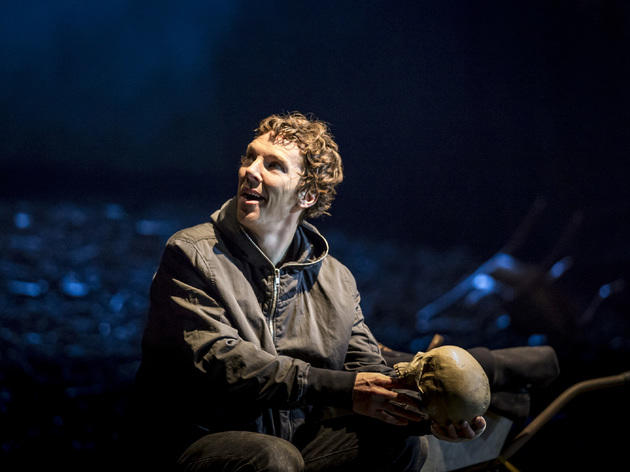 1/13
© Johan Persson
2/13
© Johan Persson
Benedict Cumberbatch (Hamlet) 
3/13
© Johan Persson
Ciarán Hinds (Claudius)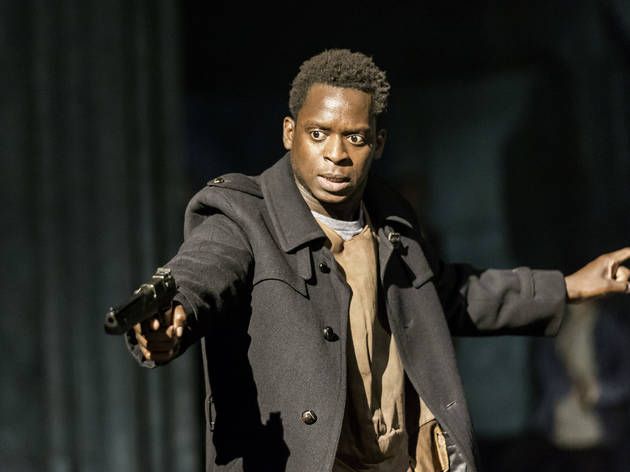 4/13
© Johan Persson
Kobna Holdbrook-Smith (Laertes)
5/13
© Johan Persson
Kobna Holdbrook-Smith (Laertes) and Benedict Cumberbatch (Hamlet)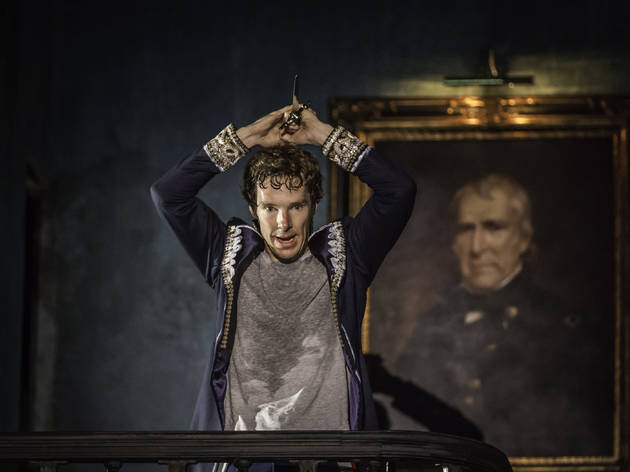 6/13
© Johan Persson
Benedict Cumberbatch (Hamlet)
7/13
© Johan Persson
Anastasia Hille (Gertrude)
8/13
Benedict Cumberbatch (Hamlet)
9/13
© Johan Persson
Anastasia Hille (Gertrude) and Benedict Cumberbatch (Hamlet)
10/13
© Johan Persson
Siân Brooke (Ophelia)
11/13
© Johan Persson
Kobna Holdbrook-Smith (Laertes) and Benedict Cumberbatch (Hamlet)
12/13
© Johan Persson
Karl Johnson (Ghost)
13/13
© Johan Persson
Jim Norton (Polonius)
Benedict Cumberbatch struggles to make himself felt in Lyndsey Turner's enormous production.
As Shakespeare probably wouldn't have put it, there's been a right load of old bollocks written about Lyndsey Turner's production of 'Hamlet', which has caused normally sober news outlets to fight like jackals to find the most intrusive and/or patronising angle possible on star Benedict Cumberbatch – a respected stage actor now in the unfortunate position of being the most famous thesp on the planet.

RECOMMENDED: 'Hamlet' at the Barbican guide

Having boringly adhered to all press embargoes, I feel later to the party than Fortinbras wading in with my opinion now – and after so much condescending nonsense spouted about Cumberbatch and his fans, it doesn't give me any great pleasure to say that in my blah blah professional opinion this isn't one for the ages. But there you go.

Turner's 'Hamlet' is one of the most visually and atmospherically stunning productions I've ever seen, of anything, ever. Styled like a cross between a really good Louis Vuitton ad and a really good Punchdrunk show, her Elsinore is a decadent fantasia of stuffed animal heads, dead flowers and dark revels. Jane Cox's lighting, Es Devlin's sets and Luke Halls's videos are utterly ravishing. Some of the tableaux will stay with me for years: Cumberbatch's scruffy prince sat at a lavish banquet table, staring darkly into space, picked out by lights as his fellow diners look the other way; Ciarán Hinds's coarse villain Claudius striding into Elsinore as confetti cannon erupt around him; Sian Brooke's deranged Ophelia shuffling away through a now ruined castle into an inky black portal as Anastasia Hille's Gertrude looks on in helpless horror. And the original score from Jon Hopkins is beautiful: a deep, dark ambience occasionally rising to a dance pulse, mingling beautifully with the decaying lustre of the Danish court.

Yeah, yeah, but what about the 'Batch? I hear you tut. Well here's the thing: he's pretty good as the vengeful prince. Not brilliant. But very decent. He speaks the verse wonderfully and is a lithe, charismatic presence on stage. But he doesn't seem to have come up with much of a reading of the doomed Dane. Or if he has, it's drowned out by Turner's enormous production. His Hamlet is a somewhat reclusive, sensitive figure, given to blazing flights of fancy (his soliloquies are presented as extravagant rushes of imagination). But beyond that, I dunno. He's all right, I suppose. Seems like a nice bloke. Probably not mad. A similar malaise afflicts the rest of the cast – everyone is fair but nobody dazzles.

Maybe it's unreasonable to always expect some bold new interpretation of 'Hamlet', but the greatness of the play lies in its ambiguities – if you don't try to reconcile them it feels a bit flat. I loved London's last two major Hamlets: Michael Sheen's paranoid schizophrenic, hopelessly lost in his own failing mind and Rory Kinnear's sensitive student, cracking up in a surveillance-state Elsinore. To me, Cumberbatch just seems to be a fairly regular guy, bumbling his way towards avenging his father's death at the hands of Claudius in an eccentric but not unreasonable way. Fair enough, but not particularly moving.

Does that make this the 'Shakespeare for the kids' as the right-wing press has tried to paint it? I wouldn't say so: a lack of a clear slant doesn't actually make it any easier to follow. It just strikes me that Turner and team spent so much energy thinking about the extraordinary look and feel of this production that they got sidetracked from the business of textual interrogation.

Whatever. It's a solid production and it'll look great in cinemas when it screens on October 15. Regular punters will probably like it more than Shakespeare geeks will, and the media circus almost certainly isn't over, but let's try and be civil, eh? To thine own self be true, and all that.
Average User Rating
4.3 / 5
Rating Breakdown
5 star:

7

4 star:

3

3 star:

1

2 star:

1

1 star:

0
I do feel a bit sorry for L. Turner and BC as well, for all this hype would be pretty hard to live up to with just about anything. Why have they chosen Hamlet? In any case, it is far easier to blow minds when you settle in your seat expecting just your average mix of good staging, smart directing and fab actors. There is never lack of any of that in London, but this years Hamlet does have it hard.

So, yeah, I went and queued for my £10 day ticket (I'd have to sacrifice too many other shows for a proper one) and did so in the previews but from what I can gather, they are still tuning this huge huge production (I saw the first one with the famous soliloquy moved), making it better and better and it's pretty good. So three stars, four stars? With few more tweaks (SPOILER - Horatio, lose that backpack and put on some clothes worthy of your Royal bestie, it just irked me throughout for some reason) it can be a 4 star production.


Yeah, the stage is fantastic. It's huge and impressive. But all of it feels a bit too safe...Were they too worried about antagonizing their oft young audience? Perhaps, but Hamlet's story could take it. A bit more rough handling. However, I could almost hear the cast growing into their roles, becoming more and more confident, not being there as a background to Benedict's shiny presence. He is good though, isn't he? What a role for an actor - this young man who is so many young people all at once, from our times and times long forgotten and times to come. He's thrown into a snake pit and asked to behave. I wish he had a bit more to go on though.


It could have so easily gone very wrong, and it came out as a good production, even on a huge stage with a big cast and a big name, the story does stay true, there are times when nothing we can do is the right thing to do.
Despite hating the Barbican building with a passion (so many exits! Oh so many exits!) I braved a visit to take my sister to see Benedict in Hamlet for her birthday. I'm pleased to report - it lived up to the hype!
The cast were incredible and the set was spectacular. It might be three hours long, but it flew by in an instant.
One of the very best things about watching the play so early in the run, is that I managed to avoid reading any spoilers. So I'll stop before I begin so I don't let anything slip.
Just to say, I'd queue up for hours to bag a ticket if you haven't already got it. Well worth the wait!
Marvellous performance and stunning scenery!
I was worried that Hamlet couldn't possibly live up to all the hype of the past year and that I wouldn't be able to sit still for 3 hours, however I was very pleasantly surprised. First of all, Hamlet did live up to the hype - if you had no previous Shakespeare experience you would be able to watch the performance, enjoying and understanding what is going on, the emotions the play evoked were clear and Benedict was a star. Despite Benedict being superb, he didn't overshadow his fellow actors, they were all very fine actors and the set was truly awesome. The three hours flew by and I came out absolutely delighted that I had managed to get tickets to see this version of Hamlet, my friends and family who I went to see the play with all felt the same. Seeing Benedict's Hamlet is an absolute must this season, it really was one of the best Shakespeare performances I've seen in a long time - it's easily accessible to all. A thoroughly enjoyable evening, go see it!
I think the hype that the media has created for this production is a bit escalated. I was lucky enough to see this last week, and though I'm far from an experienced Shakespeare critic, I think that the negative press on this production is harsh and uncalled for. Benedict Cumberbatch was a convincing and strong Hamlet, and I thought the supporting cast were good also. The set was great, and the atmosphere that was created was engaging. Maybe if you're a Shakespeare fanatic you might not be convinced, I can't say as I am not. What I can say is that usually I don't enjoy Shakespeare in the theatre, however I was engaged for the 3 hours and thought it was great to be eased into Hamlet.
I suggest you ignore the harsh criticisms this show has been given and go and judge for yourself if you are given the chance.
I would've gone for 1 star, but Cumberbatch was actually good. Great lighting and music (also tempted me for a second star), impressive set (though a bit too similar in feel to Branagh's Hamlet from 1996, first disappointment) and a maddeningly below par directing that showed a complete lack of understanding or misinterpretation (neither is good) of the text and the characters.
At least 'to be or not to be' has been reinstated where it should occur (when I saw it). Not because a modern adaptation is unwelcome, but because it doesn't make sense at the beginning and a director who doesn't see that is greatly disappointing. I'm all for modern adaptations, the less set/elaborate costumes the better (really, a concept, any concept, good directing and acting should be enough), but if a director wants that, then s/he better make sure everything is coherent and in unity with the text, otherwise it just all becomes self-serving and that's not theatre. That's just putting a currently popular actor on stage, letting him to do whatever, because people will come and see it anyway. It's lazy. And disrespectful to actors and the audience alike.
Having desperately bought tickets back in January and nursing expectations cranked up to outrageous heights, I was prepared to be underwhelmed by this production. I can happily report however that it was worth it. It's visually outstanding; the lighting, set and sound design create a stunning world and the cast are solid (particularly Ciarán Hinds as Claudius). Cumberbatch is exactly how you'd expect him to be, pensive and introverted but there are also some genuinely moving moments. Is it life changing? Not exactly. (Not that you'd guess from the thunderous standing ovation given by 'Cumberbitches' at the end).