'Heathers – The Musical' review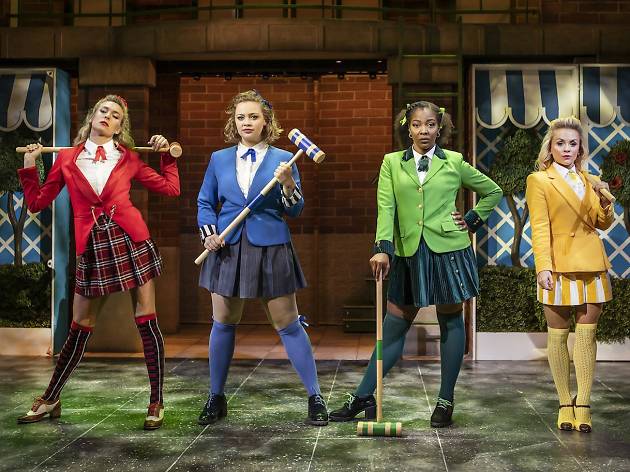 Even star Carrie Hope Fletcher can't save this glossy musical sanitisation of the cult film
I think I'd have warmer feelings towards 'Heather The Musical' if I'd not previously seen the 1988 film 'Heathers'. One of the all time great high school flicks, its scabrous wit and weapons grade cynicism are in no way recreated by Laurence O'Keefe and Kevin Murphy's glossy reimagining. Their adaptation clutches the basic plot points of the cult film about the demise of the eponymous clique of identically-named schoolgirls, but there's rarely any sense they understood its appeal.
I'll say three things in the defence of this production, transferring from a sold out preview stint at The Other Palace, and helmed by the show's original off-Broadway director Andy Fickmann.
One, a musical in which the main antagonist is essentially a high school shooter – Jamie Muscato's JD, channelling Christian Slater, but without the menace – is a big ask in 2018. It's not really a shocker that they've toned his character down, or tried to take the edge off the teen suicide stuff.
Two, the tunes are big, bright things, sweet and crunchy and hooky. That they're often completely unsuitable for the story – the second act becomes unforgivable bogged in sentiment and exposition – won't necessarily matter to those approaching 'Heathers' as fans of the music rather than the film.
And three, singer and YouTube star Carrie Hope Fletcher really is terrific in the role of Veronica, the protagonist and de facto fourth Heather, who finds herself torn between them, JD, and her conscience. She's a top flight vocalist, but more than that she's a great comic actor, cynically commenting on the action or affecting an ironic detachment that cuts through some of the schmaltz laid on here. She's nothing like original star Winona Ryder and that's just fine - she has an appealing snark that often carries the show, especially in the first half when she features more prominently.
However. It's not really enough to counteract the fact that the musical consistently fumbles the source material. The second half, in particular, is unforgivably mawkish. Details are consistently fiddled with: JD gains a more tragic back story; there are fewer killings and less brutal executions; Veronica's inadvertent slaying of one of her jock tormentors is shifted to JD; the two of them sing songs about their feelings for each other; but what is the actual point when you're dealing with a story that has multiple homicides baked in? It feels like an ersatz '80s kitsch edition of 'High School Musical'.
'Spring Awakening' showed us that edgy high school musicals are possible; but it also showed us there isn't necessarily a West End audience for them. 'Heathers' looks like it'll go the distance - but at what cost?
Venue name:
Haymarket Theatre Royal
Contact:
Address:
18 Suffolk St
London
SW1Y 4HT

Transport:
Piccadilly Circus tube
Price:
£21-£59.50. Runs 2hr 30min
Average User Rating
4.2 / 5
Rating Breakdown
5 star:

12

4 star:

2

3 star:

3

2 star:

1

1 star:

1
I'm a bit at a loss for reviews that downgrade an adaptation for "adapting" from the original source material…The clue is in the verb.
I am of an age that i remember the original film - and liked it. That was then. This is now. I LOVED HEATHERS THE MUSICAL!!
One of the strongest, most relevant pieces I've seen in years. So superbly and cleverly written - rather like the dual-play of a Pixar movie - that older audience members can enjoy the numerous nostalgic pop culture needle drops, while younger audiences get excited by the short, [social media-style] snappy speak and super-relevant thematics of bullying, body-image/shaming, personal values vs popularity, fitting in, sexual awakening, depression, teen suicide, being seen & heard or worse still for young people: being ignored & overlooked...
For ALL these reasons, i can MORE than understand why this musical is striking a rather beautiful set of chords with teens & YA's. Young Millennials & Gen Z's have to accommodate this "like / dislike" world at a rapacious rate way more than we could have ever imagined back in the 80's, so OF COURSE their reactions will be different at seeing this visceral theatrical representation of how they really feel tho maybe dares't not admit...
The music is stunning. Brilliantly playing out a musical battle between darkness and light that carries the show to it's conclusion of inclusivity and hopeful acceptance that we are all beautiful. And here too, lyrically shows its smarts by effortlessly flicking from one thought to the next in a mili-second: From the worst thing in the world. EVER. To the best day of my life. EVER. Isn't this how teens feel? Isn't this how many adults feel in this contemporary life of near-constant instant grat judgement?
Cast performances are exceptional. Carrie Hope Fletcher leads a very strong ensemble. Her character Veronica, the quirky outsider, a rebel in her own lunchtime, deep, kind, soul-searching, intelligent, opinionated if asked but ultimately yearns to be loved. Vocally powerful never more so than in her barn-storming big number "I Say No".
But Heathers is no one-woman show… Jamie Muscato kills its start to bitter finish. Literally. Straddling JD's almost bipolar teen cool vs teen angst unravelling under the pressure an uncaring, abusive home life…
With comedic timing and diva-scale vocals, Jodie Steele is astonishing in her bitchy viciousness as lead Heather - and yet we still, somehow, like her… Sophie Isaacs & T'Shan Williams are hysterical & scary as the other two Heathers. With Isaac's "Tiniest Lifeboats" one of the show's numerous unexpectedly tender, vulnerable moments…
So too is Jenny O'Leary's breathtaking "Kindergarten Boyfriend". The poignant loneliness of this isolated yet endearing character personifies the yearning at the (broken) heart of this whole story…
The Jocks are hilarious - accentuated physicality played to such perfection that, along with the dominating presence of the Three Heathers, makes you really doff your cap to the brilliance of direction & choreography throughout. Also hilarious, the revelation of "My Dead Gay Son" by their Dads is a whoop whoop worthy highlight, as is Ms. Flemming's gospel-tinged 4th wall-breaking banger…
HEATHERS beats you into willing submission thru sheer charm, beauty, hit after hit song of musical brilliance and the emotional intelligence within its writing.
Can't we be seventeen? Hell Yeah! As i watched, I yearned for those heady days again (we were so young and innocent then), while younger folk seemingly related to the song's aspirational now-ism. Either ways, it felt to me that every generation of audience there connected to this exceptional new West End musical somehow, some way.
LONG MAY THE HEATHERS REIGN. We need MORE shows like this and Something About Jamie please!
Theatre that means something to everyone, not just a stuffy & aloof, older, exclusive theatre club. Musicals that have something to say with relevance & resonance of the world we all live in today. Very much needed in the dark days we all have to contend with out there, HEATHERS gloriously unites audiences with a common, optimistic hope, hilarity and bloody great songs!
Forget cynical reviews. Forget the world. Go see. Go laugh. Go lap up Heathers. It is, after all, SO VERY!!
Having been a huge fan of the film, I had high expectations about this production. I am pleased to say that they were met. Carrie Hope Fletcher who plays the lead is absolutely amazing! I found it difficult to take my eyes off of her as she has a huge presence. The supporting cast members ' The Veronica's' were also highly entertaining and the production was very similar to the film-down to the blazers! All in all-a fantastic cast which is highly recommended.
I'll preface this review by mentioning that I had not seen let alone heard of the original film, and so there will be no comparisons between the two here!
Heathers is, all things considered, an energetic, at times bombastic anthem of 80s Americana, a mishmash of high school tropes where they're all laid out for you over the course of the performance. The popular crowd of egocentric Barbies, the awkward nerds fumbling with their lunch trays, the secluded punks and the douchey football jocks, it's all there. Coming-of-age story, peer pressure, losing friends and making wrong ones. Going back to the old friend for comfort. Off to university. Sounds like High School Musical? Think again - this takes a dark turn at the interval and devolves quickly into a much gloomier story. Sadly that is all it did for myself and my theatre-mate.
Recent events and mindsets must have acted strongly on the story, as it feels diluted and very often reined in - too politically incorrect or shocking to show JD's actions, the bullying of the "uncool" kids or the wild swerve around the theme of body image issues... Yet at other times incredibly brash and upfront with things no-one really wants to see: teenagers getting it on at a frat-like party, or cold-blooded murder that is completely uncalled for. It's a weird dichotomy that brings the entire play out of balance.
The cast is dominated by a few key actresses and actors, and unfortunately all the others quickly disappear after the first song to become background fixtures. They do not add much to the story or, more importantly, to the background...
The songs, sadly, can't live up to their occasional puns and punch lines - oh how often do they turn sour into crass humour so gratuitously blunt it's a little cringey. A bit of restraint and moderation would do a whole lot. And, they're not memorable: I couldn't hum or think of a single one of them two days after the show.
In addition, I found that the songs unfortunately don't showcase the vocal range of the actresses and actors - and that is especially true for the men in the cast. There are moments of hope when they shine bright on stage and everyone cheers, but they end all too quickly. The stage is small - I'd never been to this theatre - but the space is used well and stage presence is on point for all.
Yet these bright notes can't save the abysmal storyline, clichéd to death and so expected that you can practically put the words in the actors' mouths - which incidentally happens more than once, with the verses in the songs so poor you know what the rhyme will be before the end of the sentence. The first half is incredibly dull - have I come here to watch High School musical, only without it being, you know, High School Musical? - and ends abruptly in a shock cliffhanger; the second half tries to cram element upon element in the story, and ends just as abruptly as the first one. All in all, this was sadly one of the lesser musicals I've seen thus far. There's potential, but for us, it simply didn't do it.
The musical was FANTASTIC and it's now one of my favourites. Young, fun, electric and I could not keep my eyes off the stage the entire night. Absolutely fabulous.
Carrie Hope Fletcher and Jamie Muscato left an imprint on my heart singing 'Seventeen'. Utter perfection. I loved every minute of it and would gladly watch again.
I experienced fits of laughter, sadness and awe. I thought the entire cast were phenomenal and wished this was staying on the West End for longer. I truly love this show and the cast. I was completely captivated throughout the entire night. The show was spell binding and I will suggest it to anyone who is willing to listen.
VOCALS WERE AMAZING.
The entire team on the Heathers Musical should be so incredibly proud.
WOW WOW WOW.
Please sell a dvd I want to watch the show every week for a year.
I went to see the 30yr anniversary re-release of Heathers at the Prince Charles Cinema as homework before seeing "The Musical" version. It wasn't necessary & if anything was a distraction comparing the 2 completely different versions. I enjoyed the musical- it was light hearted fun & the audience were vocally enthusiastic which added to the atmosphere. It was well cast & I loved the 3 ghosts. Not as wickedly funny & cynical as the original film but a great pastiche & enjoyable romp of a show:
If you want a bright, shining teen musical this is your show and if that is your expectation this is great! If, on the other hand, you were looking for something approaching the dark, biting wit of the movie classic, you'll walk away feeling a bit cheated. The songs are peppy, if not so memorable, the cast is uniformally telegenic and glossily talented, but the sarcastic angst, that in the current climate could totally be served up to an understanding audience, is not even slightly approached. Adore the overture playlist...two and a half hours of that dance party with friends probably would have led to more lasting memories than this cute, but generic musical.
I saw the show twice already and I LOOVED it!
Surprised that Time Out review keeps comparing the musical and the film. They are totally different, but both epic in their own way.
The cast is brilliant, and the songs are great. It's both hilarious and thought-provoking.
Also have to mention the atmosphere in the theater. The audiences were engaging and overall only positive vibes. Amazing.
This is a really good show, the music and vocals are great. The show is aimed at a younger audience, mainly teenagers and It's definitely one for the girls. The second half lacks a little bit and some of the songs are a bit meh.
But it's fun and a good night out!