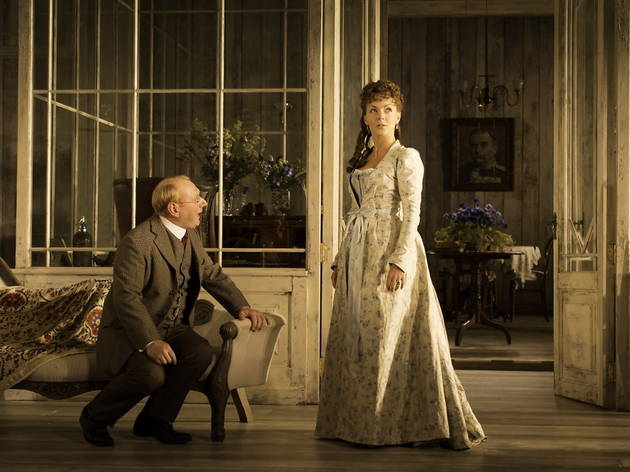 Time Out says
Sheridan Smith has just won two Olivier Awards on the trot (for 'Legally Blonde' and 'Flare Path'). But her un-thespy demeanour and penchant for comedy roles raised reasonably fair questions over whether she was up to Ibsen's titanic 'Hedda Gabler'. Those are surely answered by Anna Mackmin's sturdy Old Vic production.
Smith quietly burns up the stage as Hedda, the gifted general's daughter who has married older, effete academic George (Adrian Scarborough) in order to get other suitors off her back. After an interminable honeymoon, Smith's elegantly resentful Hedda must look forward to a life on the shelf in nineteenth-century Norway. The main opportunities for a woman are rearing a family or malignant scheming, and Hedda pursues the latter with alacrity.
With cold eyes and dagger smiles, Smith isn't the most demonstrative Hedda – at least not early on – but she is a thoroughly disconcerting one, her every utterance a cool, calculated mix of tease and threat. She exudes smooth menace from the off, calmly pulling apart the chintzy life George has laid on for them both, undermining household servants and his beloved aunt Juju (Anne Reid) with languorous feline menace.
Brian Friel's 2008 translation is a bit odd, amping up the humour with a rambling dissertation from George on a favourite pair of slippers and giving lascivious suitor Judge Brack (Darrell D'Silva) a bizarre propensity for American jive talk. Mackmin's production doesn't exactly play this down with the foppish casting of Scarborough's George (who it's still difficult to believe Hedda would have married, in spite of her perversities) and D'Silva's Brack (about as sexually threatening as a cardigan). The men don't need to be actively silly in order to prove the point that Hedda's intelligence outstrips theirs.
But the more this becomes Smith's show, the less any of that matters, and near the end I found Scarborough's hysterical reaction to Hedda's pregnancy effective, George capering around the house ludicrously while his poised, black-clad bride sinks into a slow, stylised dance of despair.
What is most powerfully conveyed in Smith's superb performance is that Hedda's climactic suicide is not an act of hysteria, but a gesture of supreme control, the one great affront she can deal a society that has nothing to offer her. It banishes any notion that Smith might be merely a charming comic performer or a supporting lady: she is a lead actor of substance, with nothing to prove.
Details