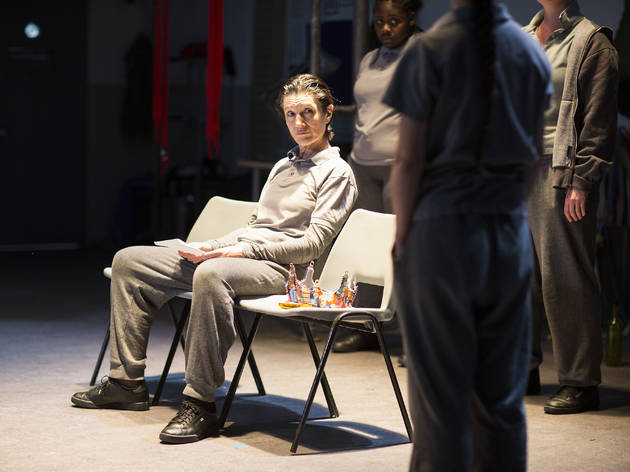 1/8
© Helen Maybanks
Harriet Walter (King Henry)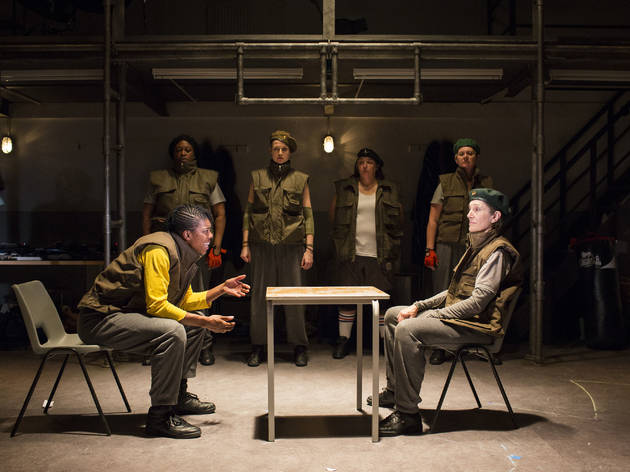 2/8
© Helen Maybanks
Ann Ogbomo (Worcester) and Harriet Walter (King Henry)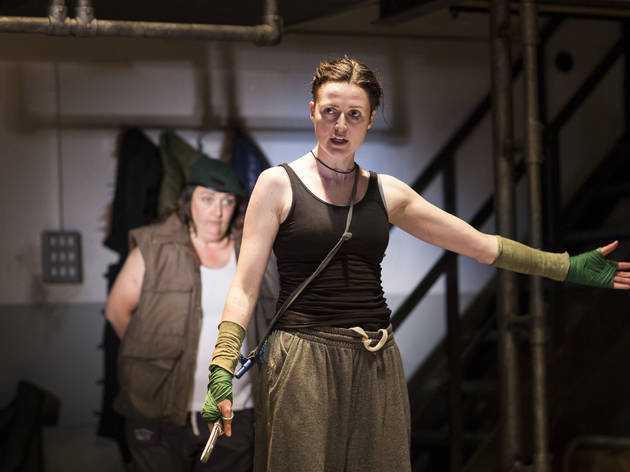 3/8
© Helen Maybanks
Clare Dunne (Hal)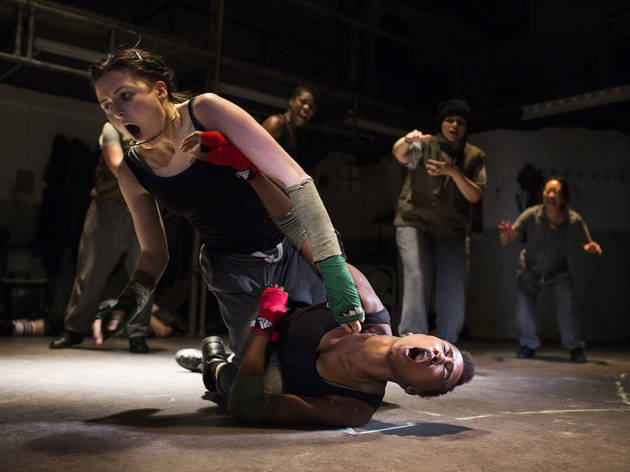 4/8
© Helen Maybanks
Clare Dunne (Hal) and Jade Anouka (Hotspur)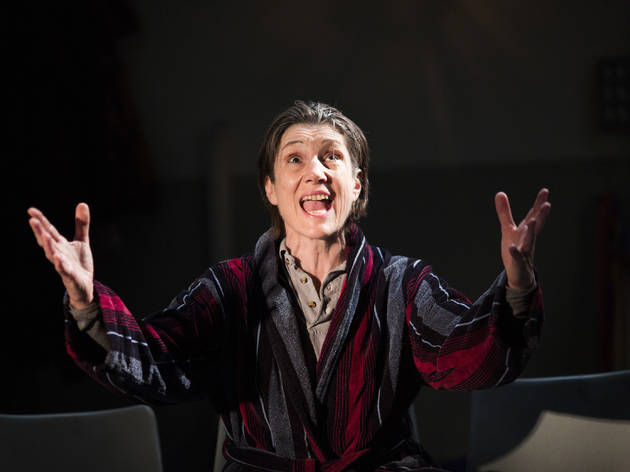 5/8
© Helen Maybanks
Harriet Walter (Henry IV)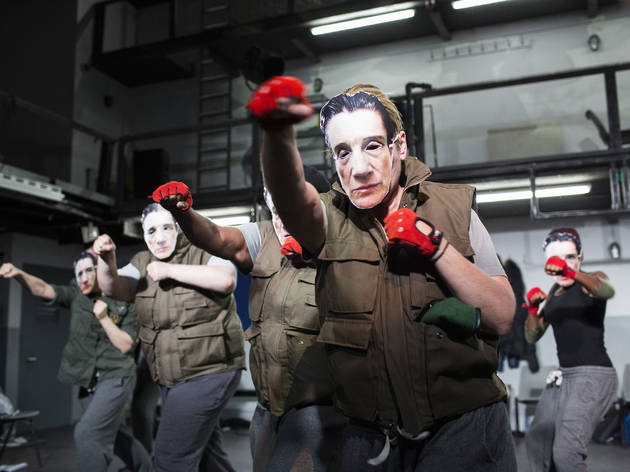 6/8
© Helen Maybanks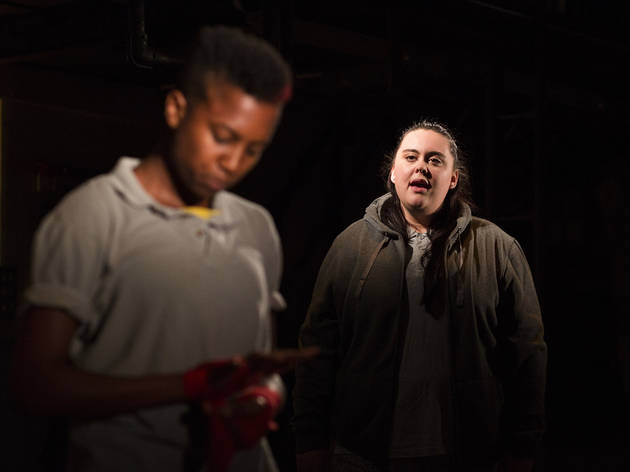 7/8
© Helen Maybanks
Jade Anouka (Hotspur) and Sharon Rooney (Lady Percy)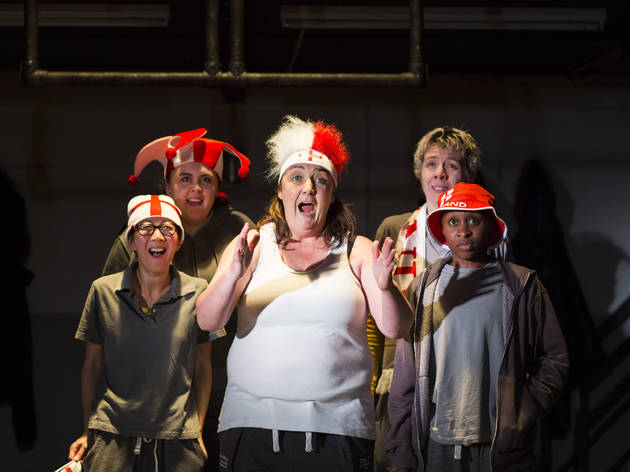 8/8
© Helen Maybanks
Elizabeth Chan (Peto), Sharon Rooney (Gadshill), Ashley McGuire (Falstaff), Karen Dunbar (Bardolph) and Cynthia Erivo (The Earl of Douglas)
Time Out says
Phyllida Lloyd's all-female, prison set take on Shakespeare's 'Henry IV' plays
'Henry IV' will be revived as part of the Donmar's Shakespeare Rep season in King's Cross in October 2016. This review is from the 2014 run.
I don't think I'll ever love any of superstar director Phyllida Lloyd's trilogy of all-female Shakespeare plays for the Donmar. Not out of phallocentric malevolence, but because Lloyd over-justifies her gendered casting by reframing the works as plays-within-plays, staged by the inmates of a preternaturally jolly women's prison.

The device soured 2012's 'Julius Caesar' for me. Definitely one of the Bard's less amusing plays, Lloyd's insistence on staging it with the tongue-in-cheek élan of a 'Bad Girls' episode undermined its gravitas and that of Harriet Walter, one of the all time great Brutuses.

Two years on and 'Henry IV' (Lloyd's own streamlined mash-up of 'Henry IV Part 1' and '2') gets a similar treatment. I didn't love it. But I'm learning to live with it.

Lloyd has toned things down fractionally (people who've been killed don't immediately leap to their feet and wink at the audience). The play – with its rich comic storyline about wayward Prince Hal (Clare Dunne) and his disreputable BFF Falstaff (Ashley McGuire) – is more suited to Lloyd's larky treatment than 'Caesar' was. And the bottom line is that the acting is sensational.

Walter is on board again and impresses as a mob don-like Henry: her slight frame puffs out with alpha male self-belief. There's a menacing De Niro-ish frown, even a touch of Brando's accent from 'The Godfather'. But there's also tremendous self-doubt when she's alone, her emotive soliloquies gushing out like blood. And, she even plays the kazoo at one point. Is there no end to Walter's talents?

It's a smaller part than Brutus, but that highlights the strength of the ensemble. Best of the rest, I thought, was Jade Anouka's muscular, tigerish Hotspur. She leads her ill-fated rebellion against the king with a reckless joy and the willingness to risk one's life that only the young possess. Dunne is good as an intense, tough-as-nails Hal who already seems a man apart from his drinking chums. And McGuire's Del Boy-ish Falstaff is good fun, even if Lloyd's cuts stop her from taking a more emotional journey.

I'm not sure Lloyd's comedy stylings will ever convince unless the third play in the projected trilogy is actually a comedy. But you have to hand it to the woman: her ways are maverick, but by god she gets results.
Details
Best selling Time Out Offers