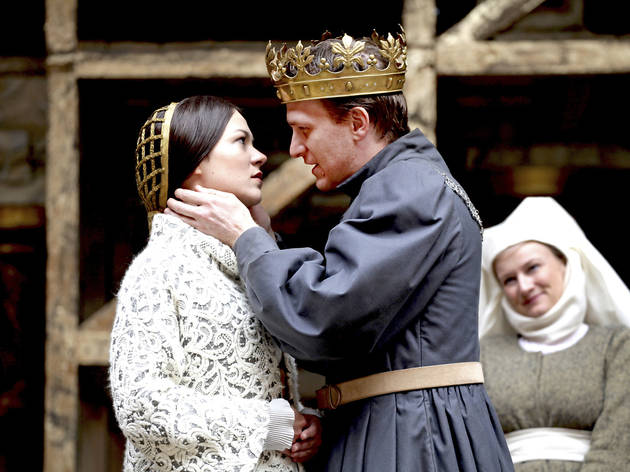 With the international razzle-dazzle of the 'Globe to Globe' season only just over and the Globe's superstar former boss Mark Rylance shortly to return with 'Richard III', there was a danger of new season opener 'Henry V' being lost somewhere in the middle.
But Rylance's successor Dominic Dromgoole is not readily overshadowed. He has directed a rip-roaring 'Henry V' that sports enough robust crowd-pleasing comedy and sumptuous period costume to allow for an intelligent, original take on the title role from Jamie Parker.
According to the Bishop of Ely and the Archbishop of Canterbury's opening conversation, the formerly wild young Harry has grown up (Dromgoole makes this dry exposition hilarious by staging it while God's two most senior representatives in England are on the loo). But Parker's Harry is far from the finished monarch.
When he first appears on stage, his old drinking chums are on his heels, trying to lure him into some ridiculous jape. He waves them away, but his days of frivolity are scarcely behind him. When Canterbury explains that the Dauphin of France wishes to confiscate his European lands, Harry is at sea. It's only when France mockingly offers to exchange the lands for a tribute of tennis balls that the King takes decisive action, his old impetuousness pricked.
This Harry grows up not via the usual unstaged events between 'Henry IV Part 2' and this, its sequel, but by the crucible he is plunged into during 'Henry V'. Humiliated by the French, betrayed by his nobles, forced to execute an old friend for robbing a church – by the time the St Crispin's Day speech comes around, he is almost a man and speaks with controlled, measured authority.
It's an excellent depiction, even if it may leave those hoping for the traditional demagogic fireworks feeling a touch underwhelmed. Still, there's plenty of raucous comedy to prop up Parker's thoughtful turn. Brendan O'Hea is entirely lovable as ludicrous Welshman Captain Fluellen while Olivia Ross's vowel-mangling French princess is funny enough to make Henry's anti-climactic final courtship scene a pleasure to watch – a truly heroic feat.