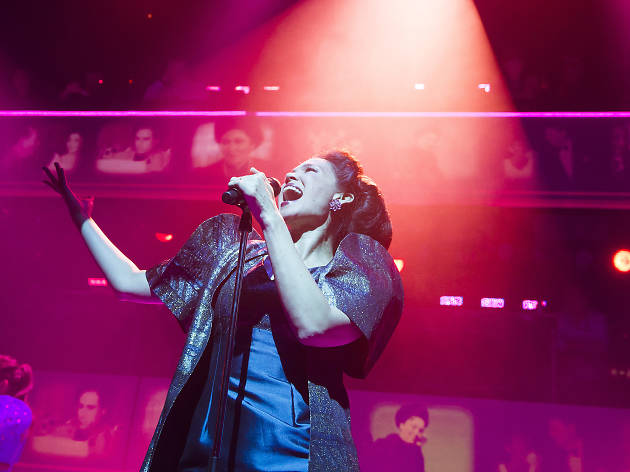 1/6
© Tristram Kenton
Natalie Mendoza (Imelda Marcos)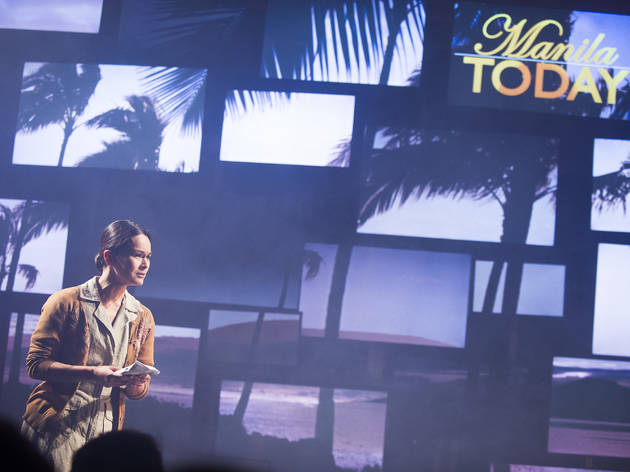 2/6
© Tristram Kenton
Gia Macuja Atchison (Estrella Cumpas)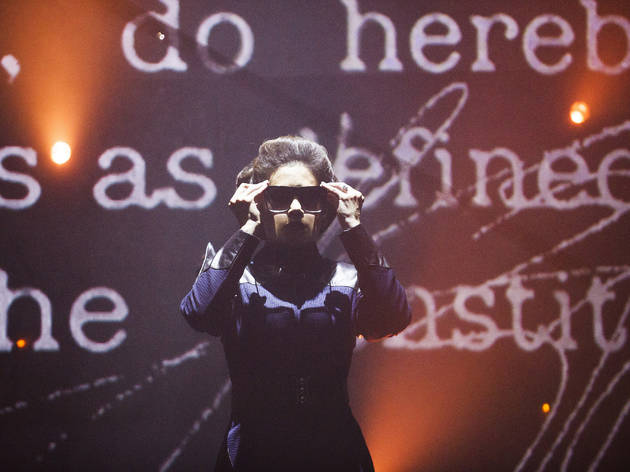 3/6
© Tristram Kenton
Natalie Mendoza (Imelda Marcos)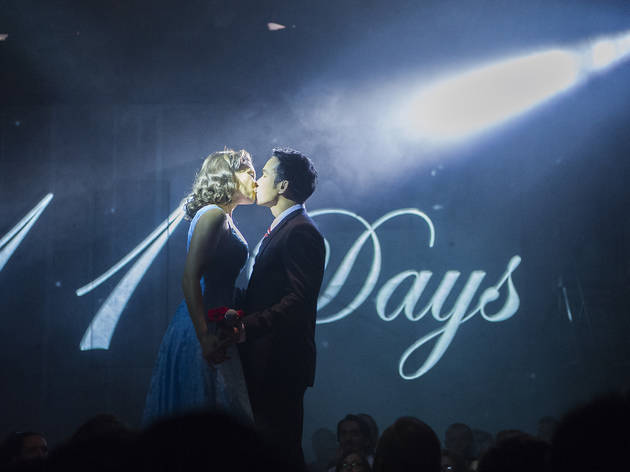 4/6
© Tristram Kenton
Natalie Mendoza (Imelda Marcos) and Mark Bautista (Ferdinand Marcos)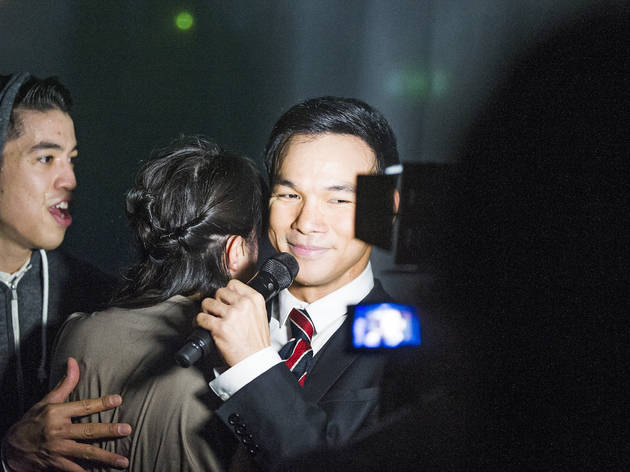 5/6
© Tristram Kenton
Christopher Chung (ensemble) and Mark Bautista (Fedinand Marcos)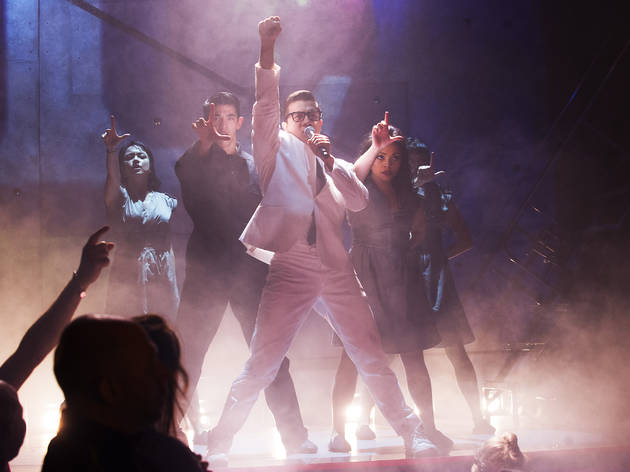 6/6
© Tristram Kenton
Dean John-Wilson (Ninoy Aquino) and company
Time Out says
David Byrne's disco musical marries the sweep of history to the rush of the nightclub in the story of Imelda Marcos.
David Byrne's utterly winning 'Here Lies Love' doesn't so much tear up the musical-theatre rulebook as exhibit a strange, endearing obliviousness to the fact that it even exists.

The former Talking Heads leader has, inescapably, written a disco musical about the first lady of the Philippines/dictator's wife Imelda Marcos. It should be the gayest thing ever. Instead, Byrne's show and Alex Timbers's prodigious New York production – restaged at the National Theatre to open its new Dorfman theatre – is too earnest and oblique for camp, as notable for what it misses out as for what it includes.

For starters there is literally no mention of Marcos's humongous shoe collection, probably the only thing most people know about her. There's also no dialogue: it's entirely told as a song cycle, and we're not talking dense Sondheim narrative – Byrne has made no effort to not write like David Byrne, meaning at its most peculiar we have doomed liberal politician Ninoy Aquino (a charismatic Dean John-Wilson) singing his final song about an airport departure gate ('Gate 37').

Byrne's songwriting also means there are some absolute belters – the Hi-NRG title tune is an ear worm of the first order, the lament 'Just Ask the Flowers' is devastating, and the man has an undeniable knack for crafting a pop song out of arcane historical details ('Order 1081', about Ferdinand Marcos's declaration of martial law).

But it's as a whole that 'Here Lies Love' really succeeds. The show is immersive, insofar as half the audience is on the 'dancefloor' of the Dorfman, which has been tricked out by designer David Korins to resemble a Studio 54-style club (the Marcoses being regulars on the NYC party scene). We are geed-up by a bleached-blond hype man, moved around by enthusiastic floor staff in pink boiler suits, and frequently break into something like actual dancing thanks to a pristine soundsystem and some killer beats, courtesy of Byrne's collaborator Fatboy Slim.

It is a fun, febrile canvas for an excellent ensemble. Without an excess of fiddly characterisation, the cast is allowed to paint in bold strokes, most particularly the excellent Natalie Mendoza, who takes Marcos from pie-eyed young peasant girl to jilted ex-dictator with the same giddy rush of girlish enthusiasm and self-love. Anyone hoping for a detailed or sober history will be left aghast, and some will argue Byrne should have taken greater care to highlight the Marcoses' crimes.

Yet to think of Byrne as a historian or moralist is missing the point – he is an impassioned tinkerer, here teaming with Timbers to marry the sweep of history to the rush of the nightclub. 'Here Lies Love' tells the story, but it's a skewiff, impressionistic take with holes and flaws and peculiarities. I can imagine it's considerably less enthralling watching if seated. But I can only judge from where I was standing and by the volume of endorphins my body dispensed – it's as much fun as I've had in a theatre all year.
See our last-mintute tickets page for advice on how to get into 'Here Lies Love' if it's sold out
Details
Rating Breakdown
5 star:

0

4 star:

0

3 star:

0

2 star:

1

1 star:

0
Sorry but this emperor has no clothes.
I was lucky enough to be taken to see Here Lies Love on Saturday due the generosity of a friend of mine and was rather excited due to the hype around the show and I must say - it is one of the most original show formats that I've ever been to. We were in the "pit" for want of a better word and it was fun at first to be guided around by the stewards as the stage transformed and twirled. The costumes and general production standards are fantastically high BUT by the end I was shaking my head in disbelief at what I was watching. The lyrics are quite ridiculous in many places and the plot is difficult to follow and the fundamental premise of dictatorship set to music is laughable. And then at the end these three people appeared who reminded me of (showing my age) the weird Mexican guitar players that Drooper always found in his trash can in the Banana Splits - but that is typical of how ludicrous the whole thing was.
Lyrics by a twelve year old, plot of a My Men book, production by the Cohen Brothers and outfits by Visace. I'm not saying don't go see it but I am saying it is not up to the hype.