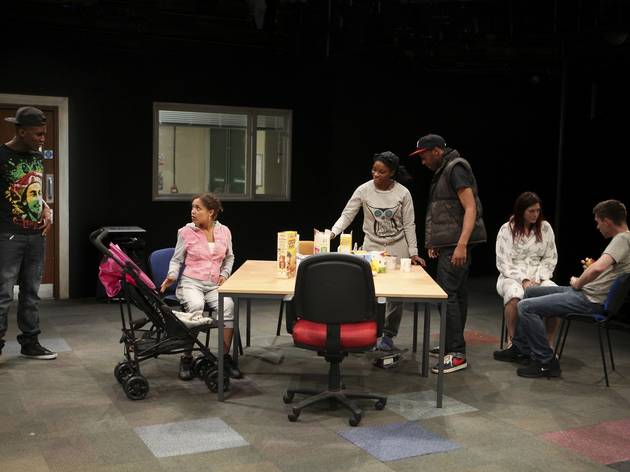 'It's not much of a story,' says a young man in Nadia Fall's new verbatim piece at the National Theatre's pop-up venue The Shed after he tells us how he came to be living in a homeless hostel. It's not said with false modesty but, as Fall shows us in her subtle, hopeful piece, it is quite a story.
In 'Home' Fall weaves together a handful of these often shocking accounts taken from interviews she conducted with young people and staff at an east London hostel. Among the many interviewees there's the solid-as-a-rock house manager; a young man kicked out of his house by his mother; and a boy filled with tense anger after his best friend's stabbing.
There's the potential for a night of heavy, depressing theatre here, but 'Home' is affecting, transportative and funny. As well as getting us to hear the stories of these people, Fall makes us witness to their extraordinary spirit.
The theatre has been turned into the hostel itself, so from the moment the audience walks in through the foyer, with its heavy security doors and leaflets that warn of STDs on the walls, we experience first hand the strangely sterile environment the residents call home. It's a clever touch: Fall doesn't just want us to connect to the people's stories she also wants us to understand the reality of their situation.
An excellent cast each play several characters and sing a cappella pop songs, play guitar and beatbox brilliantly. The music maintains the rhythm of the production and helps to draw us further into the world of these diverse and vulnerable but incredibly resilient human beings.
By Daisy Bowie-Sell
Rating Breakdown
5 star:

1

4 star:

0

3 star:

0

2 star:

0

1 star:

0
An inspiring mix of powerful monologues, hip-hop and beatboxing which leaves no room for illusions about everyday life for a significant proportion of young people. Ultimately the play is hopeful but Home is never naive in its hopefulness. A must see for anyone who wants to understand more about what happened on the streets of London in 2011.