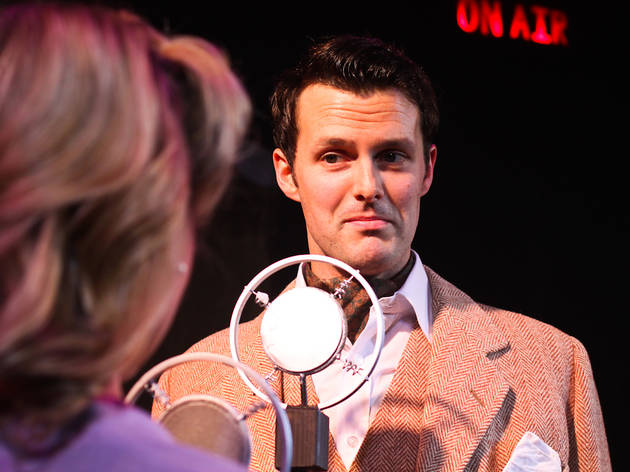 Time Out says
Gilbert and Sullivan catch a serious case of the jitterbug in David H Bell and Rob Bowman's 1986 adaptation of their classic comic operetta, 'The Mikado'. Following in the footsteps of two jazzy '30s versions, it basically just sets the original to a different beat. Dainty, tinkling pianos are out, somersaulting drums and double bass are in.
Updated to '40s Japan with an added twist of Americana, Gilbert's plot nevetheless remains intact. Delaying his own death sentence by playing executioner, Ian Mowat's puffed-up fusspot Ko-Ko cuts a deal with Nanki-Poo (Mark Daley), ardent admirer of Ko-Ko's intended, Yum-Yum (Victoria Farley). Nanki-Poo can marry her for a month – but then he must die, to keep the hit rate up and the Mikado happy.
Musically, this production is inspired and totally toe-tapping. Sullivan's melodies survive, but with scat and doo-wap making perfect sense of fiddily operatic trills. 'Three Little Maids' becomes an Andrews Sisters-style close-harmony number.
Director Robert McWhir's radio play frame is pretty pointless. But the explosion of entertainment is hoochier than a bathtub of gin thanks to Mandi Symonds, whose vampish Katisha puts the Etta into operetta as she stalks Nanki-Poo. Meanwhile Robbie O'Reilly's choreography has you itching to jive and Lindy hop along.
Details