Heads up! We're working hard to be accurate – but these are unusual times, so please always check before heading out.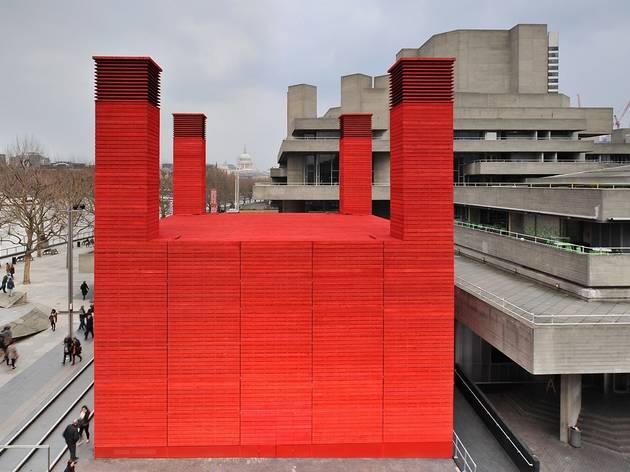 How the National Theatre became a hit factory
In just ten years, the National Theatre went from the most boring theatre in London to the best in the world. Here's how
Bullet Catch
' and '
Mission Drift
', daring new ones like '
The Table
' by Tanya Ronder and Rufus Norris. They're all niftily programmed by Ben Power, the 31-year-old dramaturgical whizz behind some of Rupert Goold and Complicite's most adventurous recent shows.
The Shed is the National's new baby, umbilically linked to its mother by a cool foyer and bar. It's a temporary replacement for the smallest of the NT's three stages, the Cottesloe, currently becoming the new Dorfman as part of a facelift of the theatre's brutalist concrete '60s HQ. And it's typical of the sense of fun, imagination and daring that's helped transform the National from a stodgy, taxpayerfunded, white-middle-aged club to an open-minded hit workshop that's the envy of the world. When the National Theatre celebrates its fiftieth birthday later this year, glasses will be raised to a spectacular company that's bigger, better and busier than ever before. With a rising tide of international hits ('Jerry Springer: The Opera', 'The History Boys', '
War Horse
', '
One Man, Two Guvnors
') it has truly burst the banks of its riverside home. Last year, more than a third of people who went to a show in London went to one the NT had produced. '
War Horse
' has inspired a Spielberg movie and productions are galloping around the world. '
The Curious Incident of the Dog in the Night-Time
', with eight Olivier nominations, looks like it could be the next '
War Horse
'. And NT Live, its live-streamed theatre performances in cinemas, helped it reach a global audience of 3.2 million people last year.
It's a dazzling story. Especially when you consider that barely ten years ago the National Theatre was in debt, dependent on subsidy and half empty half the time. The architects of its success are two guys called Nick: artistic director Sir Nicholas Hytner and executive director Nick Starr, who took over a worthy but tired company in 2003. 'The National was putting work on for an ever-smaller loyal audience,' says Starr, 'repeating the same core plays with more expensive sets. It was a spiral downwards.' Immediately, they gambled the house – quite literally – on their belief that there was a bigger, younger, more diverse audience out there ready to fall in love with theatre. Instead of selling 70 percent of tickets, they aimed for full houses, securing a groundbreaking sponsorship deal, and selling nearly half the seats for some shows for a tenner. Hytner was 'obsessed with cheap tickets'. And he was right: audiences rocketed to 90-95 percent and the National has played to pretty much full houses ever since. 'Access has been the keynote of Nick's decade,' says 35-year-old actor Rory Kinnear, currently playing Iago in Hytner's production of '
Othello
'. Those £10 seats helped Kinnear play the lead in the best production I've ever seen of Shakespeare's '
Hamlet
'. Ten years on, the NT has sold nearly 2 million tenner (now £12) tickets. And, unlike in the handful of cheap ones in the rafters of West End theatres, you can see more than the Dane's bald patch.
Revitalising the classics will always be a crucial role for the UK's official theatre. But the NT 2.0's biggest popular hits have come from new shows which are fun as well as intelligent: theatre for people who aren't that into theatre. Chicks with dicks, tapdancing Ku Klux Klanners and obese sex bombs hadn't been seen at the National (or any other theatre) before 2003's 'Jerry Springer: The Opera'. Hytner also bagged Tom Morris, BAC's artistic director, who went on to co-create '
War Horse
'. And he threw open the doors of the NT's richly resourced studio to imaginative young companies more likely to cut and paste classics than curate them. Hytner's enthusiasm for Punchdrunk led to the NT supporting their massive choose-your-ownadventure show, 'Faust', in a warehouse in 2006. It reinvented theatre as an event. Its impact has been seismic: when tickets went on sale for Punchdrunk's new London show with the NT, '
The Drowned Man: A Hollywood Fable
', 50,000 people bought them in the first 36 hours, making it the fastestselling theatre show in London's history. 'What it says about the appetite for theatre in this city,' says Starr, 'is incredibly joyous.' Next, the NT took its second great financial gamble, this time on a horse. Luckily, the nag they backed was an extraordinary puppet called Joey, which has, since '
War Horse
' premiered in 2007, reduced large swathes of the English-speaking world to tears. The radical decision to shoulder the financial risk of sending '
War Horse
' to the West End and beyond has meant the National trousered the profits: £11 million and counting.
The ambition is, says Hytner, 'to make good theatre, not merely successful theatre'. That's not always been easy. The NT's two biggest stages need maximum designer/director genius to make them come to life (the Lyttelton is an acoustical graveyard; the Olivier is the kind of amphitheatre that was looking a bit passé in Classical Greece). A new generation of ingenious directors (from Katie Mitchell to Thea Sharrock) has helped attract more creamy British acting talent than anywhere – except maybe Hogwarts. Julie Walters, jumperknitting avenger Molly Weasley to the Potter generation, won an Olivier for 'All My Sons' in 2001, and came back in 2012 to play opposite Kinnear in a newer family drama, '
The Last of the Haussmans
'. 'It doesn't get any better than this,' she explains, 'because it's about the work. It's almost educational, coming to such a big establishment full of people and team spirit.' It has truly been a golden decade for the National. But what does the future hold? Hytner and Starr are going to step down while the crowds are still clapping. But not before they make architect Denys Lasdun's classic but unfriendly NT building as openminded as they are. Haworth Tompkins's current £70 million renovations don't stop with The Shed, which will be replaced by the new, generously foyered Dorfman in spring 2014. By next year, a new café-bar with a riverside view will open the NT's grim and grey visage out to London's culture mile; a new production building at the back, with a high-level walkway punched through it, will allow visitors to see the NT's army of craftsmen at work on the next '
War Horse
.'
Hytner will be a tough act to follow – big names being touted for the job include Sam 'Skyfall' Mendes, the bookies' favourite; Stephen Daldry; Tom Morris; even Danny Boyle. Whoever replaces the current dream team will still have plenty on their to-do list. Find new cash streams for when '
War Horse
' and co slow down, develop new writers as well as directors who can handle the big stages, make viral theatre, stream free performances or invent some other way of talking to its now-global audiences online. Most importantly: find exciting ways of making shows in cool spaces where people want to see them. The young National Theatres of Wales and Scotland, born in the noughties, are all the more dynamic because they have no buildings. The hits, and their profits, have helped the National explode out of its HQ, into the world around it. But wouldn't it be nice if something in the spirit of The Shed could pop up in reclaimed warehouses, Merseyside docklands, shire village halls or even halfway up a mountain? London is lucky to have the National Theatre – but as this golden decade's proved, there's enough to share with everyone.