How To Solve a Problem Like Murder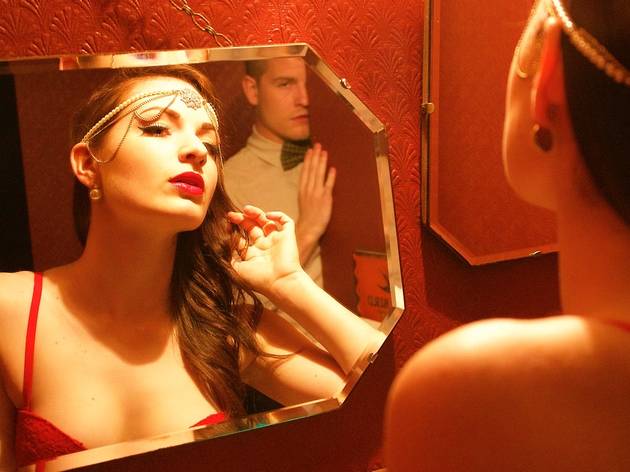 Time Out says
Chaotic but fun interactive whodunnit
How do you solve a problem like murder? With difficulty, it turns out. Particularly as it's not just a question of whodunnit but who's been done in.
After a successful Kickstarter campaign last summer, Uncorked Theatre has taken up residency on the top floor of gastro pub Paradise by Way of Kensal Green with an immersive production that's part play, part murder mystery.
Before making your way upstairs into the 'Paradise Bar and Hotel', you're given a mask and a pen and paper to scribble down any suspicious findings, as though you're playing a real life version of Cluedo. In the main room, the hotel's highly-strung owner is overseeing rehearsals for a cabaret show with a cast of equally highly-strung dancers - everyone's a suspect.
The opening dance number is interrupted as the music cuts out, the lights fade to black, a gunshot echoes in the room and an eerie voice tells you to respect his rules: no talking and no taking your masks off (which is a shame because they're horribly uncomfortable). But then again, comfort is not really what this production is about. After all, there's a murderer in our midst. Following the gunshot, the play takes us back to the start of the day, before the crime. The action weaves in and out of four rooms, leaving you constantly on edge that you're missing some vital clue that's unfolding in another room.
The show feels a bit chaotic at times, but it'll get your pulse racing way more than a rainy afternoon spent trying to work out what Professor Plum's been up to in the billiard room. And with each suspect as shifty as the next, it'll keep you guessing until the end.
'How to Solve a Problem Like Murder' is back in September 2017. This review is from its 2016 run.
Details
Average User Rating
4.7 / 5
Rating Breakdown
5 star:

6

4 star:

3

3 star:

0

2 star:

0

1 star:

0
Really fun, almost like real life cludo! Would totally recommend, we did a group of 5 on Yplan to get a discount on tickets.
A completely unique and thrilling experience, not seen anything like it in London! Highly recommended!
An intimate, mysterious and exciting show that doesn't leave your mind once it's over.
Gripping storyline, talented artists and a beautiful venue. Well worth every penny!
Fabulous dance numbers with genuinely professional artistes. Beautiful venue that fits the theme perfectly. Went to initial opening show and hear they have refined it into a new show with more plot twists, which I am totally looking forward to!
P.S. Masquerade events are always great to add the air of mystery to the night! :)
Great acting. Great dancing. Brought a group of friends and we have a great experience!!