Heads up! We're working hard to be accurate – but these are unusual times, so please always check before heading out.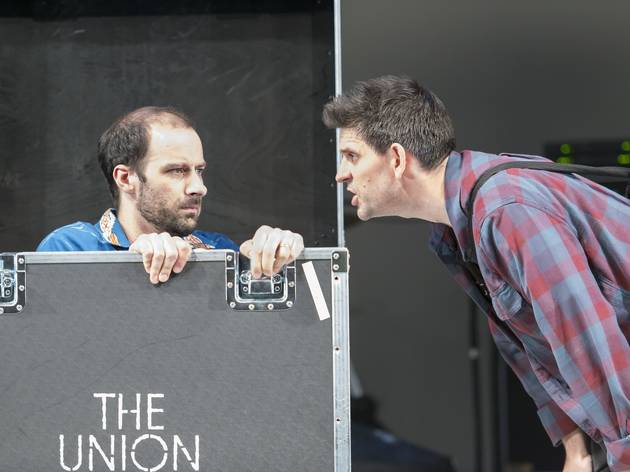 I'm with the Band review
Traverse Theatre
An Englishman, a Scotsman, a Welshman and a Northern Irishman are in a veteran indie-rock quartet called The Union. They've had some great times, some number one hits. But tensions are growing, their dodgy accountant has fucked them all over, the Irishman is having troubles at home, and the Scotsman wants to go solo. Is this the end..?
It's a fun idea for a sketch, but Tim Price's new play with songs drags the conceit out over an entire play, one without the wit, the ambition or the tunes to even begin to fill 90 minutes.
In its defence, the four actors are good – James Hillier as the suspiciously Damon Albarn-like Englishman, Andy Clark as the surly Scot, Matthew Bulgo the inferiority complex-laden Wales and Declan Rodgers as their as their buff, erratic Northern Irish drummer. And Hamish Pirie's production makes for an undeniably good-natured evening. The set-up is genuinely funny, and the quartet's whining, midlife crisis banter raises some chuckles. But the fact is that the show plays its entire hand in ten minutes, and spends the rest of the night going nowhere, slowly.
The piece is a co-commission from Edinburgh Traverse Theatre and Cardiff's Wales Millennium Centre, and to suggest any actual resolution to The Union's woes before the national debate was resolved would presumably be waaaaaay outside of Price's allegorical remit. Nonetheless, he might have written some better songs then the milquetoast indie rock that forms the bulk of the music – some sharply-written, big-hooked comedy numbers might have salvaged the whole thing, but if Price is suggesting the continued existence of the UK hinges upon an eternity of sub-Coldplay blethering, then I'm out.
The latest Edinburgh Fringe theatre reviews