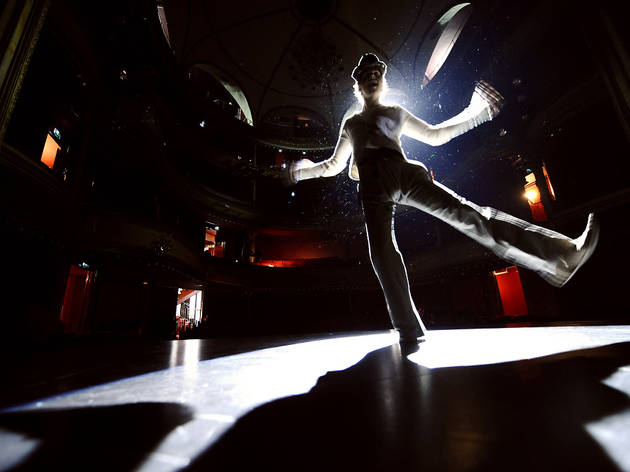 The word 'childlike' gets over-applied, often to any artist who plays it a little naive, or just plain silly. But Julien Cotterau, a former Cirque du Soleil clown whose wordless one-and-a-half hour solo show is making its UK debut as part of Southbank Centre's festive family programme, makes a much more intuitive and truthful connection than that.
The best parts of his performance channel and champion a young child's absolute joy and curiosity in its own body – and that strange, neutral impulse to put anything and everything in its mouth.
Cotterau is a mime, but his particular talent is for sound mimicry. A broom, a bouncing ball, a banana, an overenthusiastic dog, a gob of impossibly stretchy chewing gum that becomes an improvised double bass – he brings these invisible props into collectively imagined being with only his (albeit radio mic'd and occasionally treated) vocal chords.
The resulting show is always playful and charming, sometimes surprising, and often inspiring and empowering. But its length demands more of a narrative and a broader, less repetitive sound world. It's also a shame that Cotterau and co-writer Erwan Daouphars rely so heavily on dragging adults up on stage – to act out a rather too conventional and repetitive scenario involving a knight, a monster and a damsel in distress.
'Imagine Toi's defining moment comes when a child (on this occasion a timid boy) is invited up to play mime keepie-uppie, his kicks growing in confidence and flair as Cotterau's split-second-response sound effects bestow on him the ball control of Lionel Messi. But on the night we attended he was the only child participant of five, and Cotterau wasn't flexible enough to really involve the little girl who wandered down to the front of her own accord.
This is a show that teaches us, with purity and passion, to play. But self-conscious adults have a harder time taking the ball (figurative or imaginary) and running with it. And I should know, having spent a large slab of this performance being the damsel. The little footballing boy, on the other hand, responded as if he was slowly discovering a magic power. And in a way, he was.