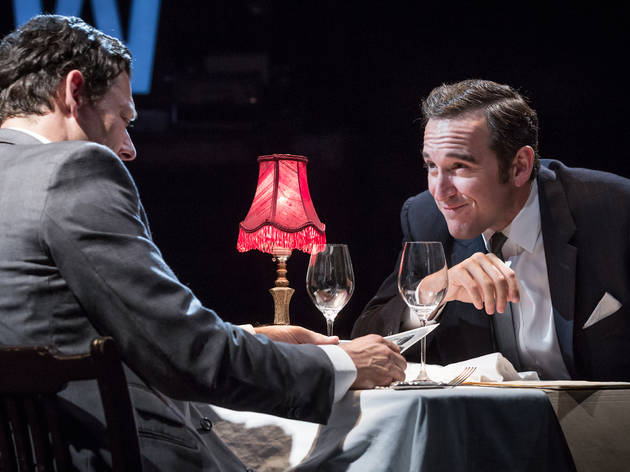 1/19
© Marc Brenner
Richard Coyle (Larry Lamb) and Bertie Carvel (Rupert Murdoch)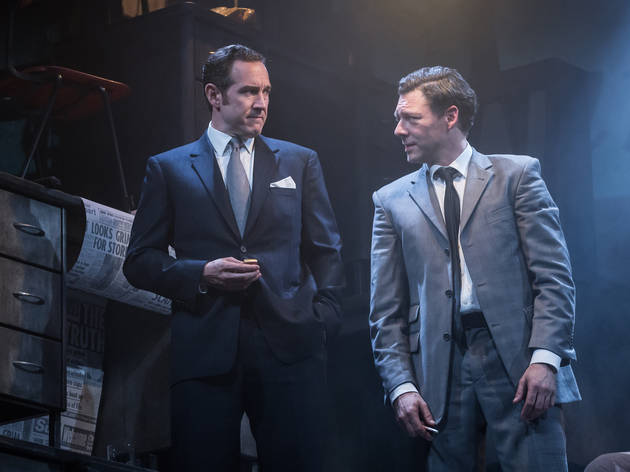 2/19
© Marc Brenner
Bertie Carvel (Rupert Murdoch) and Richard Coyle (Larry Lamb)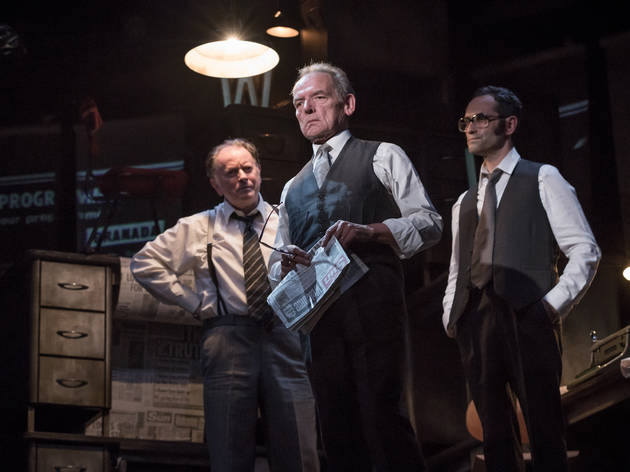 3/19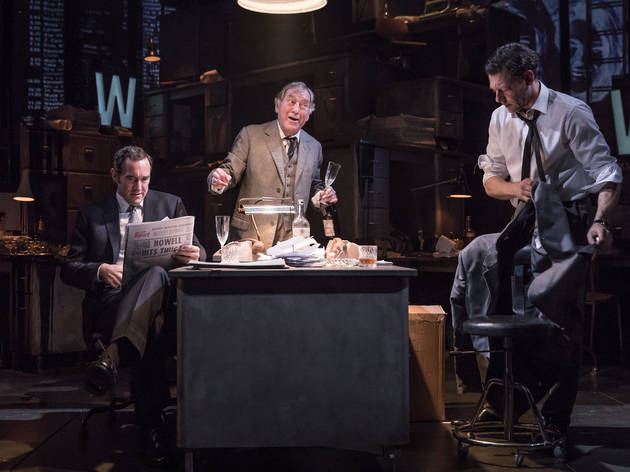 4/19
© Marc Brenner
Bertie Carvel (Rupert Murdoch) Geoffrey Freshwater (Sir Alick McKay) Richard Coyle (Larry Lamb)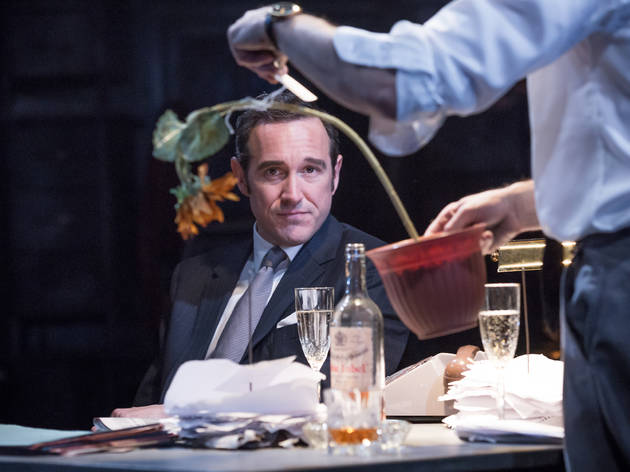 5/19
© Marc Brenner
Bertie Carvel (Rupert Murdoch)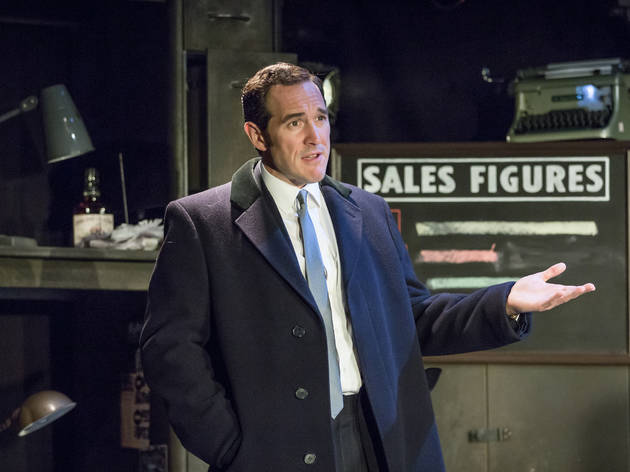 6/19
© Marc Brenner
Bertie Carvel (Rupert Murdoch)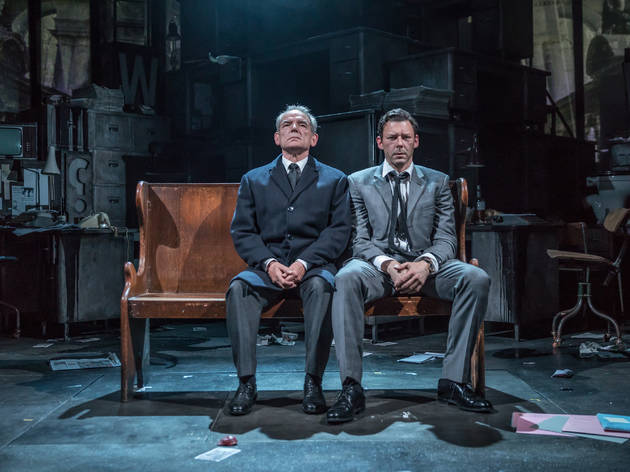 7/19
© Marc Brenner
David Schofield (Hugh Cudlipp) and Richard Coyle (Larry Lamb)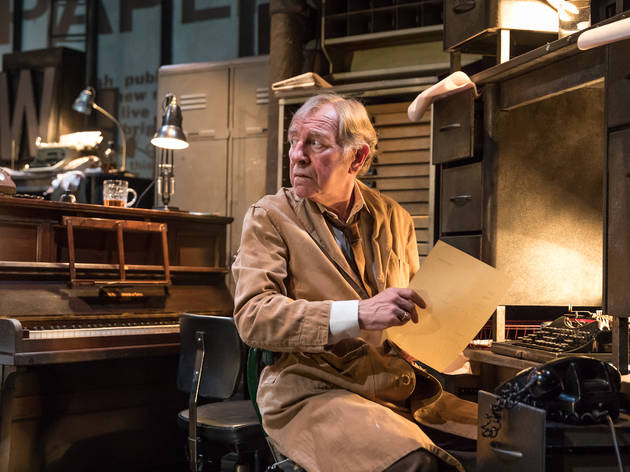 8/19
© Marc Brenner
Geoffrey Freshwater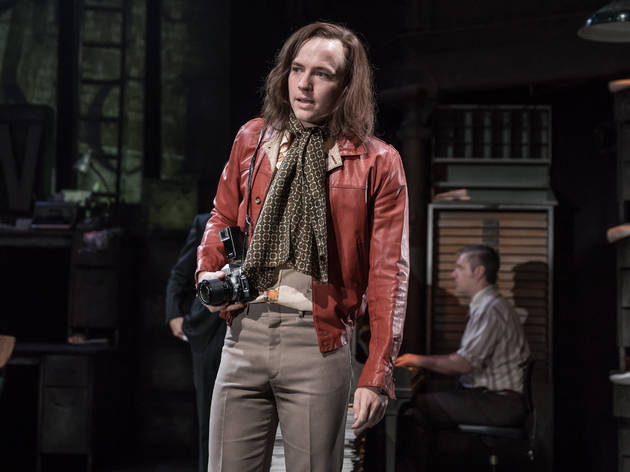 9/19
© Marc Brenner
Jack Holden (Beverley)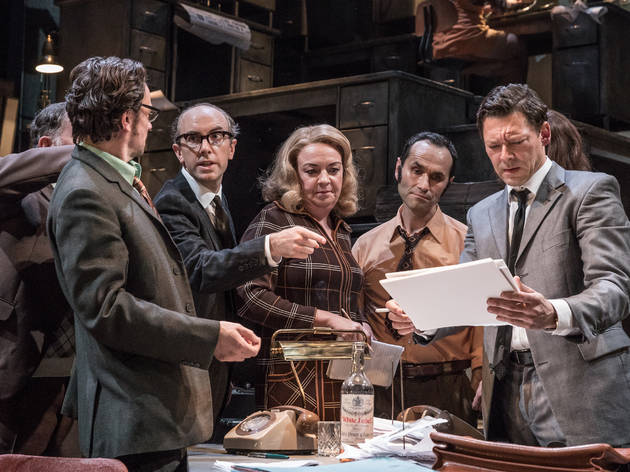 10/19
© Marc Brenner
Justin Salinger, Tim Steed, Sophie Stanton, Rene Zagger and Richard Coyle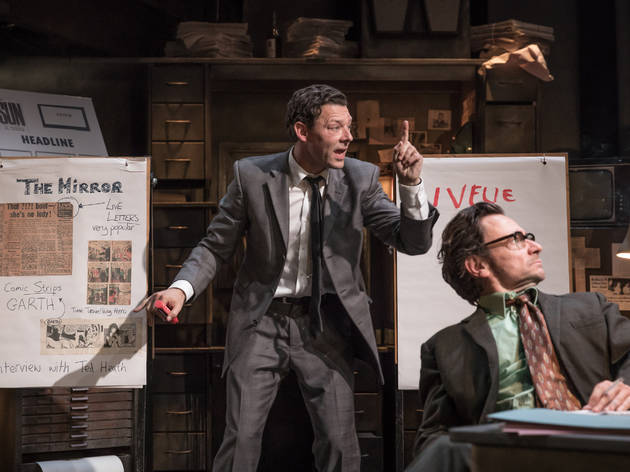 11/19
© Marc Brenner
Richard Coyle (Larry Lamb) and Justin Salinger (Brian McCconnell)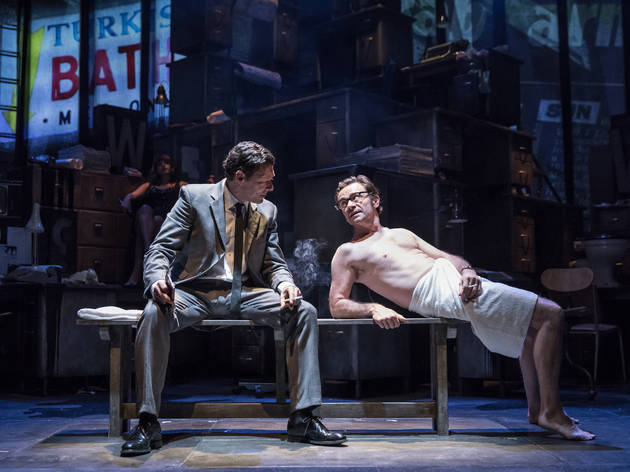 12/19
© Marc Brenner
Richard Coyle (Larry lamb) and Justin Salinger (BRIAN MCCONNELL)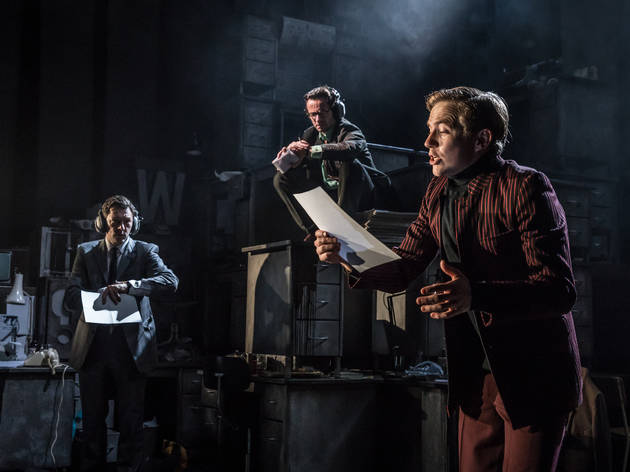 13/19
© Marc Brenner
Richard Coyle (Larry Lamb) Justin Salinger (Brian Mcconell) Jack Holden (Christopher Timothy)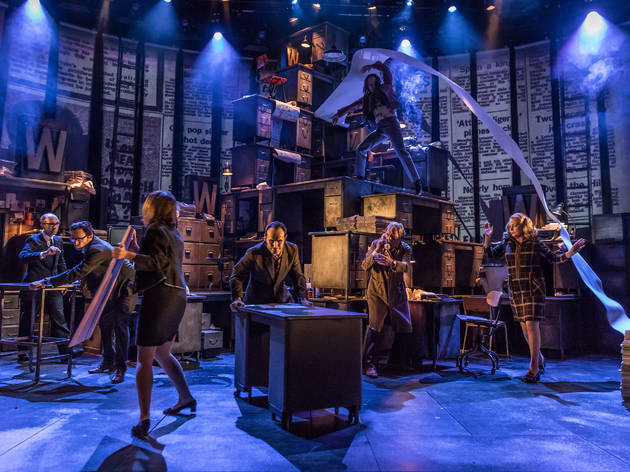 14/19
© Marc Brenner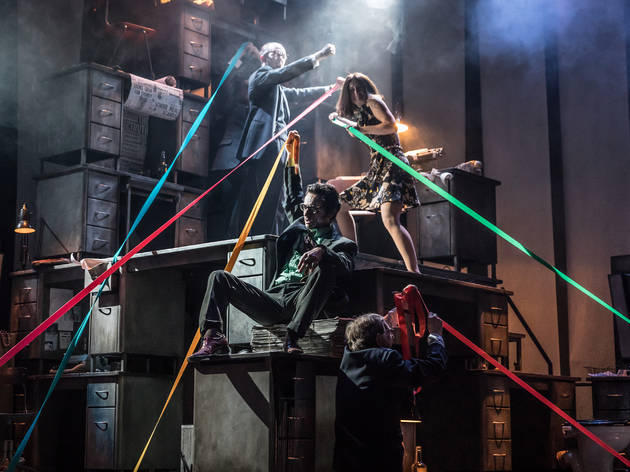 15/19
© Marc Brenner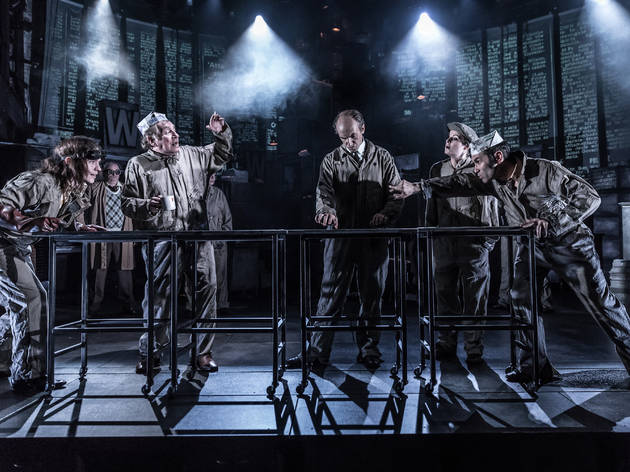 16/19
© Marc Brenner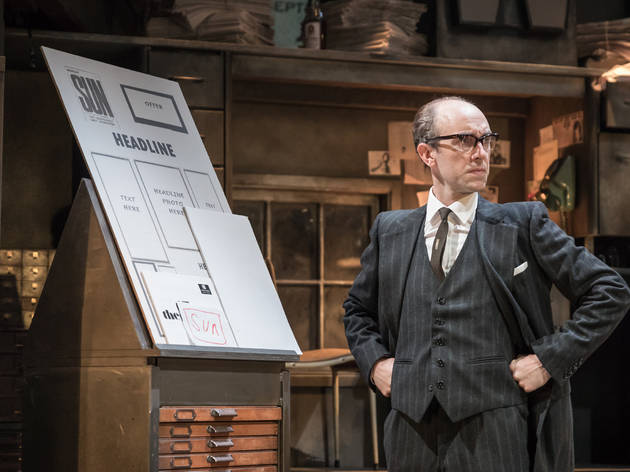 17/19
© Marc Brenner
Tim Steed (Bernard Shrimsley)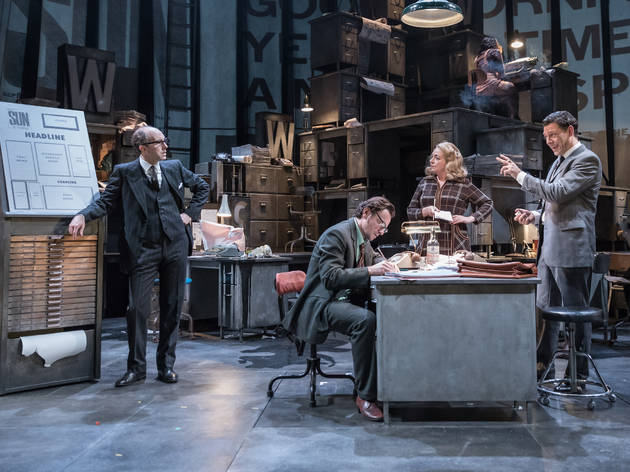 18/19
© Marc Brenner
Tim Steed, Justin Salinger, Sophie Stanton and Richard Coyle
19/19
© Marc Brenner
Tony Turner, David Schofield (Hugh Cudlipp) and Rene Zagger (Lee Howard)
Bertie Carvel is brilliant as a Mephistophelian Rupert Murdoch in James Graham's drama about the founding of The Sun newspaper
'Ink' transfers to the Duke of York's Theatre Sep 9-Jan 6
Interview: 'there is blood on their hands' – James Graham on 'Ink', The Sun and Murdoch
Located deep in the constituency of that nemesis of the white van man Emily Thornberry, Islington's hip Almeida Theatre is not what you'd call classic Sun newspaper territory. But top political playwright James Graham has always striven to be non-partisan. And his Almeida debut is an epic about the founding of the modern Sun that may discomfit a liberal audience with its sympathetic, even romantic depiction of the way in which a band of ragtag journalistic rejects created the country's biggest-selling newspaper.
It's not without teeth, though. The empathy Rupert Goold's production musters for the paper's editor Larry Lamb (Richard Coyle) and his team is not extended to proprietor Rupert Murdoch, who Bertie Carvel basically plays as the actual Devil.
Or more accurately, he's the Mephistopheles to Lamb's Faust. Hissing, hunched and sinuous, Carvel's Murdoch looks at everyone and everything like they're his prey. 'It's business. And it's revenge', says Murdoch, but in truth he seems to be motivated solely by a burning desire to destroy the old order, as epitomised by the Daily Mirror, the socially-crusading, left-leaning, mega-selling tabloid overseen by Hugh Cudlipp (David Schofield). It is Murdoch who persuades the bluff, no-nonsense Lamb to take on his former employers, whispering that he never got to edit the Mirror because he wasn't part of the old boys' network. But it is Lamb who ultimately shocks Murdoch: pushed into a dark place by his rivalry with Cudlipp, Page 3 is unveiled as the final, apocalyptic weapon in the circulation war, and it horrifies even Rupert the 'Dirty Digger'… until the numbers roll in.
Graham's best known play is his '70s-set parliamentary drama 'This House'. 'Ink' is something of a companion piece, being a fast-paced, incident-heavy depiction of recent-ish history revolving around awkward men with ill-fitting suits, strong accents and mortal rivalries shaping the future of this country in the '60s/'70s (livened up with singing interludes and fun factoids). He telescopes a sprawling story brilliantly: it's basically about Lamb putting his team of misfits together, before hitting choppier waters with his controversial coverage of the McKay kidnapping. But 'Ink' takes a joy in historical detail that transcends its politics: the show's most strikingly Gooldian sequence gleefully details the dementedly complicated process that was the hot metal press (an outdated, labour-intensive system kept in play by the powerful unions that Murdoch despised).
It's a notably un-diverse cast for the Almeida, and despite a great turn from Sophie Stanton – giving no fucks as Sun women's editor Joyce Hopkirk – the gender politics are inevitably a bit icky. But fretting about exactly how PC a drama about The Sun is seems like a fairly pointless pursuit.
The peculiarity of 'Ink' is that Carvel's Murdoch feels like an outsider to the play as much as he does to the newspaper industry: he drifts in every now and again to appear before Lamb like a baleful phantasm, but we never really learn much about him. I guess we all already have an opinion, but it almost feels like a brilliant cameo rather than a lead role.
Really, 'Ink' is more about Lamb. And Coyle is excellent: he's no sleaze merchant but a smart, funny, working-class Yorkshireman whose mounting disenchantment at the establishment propels him from spirited rebellion to something bleaker. Should we see this as a personal tragedy, of a good journalist driven gradually to the dark side? I don't think that's the truth: from what I know Lamb was much more of a right-wing ideologue than Graham really lets on. But it's a good story, and as any hack will tell you, that's the most important thing.