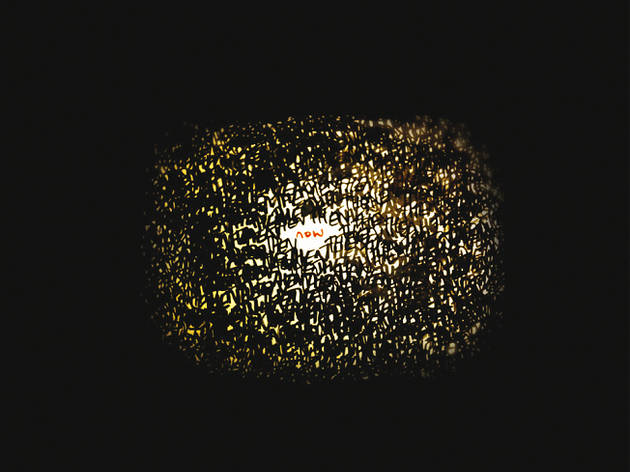 'It's Always Right Now, Until It's Later' won't startle devotees of Daniel Kitson's performance storytelling: the usually dextrously wordy, bittersweet turns of phrase, rollcall of eccentric Englishfolk and slight Terry Pratchett-isms are all present and correct. But it's undoubtably another refinement of Kitson's already formiddable craftsmenship, and that's journey enough.
It's the tale of two lives: Caroline's, which we hear about in chronological order, and William's, which is told in reverse, from death to life. The staging is simple, but effective, the air strewn with lightbulbs, each representing a 'moment', which glows bright as Kitson shares its story. Their starry twinkle affords a gently elegiac feel.
Kitson eases us in with humour, the first moment coming eight minutes after William's death, which was a gently absurd affair, as, being a believer in last words, he had in fact uttered his nine days before passing away, refusing to speak from thereon in. As the story pootles backwards through his life, we meet an endearingly odd man, whose story is juxtaposed with that of the much more conventional Caroline. And yet as we grow to know these two, the line between laughter and sadness blurs. The funniest scene comes with a disastrous date William goes on age 38, where he tries and singularly fails to impress his date with a length existentialist rant. But by this stage we are wondering wonder why he is this comically cynical, childless singleton, especially when contrasted with Caroline, who has been lovingly married since a young age. As we delve backwards and hit one moment of perfect happiness experienced before his life took a turn for the darker, the story takes on a air of poignancy that it doesn't relinquish, as Caroline's life crackles brightly to its end, while William's shrinks to a heartbreaking innocent spark. Ultimately it's Kitson's empathy that impresses as much as his way with words: he takes a conventional girl and a cranky old weirdo, jumbles their lives up, scoops up a random handful of innocuous, low key moments, and shows us s nothing but exquisite beauty.