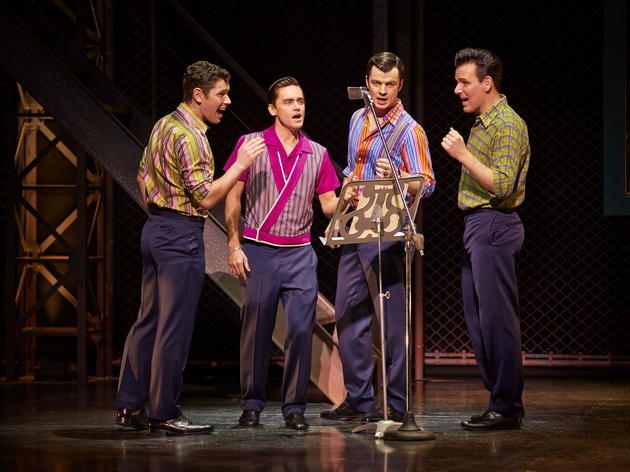 1/5
Brinkhoff/Moegenburg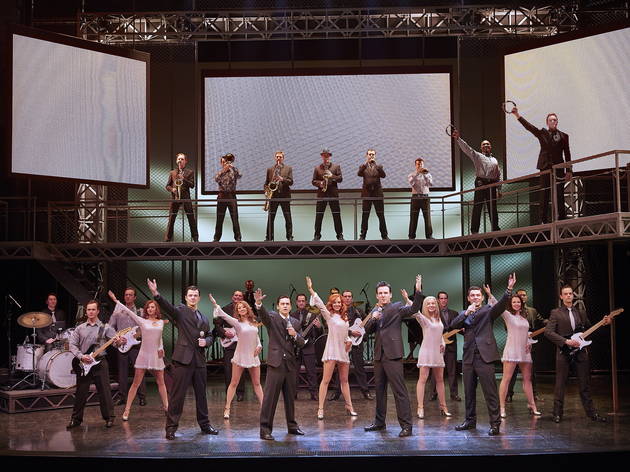 2/5
Brinkhoff/Moegenburg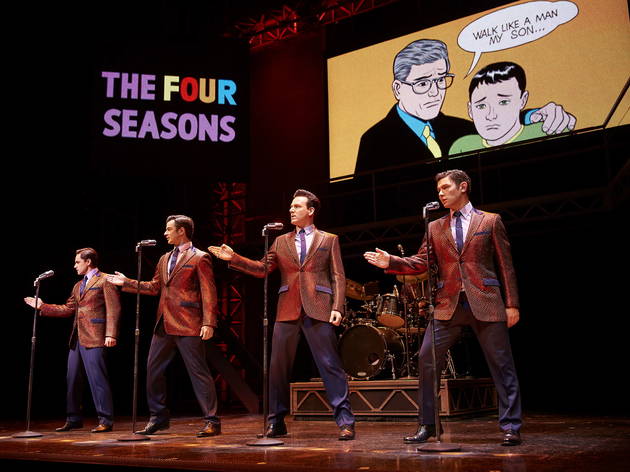 3/5
Brinkhoff/Moegenburg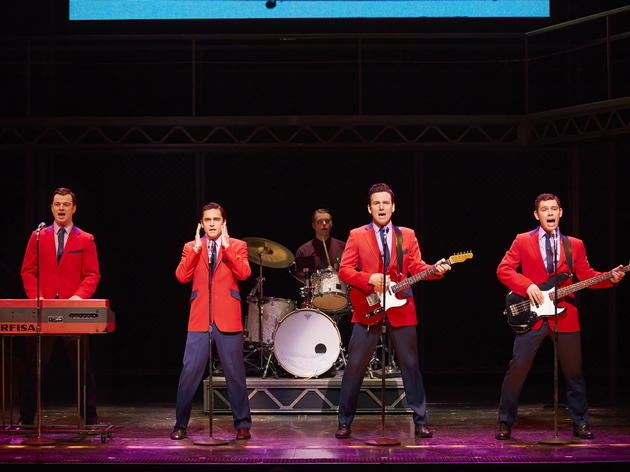 4/5
Brinkhoff/Moegenburg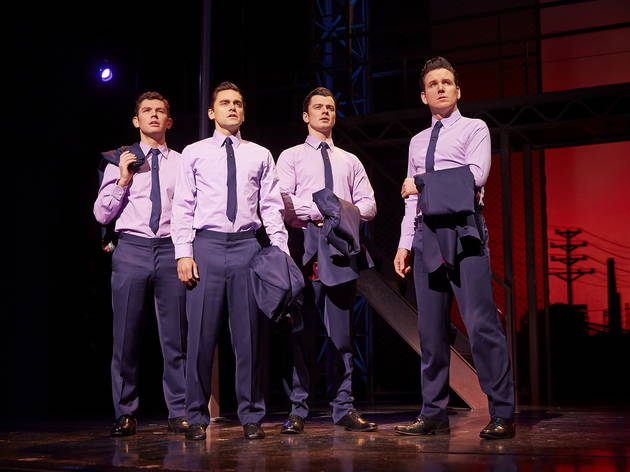 5/5
Brinkhoff/Moegenburg
Here's the 'Jersey Boys' concept. Take one gleaming back-catalogue – that of Frankie Valli & the Four Seasons, whose Bob Gaudio-penned songs have become so woven into the fabric of Western pop culture that it's easy to forget who actually wrote them. Next, instead of torturously extrapolating a zany plot out of the lyrics, simply make the story of 'Jersey Boys' the story of the Four Seasons. Get a top-notch book, written by Rick Elice and Woody Allen collaborator Marshall Brickman. Hire a director, Des McAnuff, who doesn't let extended song and dance routines get in the way of a playful, incident-packed story that's not afraid to play a little hard and fast with chronology. Combine, and you have not only one of the best shows in town, but an object lesson in how the whole benighted jukebox musical sub-genre can spawn a genuine classic.
It's therefore not a surprise to note that there have been few changes at the Prince Edward Theatre over the last three years. Supporting cast members have come and gone, but the prodigiously-piped, wonderfully craggy Ryan Molloy is still front and centre as Frankie Valli most nights (though former S Club 7 member Jon Lee now subs for him on occasion).
The current crop Seasons are great fun: Matthew Wycliffe's nerdy nice guy Gaudio and Jon Boydon's wiseass Tommy DeVito engage as the two men fighting for the soul of the band, while the Lurch-like Eugene McCoy makes the role of bassist Nick Massi his own.
But it's the book that emerges as star. The story of 'Jersey Boys' is the story of most musicians who went from bluecollar roots to more success than they could handle. What's great about Ellis and Brickman's telling of the tale is not only its ready wit and refusal and obvious effection for its subjects, but also the poignancy in the shift of narratorial duties from Tommy DeVito to Bob Gaudio. By the second half DeVito has lost his grip on band, show and himself. And in the background Molloy's Valli grows subtly in stature, from runty street rat to troubled father, but always with those formidable pipes, the like of 'Rag Doll', 'Walk Like A Man' and 'Big Girls Don't Cry' still intoxicatingly odd a half century on.
(Note: this is a review of the show at the Prince Edward Theatre)
Average User Rating
4.4 / 5
Rating Breakdown
5 star:

17

4 star:

8

3 star:

4

2 star:

1

1 star:

0
I have seen the jersey boys 4 times now and I would watch it again every day if I could I have taken my 15 year old granddaughter and she loved it and then her friend wanted to see them so my husband and myself took them both and now they keep asking when are we going again I would recommend the jersey boys with my heart and soul to anyone of any age l love it ,I can honestly say I have never heard anyone say anything bad about the show jersey boys is a show I would never get bored of
Heartwarming, beautiful production. So engaging and fun! The view that the audience gets of the stage as they perform for their 'audience' is a very clever angle. Highly recommended for a fun evening out

Really enjoyed the show.Took my wife & our four children for my wife's birthday and everyone enjoyed it, even my 13yr and 15yr old girls who knew nothing of Frankie Valli or The Four Seasons.We were all surprised to hear so many songs which originally came from these guys.By the end we were all clapping and singing along to songs that are timeless.the cast were superb and the actor/singer that played Frankie,his voice was amazing.The story was put together very well incorporating the songs & how some of the songs came about.Moments of laughter,tears at times as well as uplifting.Would without doubt recommend.
Such a fun night out! Great show, brilliant performances and amazing music. For any fans of The Four Seasons (or not) this is for you. The story is fascinating also and learning about the songs and how they came into being was so interesting. Beautifully choreographed also... If you're into musicals Jersey Boys is a must.
Loved it.
Without question the best dukebox musical in town.
So many amazing songs to keep you entertained and sing along to in your head
Amazing show! My partner and I are 36 and worried that we might not know any of the songs but turned out we knew them all!! Couldn't recommend this show enough..Sandy Moffatt played Frankie and was absolutely amazing!! And very cute :) love, love, loved it..
Fantastic show ! Enjoyed every minutes and it's worth every penny. Most of the audience was over 50 and everyone enjoyed the music. Franki was adorable.