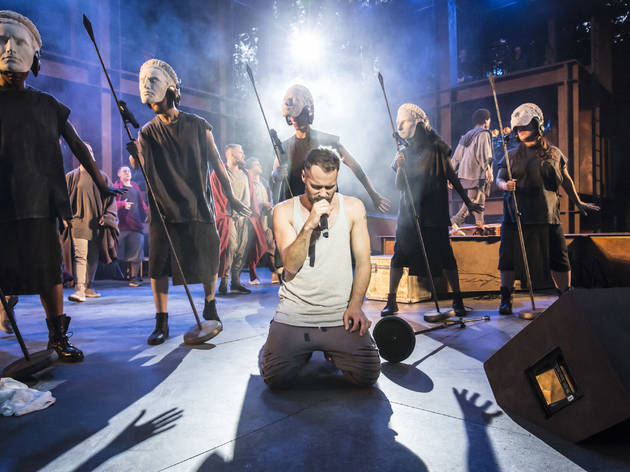 1/5
© Johan Persson
Declan Bennett as Jesus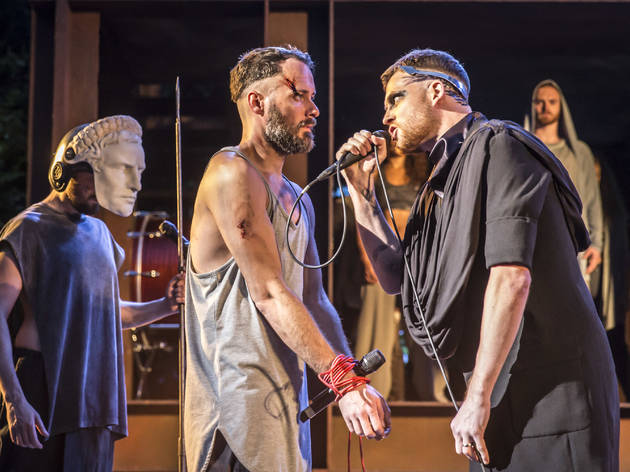 2/5
© Johan Persson
Declan Bennett and David Thaxton as Jesus and Pilate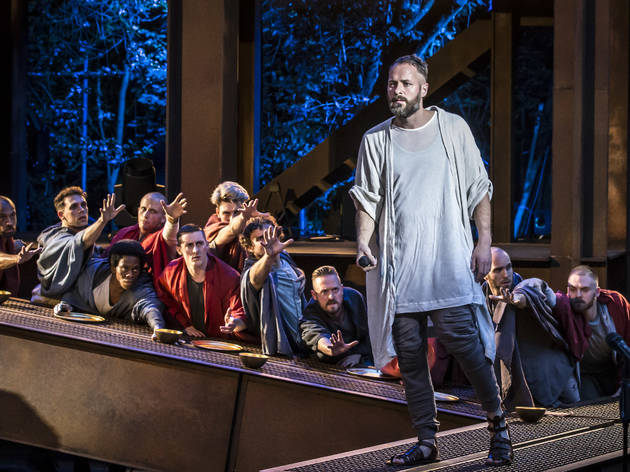 3/5
© Johan Persson
Declan Bennett as Jesus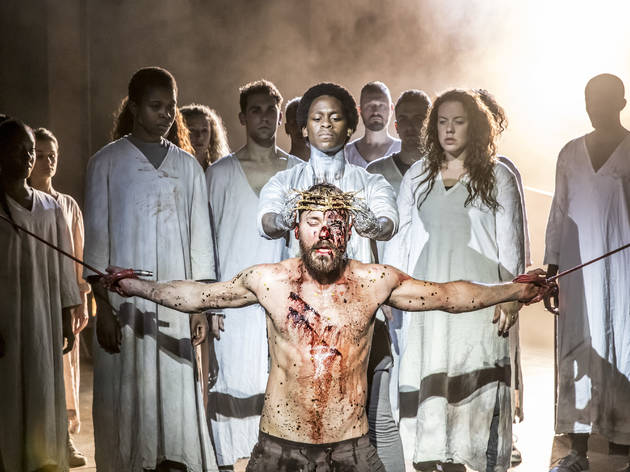 4/5
© Johan Persson
Tyrone Huntley and Declan Bennett as Judas and Jesus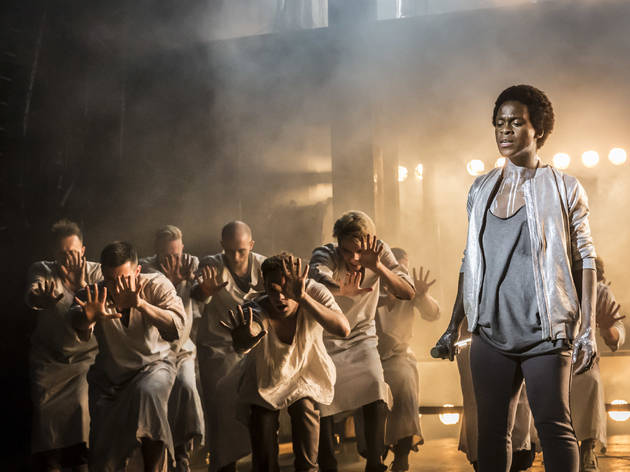 5/5
© Johan Persson
Tyrone Huntley as Judas
Jesus Christ Superstar returns for 2017; casting tba
'Jesus Christ Superstar' returns for 2017 – Declan Bennett and Tyron Huntley are back as Jesus and Judas
One of the many contradictions that underpin the life and career of Andrew Lloyd Webber is that his musical about Jesus is about a gazillion times more fun than his musical about cats (don't even get me started on the rollerskating train). Unfortunately London hasn't seen a decent 'Jesus Christ Superstar' in yonks, the pitch having been rather queered by the weird arena-rock version that played at the O2 a few years back – it had its merits, but it also had Chris Moyles playing Herod so, er, yeah…
Anyhoo: a big summer musical is kind of the Regent's Park Open Air Theatre's 'thing', and boss Timothy Sheader caps a fine season with an excellent production.
Conceptually, the key to the success of this revival is a sort of doublethink wherein it's both ruggedly masculine and flamboyantly fabulous at the same time, without overt contradiction or knowingness. Tom Scutt's set is a yawning skeleton of a building, huge, industrial girders suggestive of crosses, the stage a more explicit crucifix shape. Lean, bearded (well, some of them) and buff, the cast are dressed in varying shades of raggedy grey, and look like a warrior tribe from some sort of culty '70s dystopian drama. Just when it's all looking a little too austere, things start to get progressively more spangly: after agreeing to betray Jesus, Tyrone Huntley's Judas stains his hands into a pool of molten silver; Peter Caulfield's Herod is a huge, camp billow of gold cloth; glitter is hurled at the blood-drenched torso of Declan Bennett's Jesus on each of the 39 lashes he's sentenced to. It's exhilaratingly lurid, but never tongue-in-cheek.
Pausing to doff my crown of thorns to Drew McOnie's pulsing, rhythmic choreography, what really makes the show is its truly excellent cast.
Bennett's ambivalent Jesus – whose divinity is never confirmed nor denied – is a rugged everyman who spends the first number rolling a fag; if his voice sometimes feels a bit 'light', he absolutely nails his operatically emosh act two number, 'Gethsemane'. Anoushka Lucas is a fine Mary Magdalene, who pumps the requisite warmth and feeling into the show's big pop numbers, 'I Don't Know How to Love Him' and 'Can We Start Again Please' But the real find is relative newcomer Huntley as Judas: his soulful howl is the most electrifying instrument in this feverishly full throttle resurrection of a classic show.
Average User Rating
4.3 / 5
Rating Breakdown
5 star:

1

4 star:

3

3 star:

0

2 star:

0

1 star:

0
Having seen every London production since The Palace Theatre in the 70's, this review does the performance and production justice. It is powerful, emotive, and soars to an electrifying climax. The small intimate outdoor nature of the Open Air brings you even closer into the vibe and beat of a truly powerful rock opera. If it will be your first time, or one of many, don't miss an amazing performance by Jesus, Judas, Mary, Ciaphas and his number two.
Absolutely brilliant just managed to get returns on the day, so happy I did, I'm currently broke but it was worth every penny xxx
I just absolutely loved this interpretation of the Lloyd-Webber/Rice classic. The stark industrial set perfectly set off the gritty urban tone of the production. All the leads were excellent but special mention for a fantastic Judas & soulful Mary Magdalene- I loved her solo numbers. The ensemble cast were faultless & this had a real energy- even in broad daylight. It was my first time at the open air theatre at Regent's Park & it's a magical setting. I'm still humming the songs a week later- the sign of a good time!