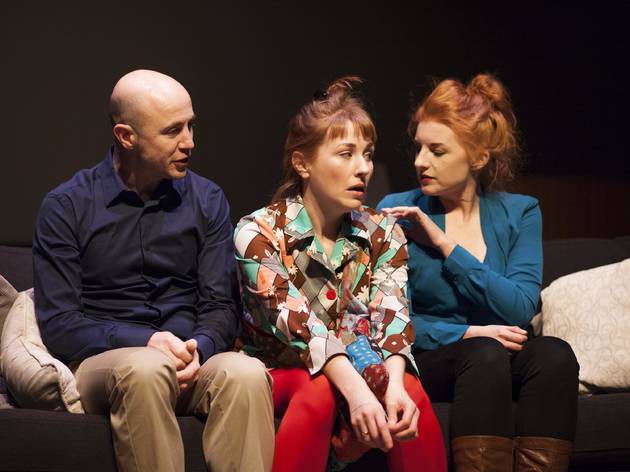 1/4
Peter Daly (Alan), Valerie O'Connor (Jezebel) and Margaret McAuliffe (Robin)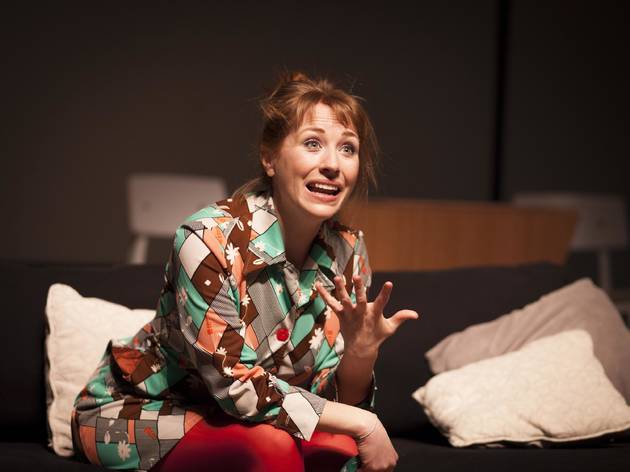 2/4
Valerie O'Connor (Jezebel)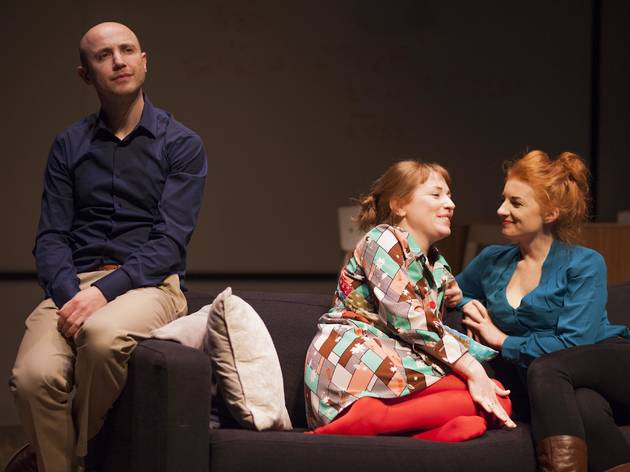 3/4
Peter Daly (Alan), Valerie O'Connor (Jezebel) and Margaret McAuliffe (Robin)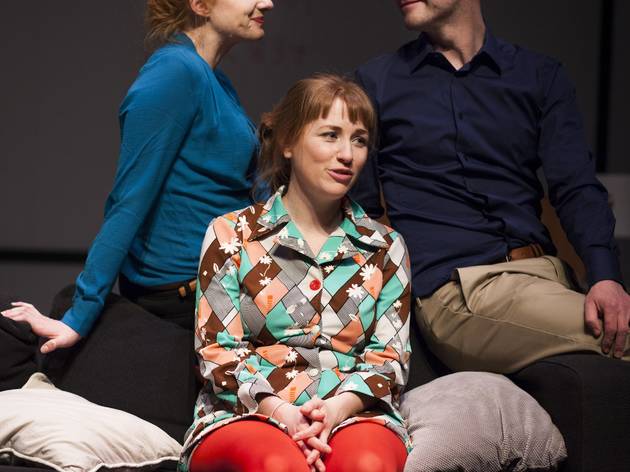 4/4
Peter Daly (Alan), Valerie O'Connor (Jezebel) and Margaret McAuliffe (Robin)
A larky, lo-fi three-hander from Dublin's Rough Magic theatre company, 'Jezebel' is pretty much the perfect play for the Edinburgh Fringe in terms of tone, duration and budget. But for whatever reason, it's ended up here rather than there this August.

Which is a good thing for London. Mark Cantan's play is a very knowing, often very funny comedy of misunderstanding that follows the fraught love lives of affable, some would say dull, statistician Alan (Peter Daly) and his feisty self-help-guru girlfriend Robin (Margaret McAuliffe). Having come together via a conversation so laden with double entendres that, initially, neither of them can work out whether they're flirting or talking statistics, the couple enjoy a rollicking start to their relationship. Then they hit a rut, which they overcome with a headlong dive into the realms of sexual adventure, eventually deciding to have a threesome.

The 'lucky' third party is Valerie O'Connor's Jezebel, an unfortunately named fine artist with a terrifying absence of social skills who 'looks like a wet hamster wearing a skirt'. Abandoned at a club, the hapless Jezebel is easy meat for the amorous duo; the hook-up is accomplished enjoyably and without consequences.

Or is it? The great joy of Cantan's writing and Lynne Parker's production is that they take the disreputable old sex-farce format and give it a pleasingly ironic makeover. The characters remain mild-mannered in the face of a sudden drastic twist; and rather than have Alan become hysterical at the epically unlikely central plot point of 'Jezebel', Cantan has him break down its statistical likelihood, concluding that The Thing That Happens was probably going to occur at some point in the world somewhere, so whatever.

Towards the end, Cantan's reliance on broadly the same joke about the same point of misunderstanding does get a little stretched. But that doesn't detract from the fact that 'Jezebel' is great fun, a ray of Fringey sunshine during London's August theatre drought.