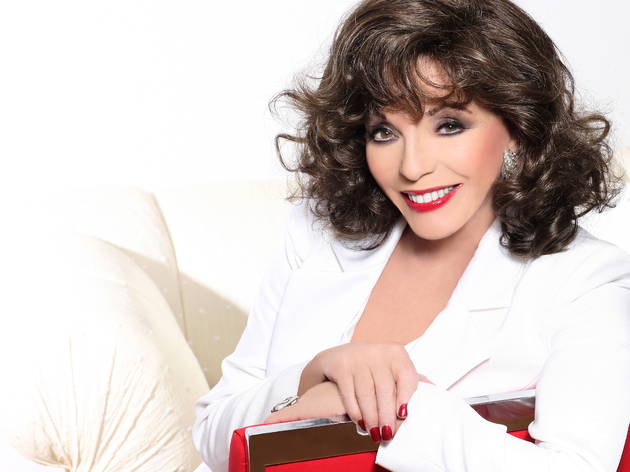 Outdoors it may be grey and drizzly; the theatre may be in need of a scrub up; but onstage it's pure starlight, as Joan Collins, 79 going on 40, enters in shimmering skintight sequins and a head of hair with more volume than a My Bloody Valentine gig.
Oh she's as camp as Christmas, is our Joan. And this show – an anecdotal trot through her Hollywood career, punctuated by 'Dynasty' clips and old pics – is almost panto-esque. Joan takes faux phone calls and winks to the audience, and makes self-deprecating cracks about a career that has 'had more ups and down than my friend Joan Rivers's face'.
To anyone who saw Joan Collins on her last tour in 2011, this may all seem a little familiar – completely familiar in fact. Joan is reciting a much-performed script – word for word unchanged since the last time she did the rounds in 2011. Not necessarily a bad thing, but while the performer herself looks young and lively enough to suggest there's a portrait of her rotting in the attic of one of her four homes, the routine itself is looking tired, with jokes often out of synch with their clips and seeming lacklustre.
This aside, Joan's showbusiness gossip is fascinating – she's rubbed shoulderpads with some of the greats. The 'nondescript blonde' she meets at a party is of course Marilyn Monroe; the foul-smelling pipe smoker she shares an onscreen kiss with is Bing Crosby; the old letch who tries to fly her across the world for a date, Frank Sinatra.
This glamourpuss's-eye view of old Hollywood is illuminating and entertaining, but the real insight comes at the end of the show, when she answers questions posed by readers on paper slips before the show.
Carefully filtered by Percy, faithful husband of 11 years, (unsurprisingly, this reviewer's penetrating wig enquiries were lost in the post), the questions show Joan at her best – firing witty retorts. This catty, snappy Joan Collins is the one we came for, and it's a shame we only get a glimpse of her at the end. She's an old Hollywood workhorse, who's always had to 'sing for her supper'– but for a lot of this performance, she's only really miming. Katie Dailey
Rating Breakdown
5 star:

1

4 star:

0

3 star:

1

2 star:

0

1 star:

1
I reviewed my review and think I was a bit scathing. Joan is a treasure and fabulous for her age. I have a milestone this year which is decades less than hers, & feel tired already so I admire her stamina. Sorry Joan, I picked flaws in your show but admire your fabulousness xxxx
OMG it was over before it started and was a vain and clumsy parody of Joan's life, which she emphasised as a c list actor. To this date I have admired her and loved her in a way, however this left me cold and wanting to leave, wrestling with the very grey sycophantic audience....