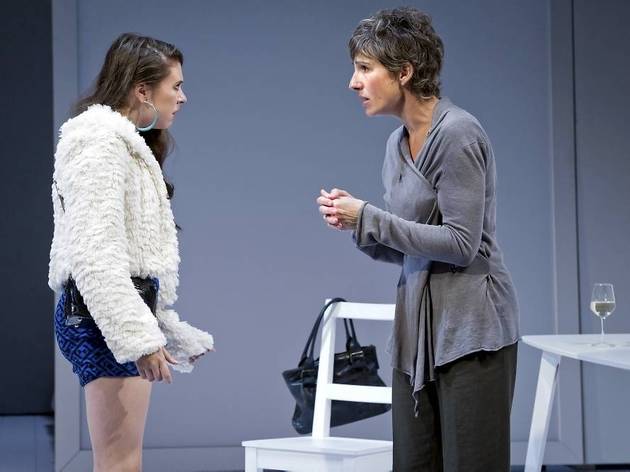 Time Out says
Friendly warning! We're working hard to be accurate. But these are unusual times, so please check that events are still happening.
Maybe I expected too much from April de Angelis's new comedy, about the sexual crises of a 50-year-old woman and her 15-year-old daughter.
It is a fun night out, that's comfortable enough for the parents and rude enough for the kids (who knew that we have 'vagina neck' as well as the menopause to look forward to?). Tamsin Greig is sharp, nervy and excellent as Hilary, struggling to make her principles heard in a world where her Reading Support Unit is no longer supported by the government, her husband refuses to back her up in disciplining their jailbait daughter, and her best friend's scheme for empowering her involves a French maid's outfit and posh stripping.
And Bel Powley is poutingly perfect as Tilly, Hilary's daughter from hell – bringing something like life to a chippy collage of texting, ignoring, pelmet-skirted, contraceptive-free bad-teen clichés.
But 'Jumpy' wasn't quite the subtle, edgy, brilliant feminist play that I wanted it to be – the kind that you live in reasonable hope of at the Royal Court, whose remit is provocation, not comfortable conservatism masquerading in a mini skirt.
Nina Raine's cleanly directed, punchy production makes the most of the situation comedy. But I wanted more: more scenes like the touchingly funny and accurate one where Hilary and her husband Mark are in bed, listening to their
now 16-year-old daughter have sex and wondering if they want to themselves.
As Hilary's life slides out of view, eclipsed by her erotic dilemmas (dump the husband? Shag Tilly's boyfriend's father? Shag Tilly's boyfriend?) the tension between her '70s feminist principles and Tilly's Jordan-inspired value system droops, and this becomes an amusing Walthamstow episode of 'Sex in the City', where women's choices are sexual choices and the laughter sounds increasingly conservative.
Maybe it's po-faced to complain, but when the audience cracked up at Hilary's Kim Cattrall-inspired friend Frances's erotic dance routine (superbly performed by Doon Mackichan), it made me feel sad, because I thought that they were simply laughing at her for being middle-aged and desperate.
Details