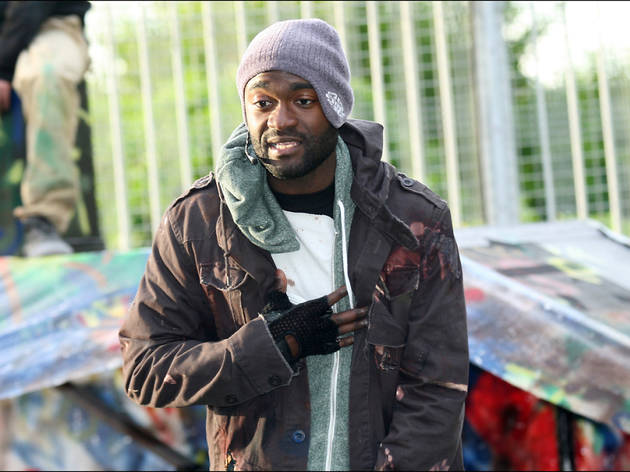 This review is from 'Knight Watch's performance at Camden People's Theatre
Having taken his last two shows to the National Theatre, performance poet Inua Ellams is now touring London's rain-drenched back alleys with a shabby tent and two slightly crusty-looking musicians. Fortunately, he hasn't fallen on hard times: 'Knight Watch' is an entertaining poetic fable about love and war between two feuding street gangs that's been expressly – not to mention optimistically – tooled for outdoor performance in the streets and fields of the UK.
As well as sundry London locations, it's playing several festivals, where I imagine this short, accessible, action-packed show will be in its element. In a Camden alleyway, as a standalone 40-minute show, it felt a bit undernourished, ending just as it gets into its stride.
Ellams's tale of sensitive young Michael's attempt to bring light into a city blighted by warring gangs the House of Herne and Knights of Newtown slips down smooth, but for all the burnished warmth of the verse, the story and characters feel rather stock (if you're aware of a play called 'Romeo and Juliet', you will probably get the idea).
But it really kicks into gear in the final third as the narrative shifts to conflicted gangster Swift, the percussion gets harder, and Ellams starts spitting his lines with unexpectedly menacing rhythmic force. And at the very end, the imagery finally takes flight, abandoning urban shackles for something of positively biblical scope. The last few minutes are positively sublime – so it's a shame that it winds up just as it really gets going.