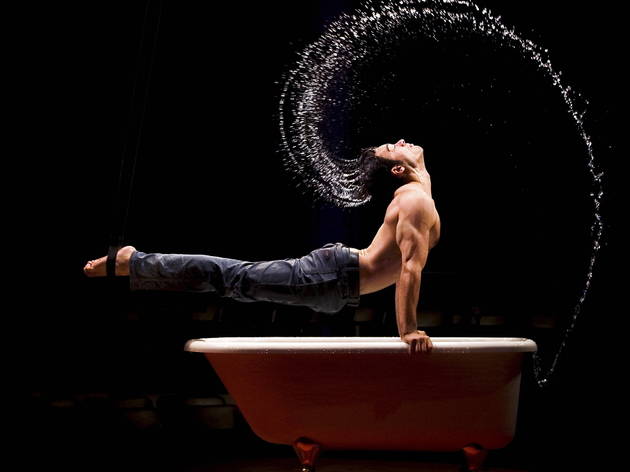 It's not just the fact that the rubber man is called Captain Frodo. This luxe little big-top show on the South Bank confirms that 'La Clique' is to cabaret what 'The Lord of the Rings' was to fantasy: nine eccentrically gifted folk on a long-running internationally successful quest to please a bigger audience than anyone thought possible.
'La Clique' triumphed because it combined the ease of a variety show with the edginess of burlesque. Its sequel, 'La Soirée', has the same winning formula plus a line-up that's the strongest yet: old favourites with new material;refreshing newcomers like Mooky the Canadian clown. It's host is Miss Behave, a PVC-clad cartoon of a lady who swallows, well, everything from table legs to the audience's drinks. Those drinks are far from cheap, but then Brett Haylock's show has come a long way from its original Edinburgh Festival Spiegeltent. But it does retain the warmth of a family affair –if your family is tattooed and startlingly muscular.
Old favourites the English Gents – strongmen with pinstriped suits and unusually patriotic taste in underwear – are superb: as they read the FT in increasingly surprising positions, they mix physical rigour and easy wit, in this act and two new solos. Mooky turns herself into a human prompt sheet in one of the funniest yet least humiliating pieces of audience participation I've ever seen. Captain Frodo bends over backwards to amuse. And German bath hunk David O'Mer cavorts aerially in his own unique brand of water sports, delighting all the male-worshippers.
If this line-up has a weakness maybe that's it: lots of male pin-ups, fewer female ones. Still, the fact that the women are comics and the sex-objects are men, just shows how true 'La Soirée' remains to its leftfield roots. Whether you're new to it, or returning, sozzled, for the umpteenth time, it's something you won't find elsewhere in the mainstream: variety that's genuinely varied – and burlesque with balls.