Lady Day at Emerson's Bar & Grill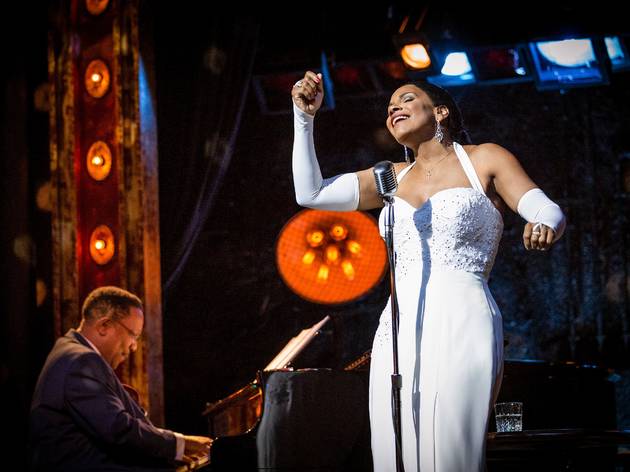 1/6
© Marc Brenner
Audra McDonald as Billie Holiday and Shelton Becton as Jimmy Powers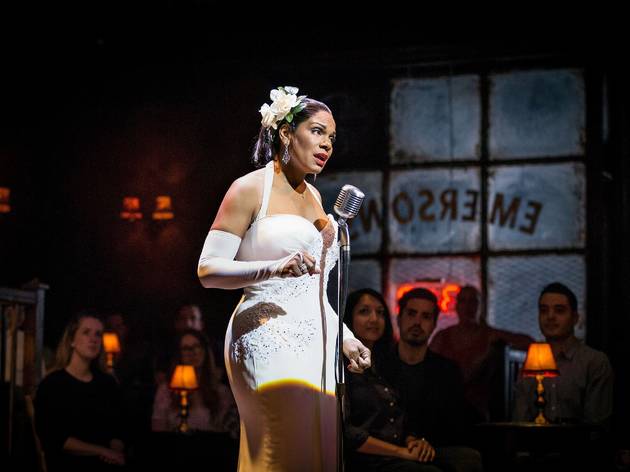 2/6
© Marc Brenner
Audra McDonald as Billie Holiday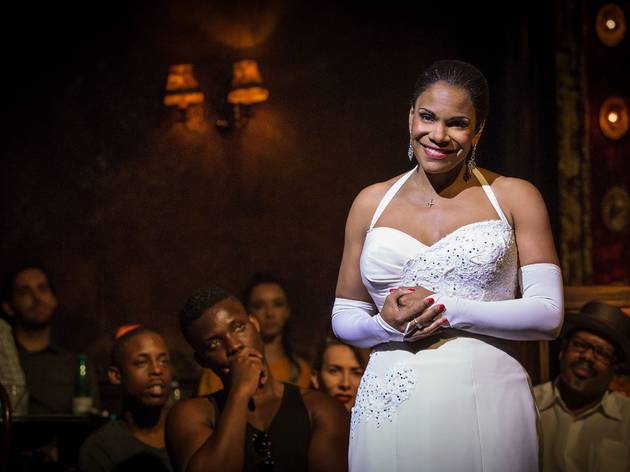 3/6
© Marc Brenner
Audra McDonald as Billie Holiday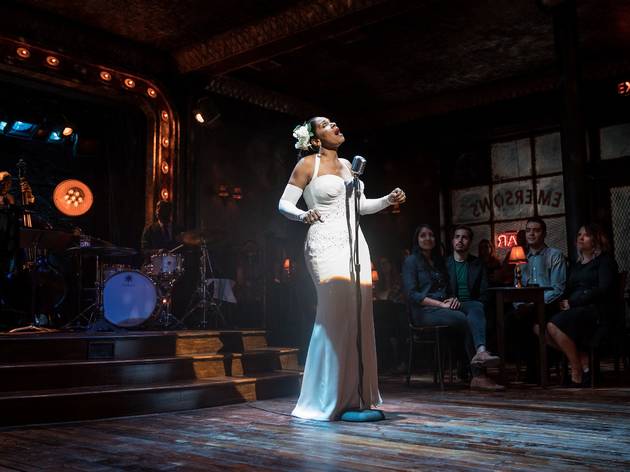 4/6
© Marc Brenner
Audra McDonald as Billie Holiday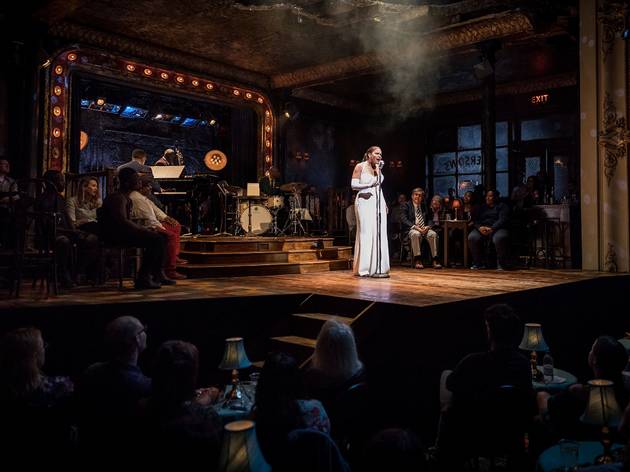 5/6
© Marc Brenner
Audra McDonald as Billie Holiday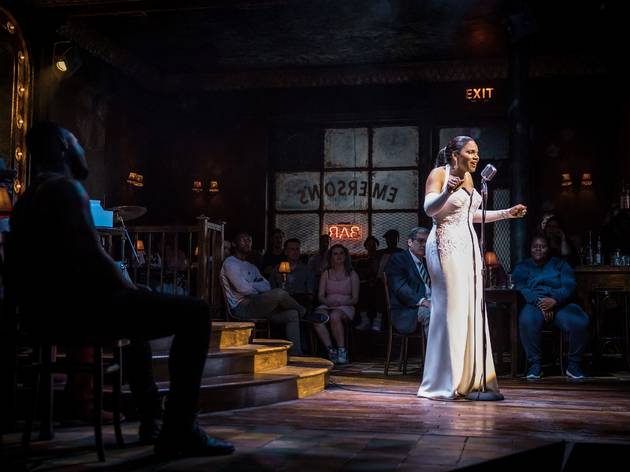 6/6
© Marc Brenner
Audra McDonald as Billie Holiday
Time Out says
The poignant story of chanteuse Billie Holiday's life, told through the substantial talent of Broadway star Audra McDonald.
'I been arrested all over this damn country', announces Audra McDonald. The Broadway legend, and six-time Tony winner (an all-time record), is making her long-anticipated West End debut in a play that's a bleak tour of another kind of America: one where Billie Holiday was created, lionised then destroyed in the twilight economy of cabaret bars. And she's worth the wait. She's utterly, mesmerisingly convincing as she inhabits Holiday, quipping with deceptive lightness that Philly is the only place that put her in jail. Now, she's back at Philadelphia's titular Emerson's Bar & Grill for a night of songs that's all but railroaded by her trauma, alcoholism and drug addiction.
McDonald has Holiday's unique croon down pat. She might have made her name as a musical theatre star, but here, she reigns in her huge, well-trained soprano, and tortures it into something spikier and more wayward. She works her way from light jazz standards, elaborated with virtuouso trills and falls, to the fury of 'Strange Fruit', or the bluesy 'Tain't Nobody's Biz-ness if I Do', a grim justification of her right to self-destruct. As playwright Lanie Robertson's book emphasises, each song she sings comes from pain buried deep inside her. She can't trot them out like an automaton: but as she rambles into stories of her adolescence or abusive past relationships, her band try to jog her back into the present by striking up familiar notes and chords.
Around her, director Lonny Price's luxuriant production creates a gilt-edged replica of a mid-century cabaret club. The stage bustles with tables and chairs, inhabited by awkward-looking audience members who the increasingly desperate McDonald grasps onto for support and comfort.
It's an uncanny, unsettling mix of authenticity and artificiality that's typical of this show. It's fundamentally a pretty strange spectacle to engineer, mixing the sumptuousness of a plushy theatre-turned-cabaret bar, and even more so of McDonald's sumptuous voice, with a narrative that stresses the comfortless reality of Holiday's life.
That discomfort is needed. Holiday's talent flourished and withered in a world that was so racist it killed her: even at the peak of her stardom she wasn't permitted to eat alongside her white band in a restaurant dining room. It's hard not to feel a topical echo, both in the modern context of US police violence against African Americans, and as part of an overwhelmingly white opening night audience, watching as she self-destructs. But this brutal performance feels like an interrogation of the voyeurism that makes us obsessed with watching talented, troubled women (especially black women) break down, suffer and go crazy. It sees us, and holds a cracked mirror up to our rapt faces.
Details
Average User Rating
4.3 / 5
Rating Breakdown
5 star:

15

4 star:

13

3 star:

2

2 star:

2

1 star:

0
My mother when I was younger would always play Billie Holiday, she is one of mothers ultimate favorites. We were both truly blown away by Audra McDonald's performance as Billie Holiday and it was such a powerful emotional story and she held the performance and character throughout, some parts when you even felt you shouldn't be there watching. Such amazing monologues and really well written. Every song was sang to perfection and flawless. The show wasn't very long with no interval, the stage is set as bar and you can really be apart of the act should you wish and purchase tickets to be in the bar on the stage, we had stall which were fantastic as well. The band were fantastic and played beautifully, it was like being taken back in time and really getting a taste of how it was all those years ago. This is a great show and performance to be seen!
Wow! Audra McDonald is out of this world. What singing, what acting! Her tragic life is reflected in this somber play showcasing the decline of a true legend few months before her death at the early age of 44. You are in a Philly club watching Billie Holiday in concert, but she is high and drunk and, as the night progresses, she is suffering from her memories and her drug habit. When I closed my eyes -and I saw many spectators do likewise at times- you could actually hear Billie and her heartbreaking delivery. It is overwhelming. A play, a concert, a re-enacting of a real Billie concert? All of it, but above all else Audra the Magnificent. Chapeau!
Audra McDonald's performance as Billie is flawless, a level of acting I had never witnessed in any show. The musical takes you back to one of the last shows of Billie Holiday, right after her time in jail, at a time when she is experiencing heavy addiction to alcohol and drugs. This is not a show for the faint-hearted, Billie is broken, angry and alone against the world and it will break your heart from beginning to the end. I would recommend it more for Billie Holiday fans or at least for people who have listened to Holiday before and read some bits about her life, it is not easy to follow without some key information. Also don't expect it to be a musical with 10 different settings and a lot of dancers, the decor of the jazz club she is playing at remains throughout the show and she is pretty much the only character.
As much as Audra McDonald's performance and embodiment of Billie Holiday and in particular her singing voice is astonishing - truly! This play quickly became very uncomfortable viewing. The latter half devolves into increasingly incoherent drunken ramblings interspersed with a half-verse of a song here and there and it feels an uncomfortably voyeuristic. After an hour the magnificent singing fails to be able to swamp the gross fetishisation of the downfall of a great artist.
Audra McDonald is Billie Holiday to perfection and backed up by an incredible jazz band. An absolute must see. It's not in town for long so get a ticket now!
Wish I could give it 10 stars. Don't hesitate in considering to go and see it just go, this is one of the best things I have ever seen..............BRILLIANT !!!!!!!!!!!!!
Wow! A heartbreakingly beautiful piece that sheds light on both the unparalleled talent, and the self-destructive nature of Billie Holiday. Audra McDonald is incredible and, along with the band, totally transforms the (very pretty) Wyndham's Theatre. If you don't cry at least once you must be a robot.
An absolute must for Billie Holiday fans, this bitter-sweet, awfully touching piece of theatre transports you back in time and totally absorbs you into a jazz-club in the 1950s. Audra McDonald is incredible at mirroring the stunning voice, tone and mannerisms of Billie Holiday in her tragic decline. Goosebump-provoking, funny and harrowing all at the same time, Lady Day is not to be missed.
Lady Day is a fantastic, one of a kind show. Audra McDonald's performance is exceptional, and for 90 minutes or so you feel totally transported as she brings Billie Holiday to life, from telling stories of her life to flawless renditions of the singer's classics. Wyndham's Theatre is transformed into a Philadelphia jazz club, with audience members on stage adding to the reality of the setting. Not to be missed.
brilliant moving performace felt like the Lady was back.