Lady Windermere's Fan review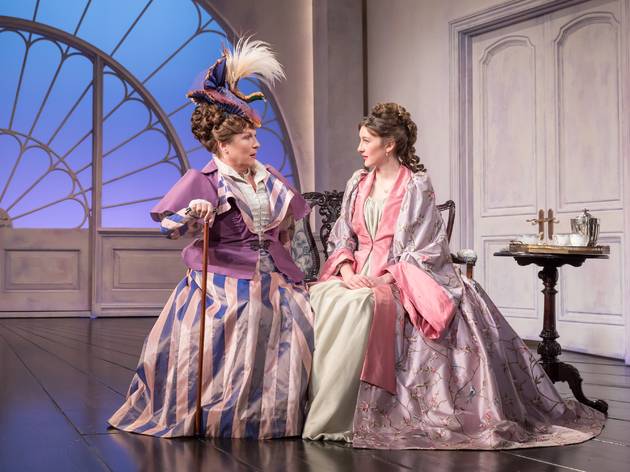 1/10
© Marc Brenner
Jennifer Saunders as Duchess of Berwick and Grace Molony as Lady Windermere
2/10
© Marc Brenner
Jennifer Saunders as Duchess of Berwick + company
3/10
© Marc Brenner
Grace Molony as Lady Windermere
4/10
© Marc Brenner
Grace Molony as Lady Windermere and Joshua James as Lord Windermere
5/10
© Marc Brenner
Grace Molony as Lady Windermere and Samantha Spiro as Mrs Erlynne
6/10
© Marc Brenner
Jennifer Saunders as Duchess of Berwick and Grace Molony as Lady Windermere
7/10
© Marc Brenner
Joseph Marcell as Lord Lorton and Grace Molony as Lady Windermere
8/10
© Marc Brenner
Joseph Marcell as Lord Lorton and Samantha Spiro as Mrs Erlynne
9/10
© Marc Brenner
Kevin Bishop as Lord Darlington
10/10
© Marc Brenner
Kevin Bishop as Lord Darlington and Grace Molony as Lady Windermere
Kathy Burke directs Oscar Wilde's artful society comedy
Last time Jennifer Saunders was involved in a West End theatre show, she was all but run out of town by a pitchfork-wielding mob, genuinely incensed at her diabolical Spice Girls musical 'Viva Forever!'
She's back on rather different terms in 2018, and if co-starring in Oscar Wilde's timeless 1892 comedy 'Lady Windermere's Fan' clearly constitutes the harvesting of low-hanging fruit for the beloved comedy actor, then that's fine – she absolutely owns the stage.
Gossipy old bat the Duchess of Berwick probably isn't even in Wilde's top three gossipy old bats, but Saunders is perfect in the role. Sewing chaos with that ironic detachment that she brings to bear on even Eddy's most fraught moments, she nails Wilde's immaculately sculpted quips, somehow both in the moment and standing wryly outside.
This revival, part of Dominic Dromgoole's year-long effort to stage all of Wilde's plays, is directed by another comedy icon, Kathy Burke, who keeps things light and fast-paced – Wilde at his most frothily superficial.
She's assembled a fine cast, who generally hold their own against the totemic Saunders. Grace Molony is funny, winsome, and a little tragic as the good-hearted Lady Windermere, led by the Duchess's gossip into thinking her husband Lord Windermere (a hangdog Joshua James) is having an affair with the reliably effervescent Samantha Spiro's Mrs Erlynne. Kevin Bishop puts in an entertainingly unselfconscious turn as Lady Windermere's handsy would-be paramour Lord Darlington.
It is entertaining, but my nagging theory about Wilde has always been that he's too influential for his own good – the twentieth-century sitcom is entirely indebted to him and it means that his slick, witty drawing-room comedies rarely feel terribly fresh unless really taken in hand.
Burke stacks her show with enough talent to keep things bubbling over, and wrings a bit of contemporary edge out of Wilde's clearly dim view of self-important toffs with little consideration for women. But ultimately the director doesn't find a huge amount of emotional resonance. Saunders is the USP and also the wildcard in what is otherwise a gently amusing night that arcs to its happy ending with autopilot predictability.
Average User Rating
2.5 / 5
Rating Breakdown
5 star:

0

4 star:

1

3 star:

0

2 star:

0

1 star:

1
OMG... left at the interval as it was SO bad. I'm a theatre goer and have seen most shows in the West End and I have never left a show half way through. Maybe it was too highbrow for me and maybe I'm too young (48) for this show as it seemed you needed to be grey haired to see and appreciate this show. I LOVE Jennifer Saunders to bits but this was not the show fior me. Luckily we had half price tickets which is about right as we left half way through. Don't waster your time or your money on this show.