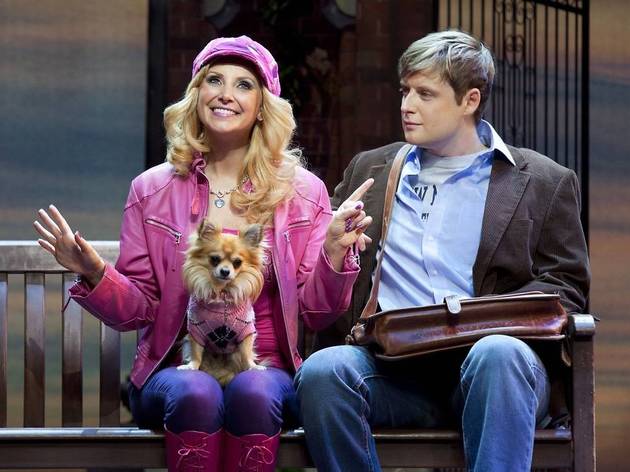 When 'Legally Blonde the Musical' sashayed to the front of the movie-to-musical pack last year, the response was not so much 'Laurence O'Keefe and Nell Benjamin have written THE SINGLE MOST IMPORTANT MUSICAL OF OUR TIMES', more a general consensus that Jerry Mitchell's production was fabulous fun, powered by a career-making turn from Sheridan Smith as ditsy wannabe attorney Elle Woods.
With Smith gone, the glamour has faded a little. Ex-'Hollyoaks' starlet Carley Stenson is emphatically likeable as Woods – and that's no mean feat. After all, we're talking about a coddled Valley Girl who trades in a life being idly rich in favour of becoming (hoik, spit) alawyer. Stenson offers a fresh-faced lack of guile, boundless joie de vivre and strong but unshowy lungs. You could no more despise Elle than despite her Chihuahua Bruiser, and Bruiser –played by a quartet of canine thesps – is pretty adorable.
But Stenson lacks Smith's megawatt charm. She sometimes seems dwarfed by the dizzyingly glam edifice around her, by Mitchell's energetic choreography, by David Rockwell's Barbie house sets, and doesn't have the effervescent charisma required to bring consistency to a show whose tenor lurches between radiant positivity and glib knowingness. Still, 'Legally Blonde' remains an exhilaratingly big-hearted evening.
If O'Keefe and Benjamin's lyrics are overly arch, they're generally very funny (see especially 'There! Right There!'s 'Is he gay or European?' refrain). The supporting cast is tip-top. Simon Thomas is excellent as Warner Huntingdon III, Elle's WASP-ish ex, whom she follows to Harvard Law School. Looking like a sort of vampiric whippet, he brings a mix of caddish smugness and little boy lost plaintiveness to the role. Fellow 'Hollyoaks' alumnus Natalie Casey gives great kook as Elle's perma-stoned hairdresser chum Paulette. Original cast survivor Peter Davison is still having a whale of a time devouring the scenery as appalling lawyer Professor Callahan. And reality TV winner Lee Mead is almost supernaturally likable as Elle's love interest Emmett.
Post-Smith, this show is not perfect. But when 'Legally Blonde' hits its stride – as on de facto theme tune 'Omigod You Guys' or the giddily climactic courtroom scene – it's the purest sugar rush you ever felt, a glowingly optimistic tribute to friendship, sisterhood and the merits of a well-chosen outfit.
Average User Rating
4.3 / 5
Rating Breakdown
5 star:

2

4 star:

0

3 star:

1

2 star:

0

1 star:

0
Amazing!!!! Already booking tickets to go again! I have seen a lot of musical theatre productions, but Legally Blonde is by far THE BEST!!!!! There a some changes from the film, however this is forgiven. The production is light hearted, yet at times quite poignant, and humourous throughout, the gay or european scene was so funny, and the ups delivery guy is used well, hilarious!! We came out and purchased the CD soundtrack straight away, singing along on the car journey home, can't wait to go again!!
Really more 3 1/2. Legally Blonde works surprisingly well as a musical, but I felt it was poorly cast. Most of the cast were too old, especially Warner; and I found Paulette annoying, plus she really didn't get the "bend and snap" at all. The plot differed from the movie in mostly minor ways, but one change I disliked was the casting of Emmet as a Pygmalion who coached Elle. But the music was lively and I did laugh, so I wouldn't try to steer anyone away.