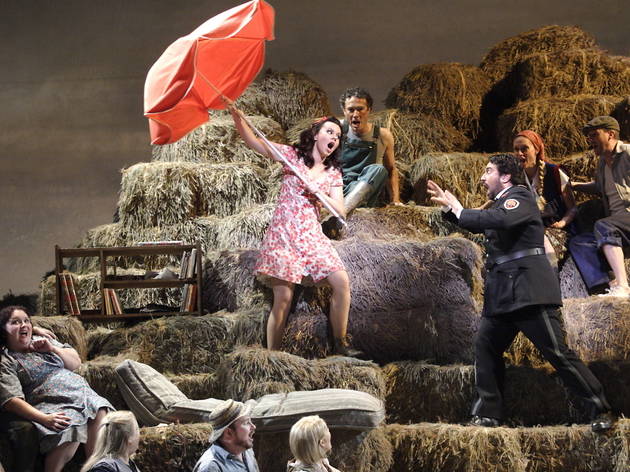 'It may be cold autumn outside, but on stage it's a rural Italian summer,' promised ROH director of opera Kasper Holten after announcing the latest casualty of this season's coughs and colds (Jette Parker soprano Susana Gaspar). And, as he foretold, curtain-up revealed a huge haystack and azure skies as director Laurent Pelly's fun production of Donizetti's 'The Elixir of Love' began its second revival.
In the role of love interest Adina, the Polish soprano Aleksandra Kurzak flashed her legs as she impishly clambered around the towering set, her laser-beam voice equally ravishing, showing off immaculate intonation in her coloratura arias even while on the move. Meanwhile, tenor Roberto Alagna is also in good physical shape (if vocally hesitant) and gives a convincing turn as the lovelorn Nemorino – from moping around pathetically to playing a bravado drunk and engaging in some physical slapstick with the game ladies of the Chorus.
The sets, by Chantal Thomas, and the haystack in particular, enable some glorious choreography as Kurzak's flirtatious Adina flits around, unobtainable to Alagna's hapless suitor. Fabio Capitanucci makes a hefty-voiced brute as Nemorino's soldier rival, Belcore. Accompanied by two unlikely-looking 'warriors', the baritone sings well but is curiously reserved in his pomposity. Similarly, bass Ambrogio Maestri, as burly mountebank Dulcamara, is fresh from singing the role at the Metropolitan Opera in New York. He has the voice and looks the part, but, like Capitanucci, he never fully engages with the audience in a comic role surely built for scene stealing.
The production has many pleasing touches, though. Even the scene change was accompanied by a safety curtain covered in small ads for Dulcamara's dubious remedies, while the sound of chirping crickets filled the auditorium. Various vehicles – Vespas, a tractor and even a flatbed lorry – are used to great effect – not forgetting Sammy, the fleet dog who sprints across the stage much to the amusement of the audience.
Conductor Bruno Campanella keeps the orchestra honest throughout, although Nemorino's star aria 'Una furtiva lagrima' is a tad slow. The production, however, has all the ingredients for a great show, and while on this occasion it was a little reserved, such first night reticence should disappear and it may well catch fire – especially with all that straw.