Heads up! We're working hard to be accurate – but these are unusual times, so please always check before heading out.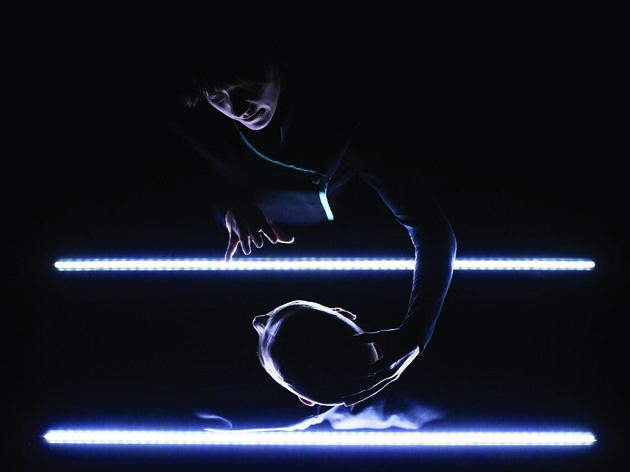 Light review
Pleasance Dome
Theatre Ad Infinitum's breakthrough Fringe hit was 2011's 'Translunar Paradise', a graceful silent weepie about an elderly couple that reduced pretty much all who saw it to fits of hysterical blubbing. So you can imagine how blindsided people were by the follow-up 'Ballad of the Burning Star', a bombastic satirical cabaret about the Israel-Palestine conflict that bore literally no resemblance to the show that preceded it. And it's all change again for new show 'Light', which is an, er, 'Matrix'-style sci-fi thriller!
The most important thing to say about 'Light' is that it is a jaw-dropping technical achievement. George Mann's silent, subtitled production conjures exotic dystopian vistas in a darkened black box space simply via a remarkable deployment of flashlights – which stand in for everything from the search beams of hovering aircraft to the hiss and fizz of electrical torture devices – and tiny glowing balls that whizz through the air along careful arcs, representing a futuristic form of mental email that the governments of the world have taken it upon themselves to spy on.
It looks staggering, and Theatre Ad Infinitum are savvy to the fact that a 2014 audience is clued up enough about the conventions, cliches and visual language of sci-fi to not require a forensic explanation of the world they have created. The plot is kind of a mishmash of 'The Matrix' and 'Inception' by way of the Edward Snowden revelations, and any gaps left in it we can fill in with our imaginations.
The thing is, lots of sci-fi looks amazing without being particularly dramatically satisfying, and that kind of goes for 'Light'. The very use of cliche that allows us to work out what's going on also makes the story incredibly predictable. Added to that, the plot has a pretty awkward shape – we follow a young government agent about his work, until he happens across a 'mysterious' woman (whose identity is patently clear from the second he meets her), which cues a flashback sequence that lasts for what must have been about half the show, meaning we've almost forgotten the protagonist by the time we return to the present for a perfunctory ending.
The medium here is flawless – but the storytelling doesn't yet match it. It feels a bit rich suggesting Theatre Ad Infinitum might consider a few tweaks when what they've done visually is so astonishing, but a bit of story doctoring and this dystopia could have a dazzling future.
By Andrzej Lukowski
The latest Edinburgh Fringe theatre reviews